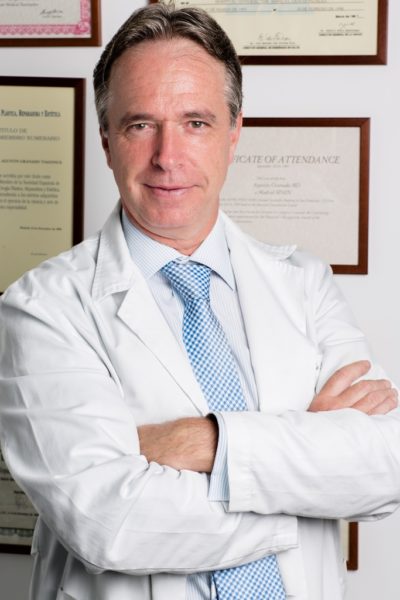 Dr. Granado is graduated from Autonomous University of Madrid, Department of Medicine, and holds a degree of Plastic, Reconstructive, and Aesthetic Surgery and General Surgery. Dr. Granado is also Honorary Professor of the Department of Surgery at the Autonomous University of Madrid.
He has actively collaborated with hospital in United States of America and Canada. He worked in Toronto General Hospital in Toronto, Canada and Mount Sinai Hospital, New York, USA in his career. He currently heads an Aesthetic and Plastic Surgery Unit at the Nisa Hospital Pardo de Aravaca in Madrid.
Dr Granado has many articles and oral presentation posters published in Spain and abroad. He regularly attends national and international conferences and symposiums to keep up with the latest innovations in his area and is an active member of ISAPS and IPRAS.
Experience: 25 years
Memberships: The International Confederation of Plastic Reconstructive and Aesthetic Surgery (IPRAS), International Society of Aesthetic Plastic Surgery (ISAPS), American Society of Aesthetic Plastic Surgery (ASAPS), Spanish Association of Plastic, Reconstructive, and Aesthetic Surgery (SECPRE) and Ibero-Latin American Federation of Plastic Surgery (FILACP)
International Treated Patients: The United Kingdom, Ireland, Australia, The United States of America, United Arab Emirates, Saudi Arabia, Kuwait
City: Madrid, Spain
Working Days: Weekdays and Saturday
Contact: +44 20 3575 1039 & info@cliniccenter.co.uk