Dr. Alex George Visits Clinic Center in Istanbul, Turkey
In order to carry out an evaluation about medical tourism in Turkey, Dr Alex George was invited to Istanbul in December 2019, where he visited Clinic Center's partnered healthcare facilities and met with the doctors, specialists and patients.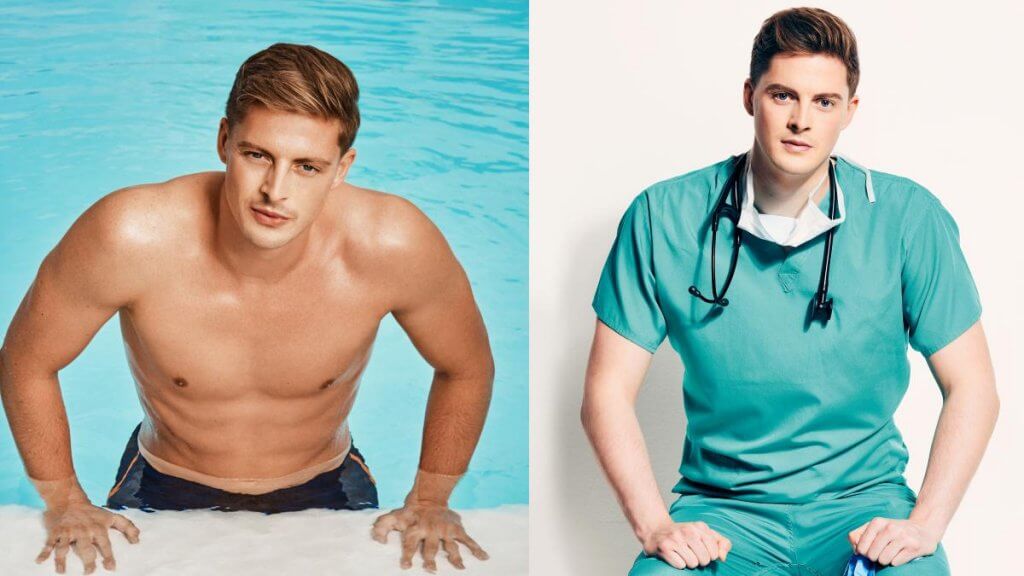 Who is Dr Alex George?
Dr. Alex George is an NHS doctor, currently working at the University Hospital Lewisham in South East London. The 30-year-old, who is originally from Carmarthen, Wales, studied medicine at Exeter University. He became popular in the UK after he participated in several competitions and TV shows. He is also an influencer doctor that informs the public about healthcare.
Everything About Cosmetic Surgeries at Clinic Center
Dr Alex visited Istanbul to find out more about medical tourism. He was in Turkey to visit Clinic Centerpartner doctors, hospitals and to interview with Clinic Center's patients to answer all the questions about why Turkey is so popular for plastic surgeries, hair transplant and dental treatments.
Plastic Surgery
Hospital Visit, Patient and Doctors Interviews
Dr Alex started his visit with plastic surgery clinic. He had a chance to make interview with Margaret Watson and Connie Dalzeil who had plastic surgery a few days ago with Clinic Center. He asked main questions about why they wanted to have plastic surgeries and why they chose Clinic Center.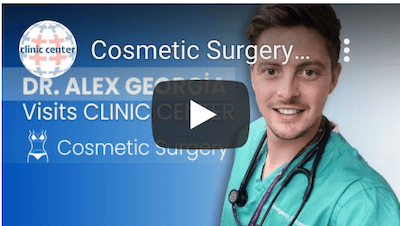 Alex George visits Clinic Center Plastic Surgery FacilitiesWhen Dr Alex asked what make them chose Turkey and Clinic Center for their treatments, Margaret said; " I went online and searched the best place in the world for tummy tuck and I came up with Clinic Center. My friend Connie made a lot of research and we decided to go with Clinic Center."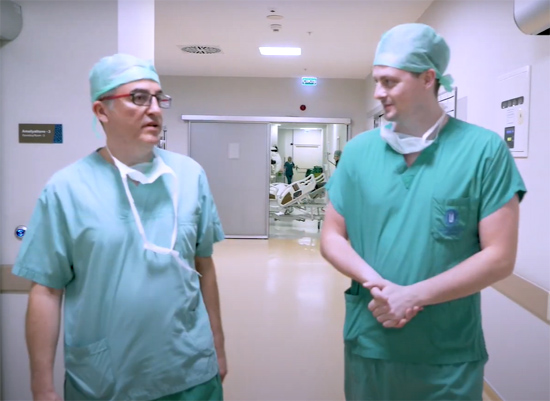 Dr. Alex visited our doctor Prof. Dr. Aydin Gozu to ask his questions about some details of the surgeries. He asked about the complication rate of the surgeries which is the main concern of the patients and Prof. Dr. Gozu answered as: "Complications are very rare in this kind of surgeries because we generally work under the skin but not deeper part of the body. So, the healing process is quite fast and complications are less possible than general." He also had a chance to see operation rooms, patient rooms and the rest of the hospital which is a well-equipped and neat.
How to Decide?
At the end of plastic surgery research, Dr. Alex mentioned; 'If you decided to have surgery abroad make sure that your clinic can provide physical consultation so that you can ask all of your questions before the surgery. Also, check if they provide aftercare. Not only in the hotel, also when you get back to the UK."
Dental Treatments
Clinic Visit, Review with a Patient and Doctor
Cosmetic dentistry is becoming increasingly popular in the UK and all around the world. Since national health insurance is not covering cosmetic procedures people are going abroad for dental crowns, veneers or implants. Turkey is one of the best destinations due to high-quality treatments and affordable prices. Dr Alex George visited our dental clinic to check operation rooms, have an interview with Clinic Center's patient Elizabeth who had 20 crowns and shared her whole process experience with Dr. Alex. She mentioned about one of the main reasons why she chose Turkey: "I had a consultation with a dentist in the UK for 6 veneers. I got my treatment here for not even half of the price. So, it is really worth coming over here." When Dr Alex asked about what are the other reasons for her to go with Clinic Center, she said: "Definitely the results I have achieved. I follow them on Instagram and the results are just amazing." She also mentioned that talking to Clinic Center's treated patients was of great help to decide since they all were very happy.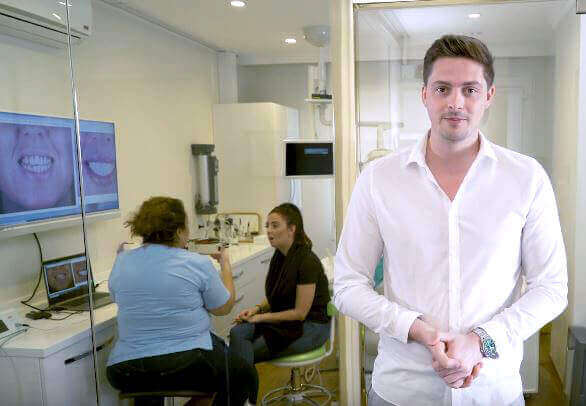 Dr Alex had a chance to make an interview also with our partner dentists and asked some specific questions about dental treatments. Our partner dentist stated that cosmetic dental procedures are about having dental problem. You can have it to be happy when you look at the mirror and smile. She added; "Changing your smile is literally changing your life."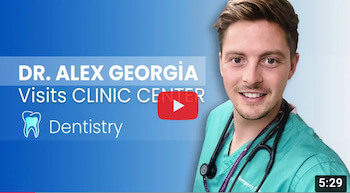 How to Choose the Right Clinic
Dr Alex came up with some advice for the people who are considering of having dental treatment abroad after his research. He stated that; "My advice is to do research. Search for reputable companies that you can trust. Also talk to your friends or family members who had treatments abroad. I can say that the materials used by reputable companies are the same as in the UK. So just do your research."
Hair TransplantHair Transplant
Hospital Visit, Operation Check and Patient Interview
Turkey is one of the most popular destinations in the world about cosmetic surgery, especially hair transplant. Dr Alex was in our hair transplant clinic to check all the process and find out about the reasons why people choose Turkey and Clinic Center.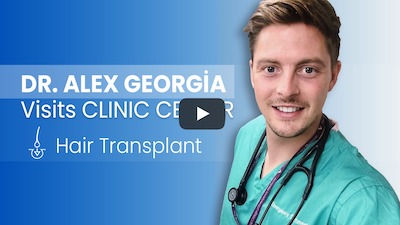 He spoke to Adam who was having hair transplant on the day that Dr. Alex visited, so he experienced the operation process. He found out about how painless it is when he saw the patient sleeping during the procedure. Our head of medical consultant Ece Gunay explained whole process and answered all the questions about his medical journey.
Ece Gunay mentioned, "Patients need to stay only 3 nights for whole treatment and do not need to come back again. " Also answered the frequently asked questions about the comfort level of the procedure: "The operation takes around 6-8 hours and after local anaesthesia, they feel nothing for whole day. This is the most common thing that our patients say."
Alex George with Hair Transplant Patient
Dr. Alex visited Adam at the hotel, 2 days after his procedure and just after check-up. He asked several questions to find out why he chose to come to Turkey and had hair transplant with Clinic Center and how the procedure went. He stated that, "I wasn't quite sure for a couple of years. My friend came and I waited for the results to see. It all went well. Then, I went to London to see people from Clinic Center and had a physical consultation there. They were very nice and welcoming. So, I came over here." Adam also mentioned about the procedure during which he could not feel anything.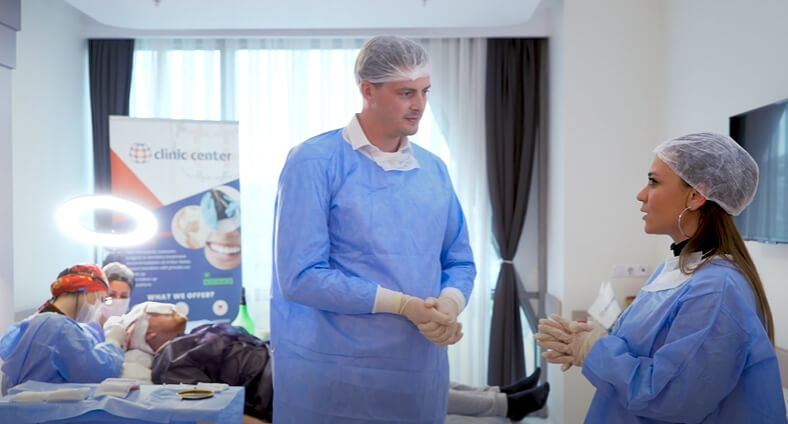 Adam answered the questions about having this procedure abroad: "If you are going to a foreign country, it does not matter which country it is. It is cheaper. If you have the company in the UK where you can go and speak to them, it must be pretty good. Because you don't have to go back to Turkey to find them, just go to London to contact with them after you are back in the UK."