You can reach your dream hourglass shape body with Brazilian butt lift in Turkey by Clinic Center.
Here you can view some of our patient's buttocks injections before and after pictures. Buttlift also known as bum surgery is one of the most popular procedures people request in recent years. There many options how to lift butt and make it bigger including butt fillers, bum implants and so many types of bum surgery.Fat is being injected to buttocks area after ebing removed from belly to make body sculpture as you can see in before after pictures.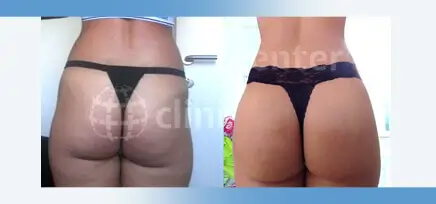 According to Clinic Center doctors, the best solution and most permanent result is being reached with bum-lift surgery which is done with self fat injection to the buttocks.
Please take a look at our web pages on Brazilian Butt Lift (BBL) surgery in Turkey to get more information about these procedures, and don't forget to enquire us!
Disclaimer: Photos above show only typical results of BBL. Not everyone undergoing BBL will achieve the same.