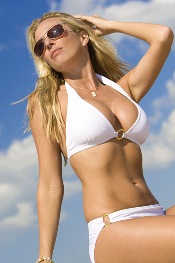 It's time to gain your self confidence back with your new boobs after summertime. Achieve the body you have always been dreaming of with Clinic Center and you will be the wanted one in next summer. Clinic Center offers all inclusive breast enlargement packages for £2230 with flight tickets including following services;

Breast Augmentation by qualified Plastic Surgeon
Choosing the right breast implant size with sample implants

4 nights of accommodation at 4 star hotel

Airport transfers
Pre-operative tests
Medications & Check-up
A personal host
Breast augmentation also known as breast enlargement or boob job is one of the most popular plastic surgeries in the world and as well as in Turkey. There is no argument that boobs are one of the most important parts of a woman body. Therefore, women who undergo breast enlargement procedure are due to achieve better appearance and to improve their self esteem. According to research women who have bigger boobs have more self confidence and also are happier in their social life.
At Clinic Center we welcome many patients in Turkey from all over the world who would like to achieve better appearance with having breast augmentation in Turkey. Our prior patients are very happy with their new look and they refer us to their friends for having boob job in Turkey.

Breast Enlargement in Turkey
The procedure is carried out under general anesthetic. This means you will be asleep during the operation and feel no pain. Once the anesthetic has taken off its effect your surgeon will make cuts in the creases under your breasts, around the areola area which is the dark skin around your nipple or in the armpits. These are the different cuts alternative your surgeon will choose. The implants then will be added to the breasts through the cuts.
Implants are usually made of elastic silicone filled with silicone gel. The implant may be positioned between the breast tissue and the chest muscle. Alternatively the implants may be positioned behind the chest muscles. Once the implants are placed correctly the cuts in the breasts are closed with stitches. Dissolvable stitches will disappear on their own from 7 to 10 days. Non dissolvable stitches are removed around a week after the surgery. Dressings will be placed over your stitches. You will also need to wear a supportive dressing or a bra. Temporary drains may be left in place for up to 48 hours after the operation to allow fluids and blood to drain away.