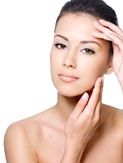 Eyelid surgery also known as blepharoplasty is a solution for sagging eyelids. As we get older our eyelids start sagging which can even sometimes prevent the eye to see the around. Eyelid surgery is one of the easiest surgeries of the cosmetic surgeries and can be performed under local anesthesia in some cases.
People who had eyelid surgery in Turkey at Clinic Center expressed that the surgery improved their eye sight due to removing extra skin on their eyelids. Even though eyelid surgery is one of the easiest and shortest procedures, it is performed at internationally certified hospital by experienced plastic surgeons in Turkey.
Eyelid Surgery in Turkey
Sometime the eyes have it and sometimes they don't, if you are looking to improve the overall look at your eyes this is a great place to start. The fact is overtime, the aging process can take its toll on your eyes. Aging alone cause your eyelids to sag combine that with bags and puffiness and you come up with tired and older than you really are. That's part of the reason why almost a quarter of a million people had eyelid surgery or what's known as blepharoplasty last year in United States.
Here are the four types of blepharoplasty you may want to consider. There is upper and lower eyelid surgery, laser eyelid surgery and for those with Asian ancestry Asian eyelid surgery. Check with a qualified plastic surgeon to see which procedure is best for you. As a general rule here is how eyelid surgery works.
The standard surgical technique usually involves removing or redistributing fat deposits as well as removing excess skin and muscle from regions of upper and lower eyelids. An eyelid surgery procedure may last about an hour or two depending on extent of the treatment. It might be performed under local or general anesthesia depending on your plastic surgeon's preference.
You will probably experience some discomfort, swelling and bruising which can be treated with cold compresses and pain medication. Non-absorbable sutures are typically removed in five to seven days and you will begin to notice an improvement in the bruising around your eyes in seven to ten days. Although you will feel well enough to return to work in about a week, you should continue to avoid strenuous activities such as heavy lifting or exercise for at least two weeks following the procedure.
You will start to notice the results from your procedure within a few weeks as the bruising and swelling continue to fade, while you will likely to have some small scars which are usually well hidden by the contours of the eyelid. The scars may be slightly recognizable at first but will fade over several months to a very faint white line. The result of eyelid surgery generally last for years. For some the positive effects of their blepharoplasty procedure are permanent allowing them to enjoy a lifetime of beautiful looking eyes.