You can resist the flying time and solve problems of wrinkles and saggy skin with facelift, eyebrow lift, neck lift, and eyelid surgery in Turkey by Clinic Center.
Here you can view some of our patient's face lift, neck lift, eyebrow lifting and eye surgery before and after photos for eyelid correction. All of the surgeries are being done based on removing the excess skin and lifting.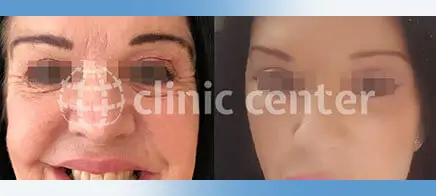 In facelift,necklift and eyebrow lift surgeon lifting in order to resolve saggy and look appearance also opening deep wrinkly look. In eyelid surgery, eye surgeon is removing the excess skin either under or upper eyelid to resolve tired,sleepy and aged look as you can also examine the difference in blepharoplasty before and after pictures.
Being one of the most trusted clinics in the medical industry, we value our patient's privacy and keep some of their photos in our records. Please take a look at our web pages on facelift, eyebrow lift, neck lift, and eyelid surgery to get more information about these procedures, and don't forget to enquire us!
Disclaimer: Photos above show only typical results of face lift. Not everyone undergoing face lift will achieve the same.