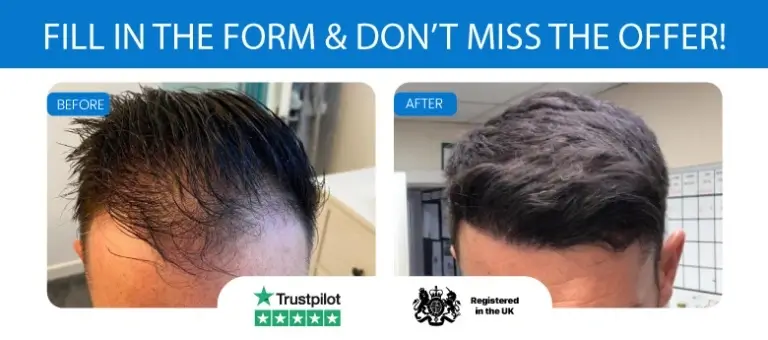 Procedure | Cost | Techniques | Clinic | Recovery | Reviews | All-Inclusive Package | Trichologists |FAQ's | Before & After | Patient videos | FUE | DHI
Clinic Center, registered in London, UK, offers an affordable hair transplant package in Turkey, where high-quality medical services are available. Fill out the consultation form to receive a personalized plan for your hair transplant (Follicular Unit Extraction) FUE procedure, ensuring high-quality results following your treatment in Istanbul.
Get Your FREE Treatment Plan NOW!
What is Hair Transplant in Turkey?
Hair loss is a common problem that affects millions of people worldwide. Hair transplant surgery has become a popular option for those who have tried various treatments with little success. Turkey has emerged as one of the leading destinations for hair transplant surgery, attracting patients from around the world. With state-of-the-art clinics, experienced surgeons, and affordable prices, Turkey has become a hub for hair transplant procedures in the region.
Hair transplantation is known to be the best option for a permanent hair loss treatment. Hair Transplant in Turkey provides effective and satisfying outcomes for individuals experiencing 'male-pattern baldness,' also referred to as androgenetic alopecia.
Considered a cure for baldness, hair transplant aims to restore thinning hair and trigger hair growth. This also helps men regrow their receding hairline. So, how much does a hair transplant cost in Turkey? As a leading male hair transplant clinic in Turkey, Clinic Center offers FUE (Follicular Unit Extraction) and DHI (Direct Hair Implantation) hair implants in Turkey which are carried out by a highly experienced medical team at affordable prices. Hair Transplant Turkey Clinic Center can assist you in reclaiming your cherished hair through a painless and expedient process.
The surgery is performed under local anesthesia and takes around 5 to 8 hours, eliminating the necessity of a hospital stay.
A hair transplant in Turkey is a virtually pain-free cosmetic procedure that rejuvenates thinning hair by implanting hair follicles from dense donor areas into the recipient area affected by thinning or baldness. Typically, donor hair follicles are primarily sourced from the back or sides of the head, and occasionally, from other body parts. This intricate procedure is carried out by a highly skilled medical team in a well-equipped hair transplant clinic.
Our mission is to provide you with comprehensive information and guidance on all aspects of hair transplant procedures in Turkey.
Hair Transplant in Turkey
Clinic Center partner specialists perform hair transplant procedures in Turkey  with the Follicular Unit Extraction (FUE) technique and DHI (Direct Hair Implantation) method for a permanent solution to hair loss with reputable hair specialists in Turkey. Over 5,000 satisfied patients have had  hair transplants with the assistance of the Clinic Center and an all-inclusive hair transplant in Turkey package that included a maximum number of grafts, accommodation at a 4-star hotel, lotions, etc. Reviews of Clinic Center's Turkey hair transplant procedures unequivocally express the happiness and satisfaction of these patients with their results.
Clinic Center is supported by the Turkish Ministry of Health and the Ministry of Economy. It also assists patients with hair transplant abroad with top-notch quality service and affordable costs.
We firmly believe that when you look your best, you also feel your best.
Hair Transplant in Turkey provides some of the world's finest hair transplant procedures, with many advanced hair clinics situated in Istanbul. The key is to locate a reliable clinic that operates under the oversight of the Ministry of Health. Hair transplant clinics in Turkey are renowned for their high level of professionalism and expertise.
As Istanbul stands at the forefront of the global hair transplant hub, Clinic Center proudly partners with the premier hair transplant clinics in this vibrant city. We offer top-tier treatment within one of Istanbul's finest hair transplant hospitals, led by renowned specialists in the field. The difference before and after the Hair Transplant in Turkey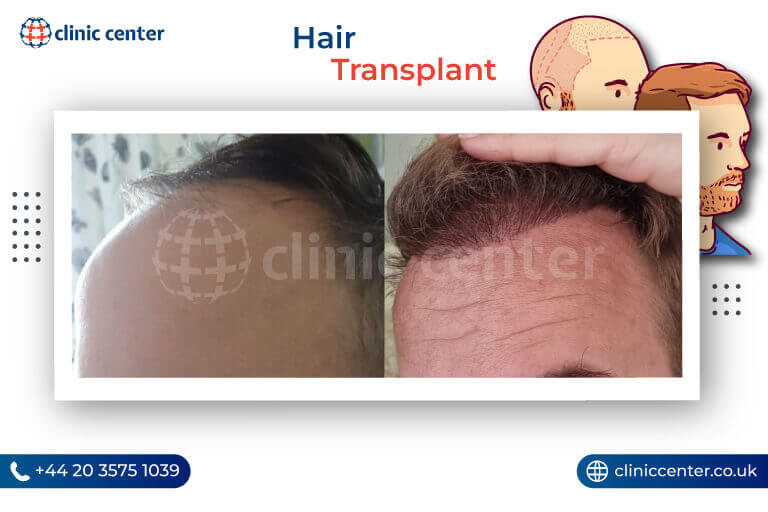 Hair Transplant in Turkey, Istanbul
Istanbul has emerged as the global hub for hair transplant procedures, offering hope to individuals worldwide facing hair loss. Clinic Center proudly collaborates with the most esteemed hair transplant clinics in Istanbul, and our partnership includes distinguished specialists practicing in the city's premier hair transplant hospitals. Our primary goal at Clinic Center is to deliver the pinnacle of hair transplant excellence in Turkey.
For those seeking flawless, natural-looking results, Clinic Center Istanbul stands as the ultimate destination for high-quality treatment and services. You can readily explore Istanbul's vibrant hair transplant community through reviews from our satisfied clients. While you undergo the finest hair transplant treatment in Istanbul, you also have the opportunity to immerse yourself in one of the world's most enchanting cities.
Techniques of Hair Restoration Turkey
As more men explore various options for hair regrowth, the field of medical technology has introduced several advanced hair transplant techniques in Turkey. Clinic Center specializes in the most effective methods that consistently deliver satisfying results for addressing issues like thinning hair or hair loss.
FUT (Follicular Unit Transplantation) Technique
FUE (Follicular Unit Extraction) Technique
DHI (Direct Hair Transplantation) Technique
Sapphire FUE Technique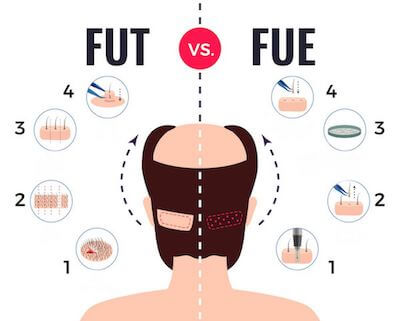 It is quite likely that men who are looking for hair surgery options come across plenty of material on FUT (Follicular Unit Transplantation), but what is the FUT Hair Transplant technique? FUT, also known as Strip Harvesting, is a popular hair transplantation technique serving as a permanent solution to hair loss in men. Indicated for cases of baldness, the technique is feasible for those who want quick results in a single session.
The FUT technique involves the removal of a scalp strip measuring approximately 20 to 30 cm in length and 1 to 2 cm in width. Once this strip is extracted from the donor area, follicular units are meticulously separated using specialized microscopes. Subsequently, these individual units are transplanted to the recipient area, where hair loss or thinning has occurred.
Patients who like to keep their hair short and who are bothered by the subtle scar left by the FUT technique can check the possibility of opting for the FUE turkey technique as it is a less invasive hair loss treatment and does not leave a linear scar.
Classic FUE (via Micro Motors)
FUE hair transplant Turkey is the advanced technology option compared to FUT. Individual grafts that contains strands of hair are removed from the back and side of the head with 0.6mm-1.2 mm mini punches using special tipped micro-engines under local anesthesia and transplanted into the recipient area.
Today, the FUE technique stands as the preferred choice in the majority of hair transplant procedures. It's favored because it avoids surgical incisions, making it an easily chosen method. This approach eliminates cuts, stitches, and surgical pain during extraction, minimizing scarring. Furthermore, FUE allows for the use of extracted grafts in both hair and beard transplants. When performed by our partner specialists, the results are not only natural and dense but also offer a swift recovery, typically within about 7 days. The lifelong growth of hair can profoundly enhance your overall appearance in a positive and lasting manner.
Now that you have made up your mind to have the procedure; how will you decide on a hair transplant clinic? At this stage, there are two essential points that most of the candidates should take into consideration: the cost of the procedure and the results of the clinic's previous patients. As for the cost of FUE Hair Transplant, the procedure is preferred by many as it is quite an affordable, permanent solution. Besides, asking for the clinic's FUE Hair Transplant before and after photos would help in getting an idea of how successful the results of the clinic are.
Benefits of FUE Hair Transplant
No tissue strips are collected from the donor site, which means it doesn't leave any scar.
The follicles are taken not only from the back of the head but also laterally, from the area above the ears.
The surgery is performed under anaesthesia making it both, painless and comfortable.
The hair follicles are extracted one at a time through a special motor.
The process can be done up to a maximum of 5000 grafts, which would be equivalent to approximately 8000 – 12500 hair follicles.
Follicles can be removed from other parts of the body, such as the chest and shoulders if necessary.
It is a long-term and permanent solution to baldness.
It gives excellent results in mild or moderate cases of hair loss, from the front hairline to the nape.
Effective in the treatment of both male and female hair loss.
When compared to other treatments for hair growth, FUE Hair transplant results provide the most natural look.
It is also possible to rejuvenate moustaches, beards or even eyebrows.
It can help cover scars on the scalp.
FUE Hair Transplants cost less than other available treatment options.
The procedure is non-invasive, allowing you to resume your daily routine as early as the day after surgery.
Around 20 days after a hair transplant, the transplanted hair will naturally shed, but it will begin to regrow permanently in just a few days.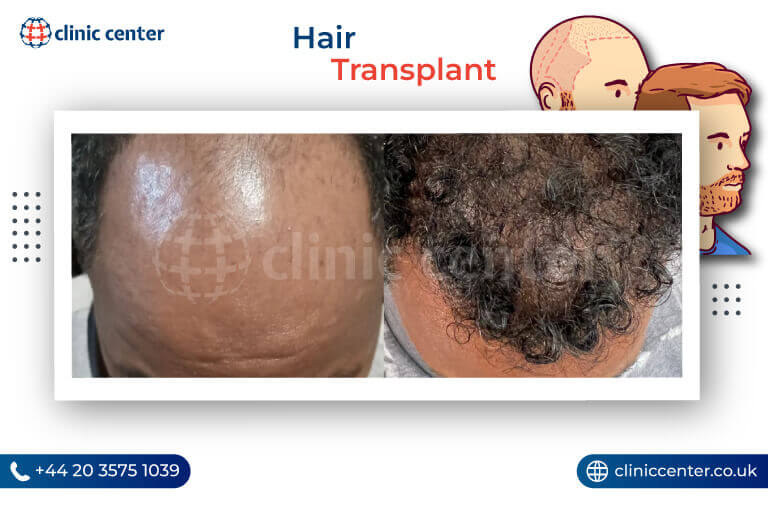 Disadvantages of FUE Hair Transplant
It requires significant experience and training of hair specialists.
Special equipment should be used during the operation.
FUE might not be suitable for curly hair but can be decided upon after your free consultation with the specialists.
Clinic Center provides FUE Hair Transplant Turkey performed by an experienced specialist in a well-equipped hair transplant clinic. For further details, simply fill in the online consultation form or book your face-to-face consultation in our London Office through the website.
FUT (Follicular Unit Transfer) Technique
One of the highly favored methods for hair restoration is the Follicular Unit Transplant (FUT) technique. FUT, often referred to as the strip technique, involves obtaining hair grafts by carefully removing a strip from the back of the head. These grafts are then carefully dissected under a specialized microscope. After the dissection process is completed, the prepared hair grafts are ready for placement in the recipient region, addressing the areas where hair loss is experienced.
Every year, Turkey draws in thousands of men dealing with male pattern baldness, seeking FUT hair transplant solutions. Registered in the UK, Clinic Center offers free consultation in London and provides international patients with satisfying hair transplant results.
Advantages of FUT Hair Transplant
A substantial number of follicles can be harvested even when the donor area has a lower hair density
More difficult for the follicle to be damaged during extraction compared to the FUE technique
Around 1500 – 4,000 follicular units will be transplanted in each surgical intervention
The procedure is performed under local anesthesia and allows patients to resume their daily activities as early as the day following the hair transplant.
Feasible for those who seek a quick solution to hair loss
Relatively shorter procedure time than other hair transplant techniques
Affordable costs
Disadvantages of FUT Hair Transplant
There are, of course, some disadvantages of FUT Hair transplant when compared to the most popular option, FUE Technique, these are:
Scar: If the patient has a poor healing process, the FUT technique will probably also leave marks on the scalp. The scar left by this technique is in the form of a line and corresponds to the suture that the surgeon performs.
Longer recovery time: Post-operative care is more extensive compared to FUE. For example, it is recommended to remove the stitches ten days after surgery, not to exercise until three months after the FUT hair transplant, and to take pain relievers and antibiotics. Some patients also reported experiencing difficulty in finding a comfortable sleeping position. However, Clinic Center is always a click away from help in the recovery period after FUT Hair Transplant. With our highly experienced partner medical team, we always provide post-operative instructions and optimum aftercare.
DHI Method (FUE Performed with Choi Implanters)
DHI hair transplant in Turkey involves harvesting high-quality hair follicles from the donor area and implanting them into the recipient area using specialized Choi Implanters. This method enables simultaneous site creation and graft implantation, significantly reducing the overall procedure time. The hair follicles are collected within the implanters and are then directly transplanted into the recipient region. This precise process results in fewer marks and minimal bleeding, as the canals are opened to precisely fit the graft size.
DHI hair transplant in Turkey procedure is performed under local anaesthesia and begins with collecting the follicles. Since this technique doesn't necessitate shaving the recipient area, it is highly favored by individuals seeking a less intrusive approach to hair transplant in Turkey.
What are the differences between DHI and FUE methods?
In both the DHI method and FUE method, grafts are extracted one by one from the donor area, which is the back of your head by using a device called a micro motor. For both methods, there are no scars or permanent skin damage. The distinction between DHI and FUE lies in the transplantation process. In FUE, surgeons must create channels or tiny incisions in the recipient area to implant the extracted grafts, requiring precise and minute incisions.
In contrast, with the DHI technique, there is no need to create channels separately. The extracted grafts are prepared and ready for immediate transplantation without the requirement for additional channel creation. This method requires a special device called the DHI pen also known as the Choi pen.
The extracted grafts are placed into a specialized device and then transplanted directly into the recipient area during a DHI transplant. One notable advantage of DHI transplantation in Turkey is that the surgeon avoids creating more channels than required. FUE, on the other hand, can be considered slightly more invasive due to the need for tiny incisions. If you're interested, you can schedule a consultation at our London for a consultation.
Earning the title of the best hair transplant package and the most preferred hair transplant clinic in Turkey is no simple feat. It demands staying thoroughly informed about all aspects of this field. We take pride in being able to provide our patients with the latest and most cutting-edge methods in hair transplantation, including the Sapphire Technique.
As a permanent cure for hair loss, this method is very exclusive and used in a very limited number of clinics worldwide. Instead of making the openings to transplant the hair follicles with steel scalpels, the Sapphire technique uses instruments whose tips are made of sapphire to facilitate the opening of the microchannels in the receiving area.
Thanks to these new sapphire tips, there are fewer crusts formed during the postoperative period because the channels in the receiving area are smaller than usual. Furthermore, there is less risk of damaging the transplant area since the channels opened are the same width as the hair follicles, resulting in a recovery process that is up to 2 times faster.
Hair Transplant in Turkey Clinic
At Clinic Center, we have the privilege of collaborating with highly professional and skilled doctors. Our core principle revolves around putting our patients first. A concrete testament to this commitment is our patients' ability to reach out to us and schedule appointments at any time, completely free of charge. Furthermore, they can take advantage of our complimentary aftercare service at one of our partnered clinics in the UK. Additionally, Clinic Center provides the option for face-to-face appointments, ensuring comprehensive and personalized care.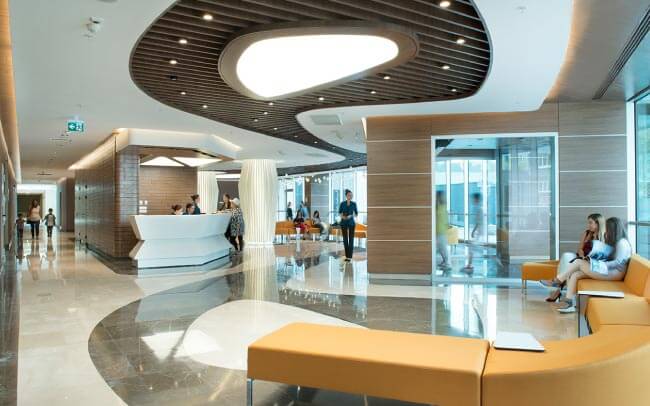 Clinic Center is partnered with the best clinics in hair transplant in turkey as seen in the results and the service quality. When it comes to the procedure itself, you'll only need to stay for two nights. Hair surgery is surprisingly comfortable and doesn't require overnight hospital stays. The healing process is relatively short, allowing you to get back to your regular routine quickly. Plus, we're delighted to offer the option of face-to-face appointments at our London office for a more personalized experience.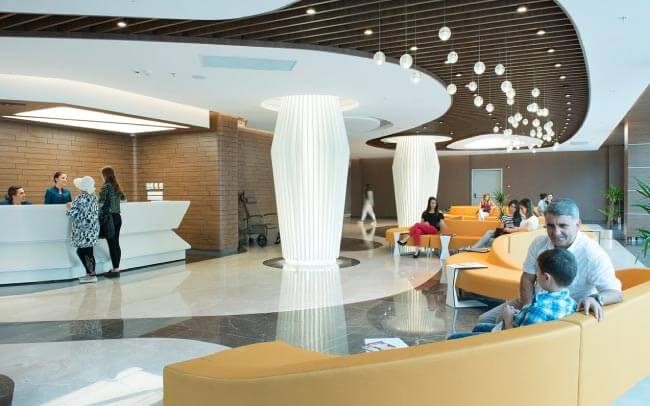 Clinic Center partner specialists perform hair transplantation with Follicular Unit Extraction (FUE) technique and DHI (Direct Hair Implantation) method for a permanent solution to hair loss with reputable hair specialists in Turkey. More than 5000 satisfied patients have undergone hair transplant procedures with the support of Clinic Center, benefiting from our all-inclusive hair transplant package. This comprehensive package includes a maximum number of grafts, comfortable accommodation at a 4-star hotel, and essential lotions, among other amenities. We take pride in our position as the leading hair loss clinic in Turkey. The average hair transplant cost turkey is quite affordable and the results are highly successful.
Clinic Center is supported by the Turkish Ministry of Health and the Ministry of Economy. Clinic Center assists patients with hair transplant in turkey   with high-quality service and affordable costs.
Certainly, the Hair Transplant in Turkey consultation is a crucial aspect of our services and plays a significant role in our partnered clinics. Our dedicated consultants are with our patients every step of the way. They are available 24/7 to address any questions or concerns and provide clear guidance to those who may be uncertain about the next steps in their journey. Your satisfaction and understanding are our top priorities.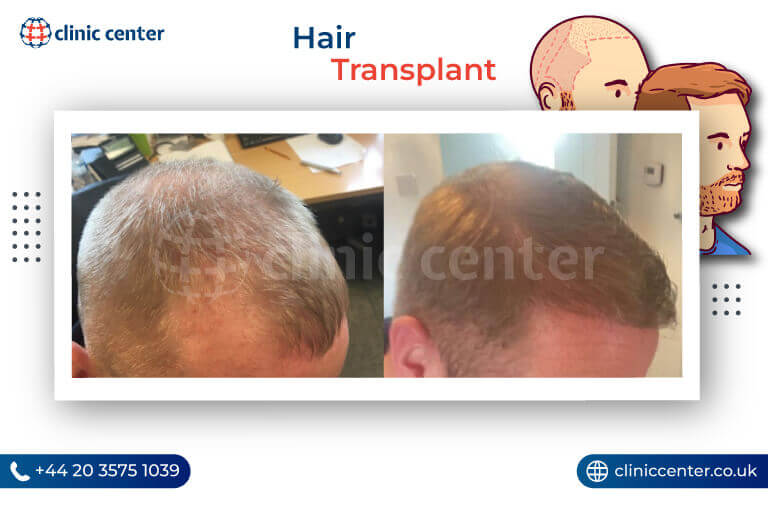 Clinic Center is committed to delivering exceptional hair transplant treatments to its patients, thanks to our carefully chosen and experienced hair transplant specialists in Turkey. Our partner trichologists have been selected based on their impressive careers and international experiences. As a result, Clinic Center's partnered specialists are widely regarded as some of the top hair transplant specialists in Turkey, given their extensive backgrounds, experiences, and specialization in hair transplant procedures. They are here to offer our patients effective and satisfying solutions for hair loss treatment in Turkey. You can learn more about their backgrounds below.
Turkey has emerged as a prominent hub for medical and healthcare services in Europe. The country boasts high-quality facilities, cutting-edge treatments, and advanced medical technology, making it an exceptional destination for top-notch healthcare services. Our partner doctors are highly educated and well-trained in their respective fields, further contributing to Turkey's reputation as a premier healthcare destination.
Clinic Center's partner hair specialists provide FUE hair transplant in turkey with the assistance of Clinic Center Turkey to its patients with high-quality services at an affordable cost. The number of hair grafts to be transplanted does not affect the hair transplant cost at Clinic Center. Specialists perform the maximum number of hair grafts in one session necessary for each patient according to their personalized treatment plan and the number of grafts is determined based on the recipient area, the donor area availability, and the hair loss scale. The price does not only cover the transplant procedure, but also covers pick-up from and to the airport, hotel accommodation, clinic transfers, and amenities such as shampoo and lotion to be used for 15 days after the hair transplant in Turkey.
You can have the best hair transplant operation in the world with the assistance of the Clinic Center. The hair transplant hospital in Turkey that we are partnering with for operations is one of the best in Turkey. As a testament to our commitment to quality, we also offer our patients a guarantee certificate for their treatment.
As stated by Clinic Center's partner trichologist Rojbin Keleser, the success of a hair transplant in Turkey procedure depends on the experience of the specialist performing the operation and the competence of the team, as well as many other factors. According to Keleser, the more skilled hair transplant procedures performed under hygienic conditions with appropriate methods, the more satisfactory the results will be.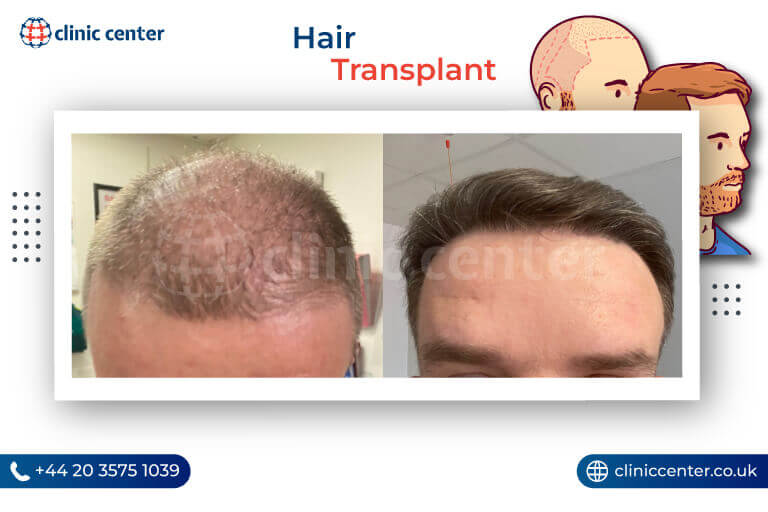 Hair Transplant in Turkey Cost
Turkey has earned its reputation as the most reputable destination for a full hair transplant in Turkey, and this is attributed to several key factors. These include its experienced medical staff, a substantial number of procedures performed annually, consistently successful results, affordable prices, and government incentives designed to promote medical tourism.
| | | | | |
| --- | --- | --- | --- | --- |
| Types of Hair Transplants | Hair Transplant Cost Turkey | Hair Transplant Cost UK | Hair Transplant Cost Europe | Hair Transplant Cost US |
| Hair Transplant | £1,500 – £2,100 | £5,000 – £6,500 | €4,500 – €6,000 | $13,000 – $17,000 |
| Sapphire FUE Hair Transplant | £1,750 – £2,200 | £5,500 – £7,000 | €5,000 – €6,000 | $14,000 – $18,000 |
| DHI Hair Transplant | £1.700 – £2,200 | £6,000 – £7,500 | €5,500 – €6,500 | $14,500 – $18,500 |
Recently, Turkey has become a desired destination for hair transplant in Turkey and hairline treatment operations. With plenty of experience and high-quality medical services, Turkey, beyond any doubt, is the best place for a variety of hair loss treatments. The hair loss clinic in Turkey provides remedies for hair loss at reasonable costs compared to those of European countries. As the leading hair transplant in Turkey clinic, Clinic Center offers all-inclusive hair transplant packages for your hair loss treatment including accommodation, transfers, a personal translator, and life-long aftercare. The hair transplant in turkey package will facilitate your travel to Turkey and everything will be arranged by your medical coordinator. Our well-equipped partner medical team consistently achieves thousands of satisfying hair transplant results each year. Clinic Center provides the most affordable and efficient hair transplant in turkey package.
If you'd like to be one of them and find out more about the costs of hair transplant in Turkey, you can simply get in contact with our team online.
How much is a hair transplant in Turkey? Hair transplant fees in Turkey depends on different variables such as the practice of the medical team, the technology used, incentives provided by the government ministries, the number of sessions, and the additional benefits included in the hair transplant prices. Each patient has a personalized treatment plan depending on  age, hair structure, hair loss scale, donor area availability, type of scalp tissue, and hairline preferences.
Because Clinic Center is backed by the Turkish Ministry of Health and Economy, we hold the right to offer extensive FUE packages at an affordable hair transplant in Turkey cost.
Additionally, Clinic Center offers special prices for patients who would like to get multiple procedures done in one medical holiday. For example, you can get procedures regarding teeth and hair transplant in Turkey.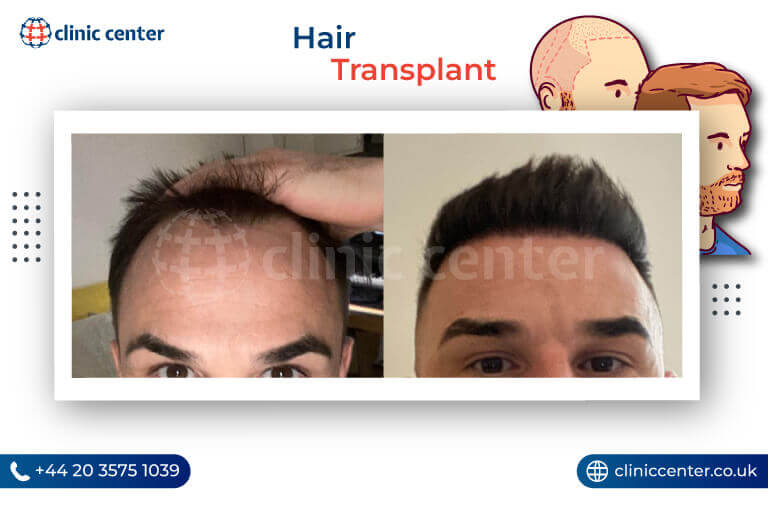 For men seeking thick hair and a natural hairline, Turkey is the ultimate destination. With a track record of achieving over a thousand satisfying hair transplant results, Clinic Center is your trusted partner in regaining your hair and self-confidence. Our all-inclusive hair transplant packages cover every detail, leaving you with nothing to worry about.
If you've ever wondered, "Is hair transplant worth it?" – simply take a look at our before-and-after photos of hair transplant procedures to witness the remarkable results and understand how it truly works.
Your transformation awaits! You will start to see the hair restoration results in 3 months but you need to wait for a year for the ultimate result.
As we have competent and highly experienced doctors, staff and up-to-date equipment in the field of hair transplant procedures, the results and quality of hair loss clinics in Turkey are better than anywhere around the world.
At the end of your experience assisted by Clinic Center in Turkey, you will achieve the following hair transplant results;
Natural and dense hair
Increased self-confidence
Attractive and distinctive appearance
All-Inclusive Hair Transplant in Turkey Package Turkey

Transplant with a Guarantee Certificate
Our hair transplant procedures come with the Clinic Center guarantee. In the unlikely event of any malpractice during your procedure, we are committed to providing you with a free-of-charge hair transplant to ensure your complete satisfaction and peace of mind. Your trust in us is of paramount importance.

Maximum Grafts with FUE Hair Transplant
You will experience dense and natural-looking hair transplant results from reputable partner specialists with high-quality service and affordable prices at Clinic Center.

Special Group Discount
The more the merrier! You and your friends will benefit from a special discount in the case of bringing them along with you for the hair transplant procedure.

Aftercare Service
We stand by our patients for a full 12 months, offering continuous support for any concerns they may have. Additionally, we arrange complimentary aftercare appointments at multiple locations in the UK and Germany, ensuring that our patients receive the comprehensive care they deserve. Your well-being is our top priority, from start to finish.

Accommodation at a 4-Star Hotel
Having a procedure whether it is small or big requires efficient resting for a full recovery. That is why Clinic Center will make sure you have one of the best and most comfortable stays until your departure by providing accommodation at a 4-star hotel in Turkey.

Transfers with VIP Car
For a smoother and more convenient experience, from the moment you touch down in Turkey, our transfer service will warmly greet you at the airport, ensuring a seamless journey to your hotel. Your comfort and ease of travel are our priorities.

International Patient Host
Navigating different countries and diverse people can be a challenge, but with our all-inclusive hair transplant in Turkey package, we make it easy for you. You'll have a dedicated personal host to assist you during your appointments, ensuring a smooth experience. Additionally, a certificate of guarantee will be provided by your medical coordinator, giving you peace of mind throughout your journey. Your satisfaction and well-being are our top priorities, no matter where you come from.
Amenities
We provide each patient with the special shampoo and lotions necessary for post-hair transplant care. Your comfort and recovery are our concerns, and we ensure you have the essential products for optimal healing and hair growth.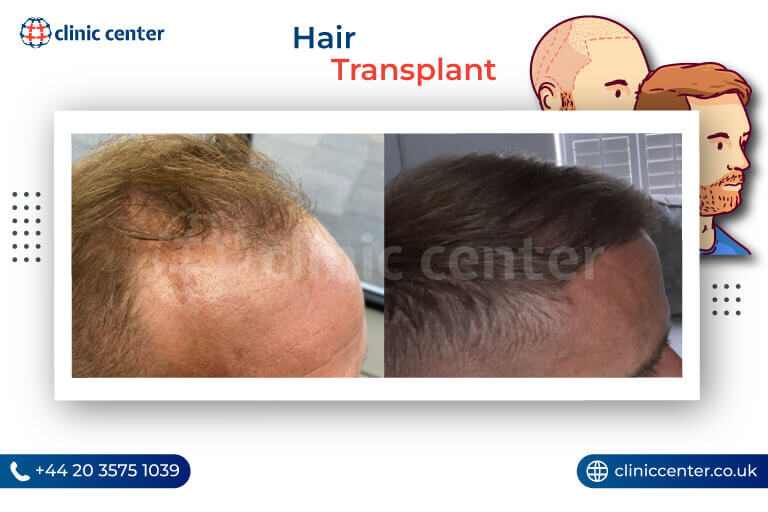 You will feel fine within a day or two after the transplant procedure, numbness can be expected for several days. Generally, you will gain a normal appearance with slight redness after 15 days. If beard hair grafts have been used as a donor area, they can be shaven after one week. The donor area is usually healed after one month.
After the operation, the only thing our patients need to do is to follow the given instructions thoroughly.
The quality of the results after the operation is indeed closely related to how well the patient takes care of their hair post-transplant. Following the recommended post-operative care instructions, using prescribed products, and maintaining a healthy lifestyle can significantly impact the final outcome. Patient compliance and diligence in caring for their newly transplanted hair play a crucial role in achieving the best possible results. At the end of the day, you will say that having a hair transplant in Turkey operation is worth it.
7 Days After Hair Transplant in Turkey
In the days following the hair transplant, most of the patients will notice moderate swelling in the transplant area. This phenomenon generally starts on the third day and then disappears completely within the 7th (seventh) postoperative day.
10 Days After Hair Transplant in Turkey
Small dots may be seen near the opening areas. These generally dissolve between the seventh and tenth day after surgery.
2 Weeks After Hair Transplant in Turkey
At this stage, there will be almost no scars left on the scalp. However, it is very likely that the itching of the donor area after the hair graft persists. During this time, this area will no longer need any special care.
1 Month After Hair Transplant in Turkey
The most important thing is that, during this period of time, the so-called "shock loss" will begin to appear. The new hair that grew after a hair transplant will fall out, entering a period of rest and beginning a new phase of growth, to later grow back.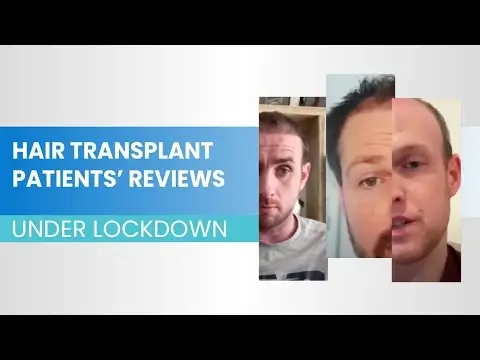 2 Months After Hair Transplant in Turkey
Depending on the person, the next stage is marked by the growth of the transplanted hair.
From here, the implanted hair will continue to develop its hair cycles in a completely normal way.
At first, the new transplanted hair will look a bit thinner. However, throughout time, they will increase in thickness.
3 Months After Hair Transplant in Turkey
From this moment, it is possible to shorten the hair with the right equipment. If you go to the salon, reject products with harsh ingredients. The overall appearance of your hair will have markedly improved at this point in your hair graft progress.
4 Months After Hair Transplant in Turkey
The hair will be approximately 4 to 6 cm long and look much denser. In addition, the itchiness of the donor and recipient areas will have almost disappeared, as well as the appearance of granites. This information is helpful for understanding how hair transplant in turkey is done from the beginning till the end.
Hair Transplant in Turkey Fast Facts
| | |
| --- | --- |
| Procedure: | Taking individual hair grafts from the back or the sides of the head (donor area) and transplant into to balding parts (recipient area). |
| Duration: | 6 to 8 hours |
| Stay: | 3 nights hotel |
| Anesthesia: | Local anesthesia |
| Shaving: | Yes (3 months after with scissors) |
| Recovery: | 3 to 5 days to return to work |
| What to bring: | Comfortable clothes (sweatshirts, button-down or zipped shirt etc.) |
| Side Effect: | No |
| Exercise: | After 3 to 4 weeks |
| Hair Wash: | After 15 days |
| Scars: | No |
| Pain: | None to slight |
| Results: | Permanent (with 98% success rate) |
| Multiple surgeries: | Beard transplant, liposuction, rhinoplasty, dentistry |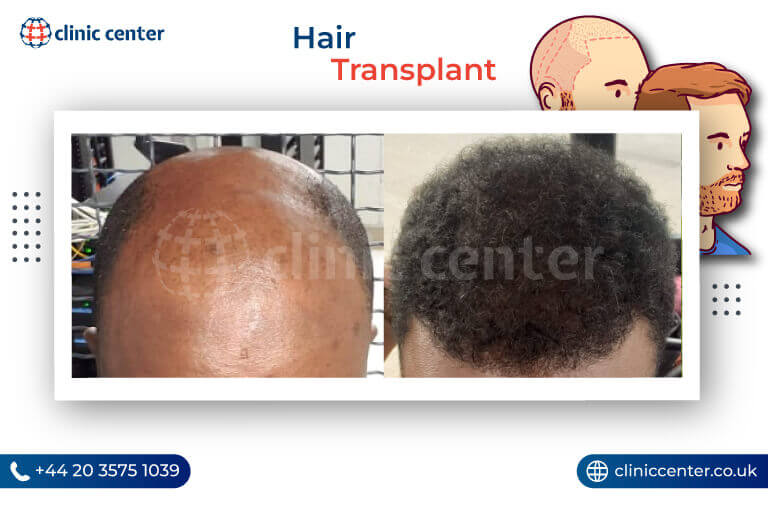 Hair Transplant in Turkey Reviews
All the reviews we receive are based on the experience of our patients who came to Turkey and got treatment at the Clinic Center. Our comments are the authentic posts of our patients in a reliable and impartial manner.
We are a member of a reliable resource like Trustpilot, you can follow our patients' reviews shared both on this site and on all other sources.
Mohammad, UK
I was thinking about having hair transplant, for a while. I was looking at the different clinics online… one of my friends did his hair transplant at this clinic.. he recommended this to me. When I found out about the medical centre and I choose this because it had good reviews and friendly helpful staff who were in constant contact with any advice and prompt response on WhatsApp, this was also a great way to keep in contact throughout my travel. While I was making my discussion, I was getting advice and any question I need to ask, both were very professional.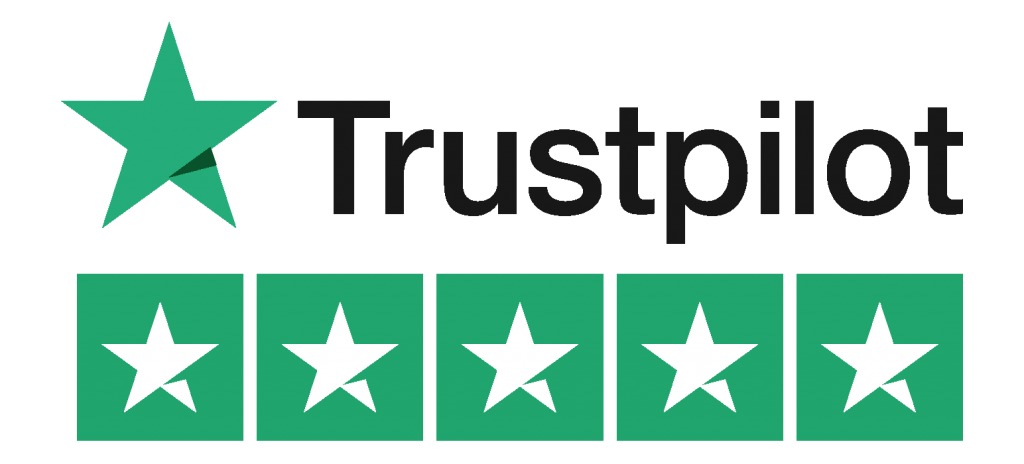 Francesco, UK
I had my hair transplant procedure at the Clinic Center on the 10th of November 2017. My personal experience has been very positive from beginning to end. Every single person whom I have been in touch with from the clinic has done his/ her job excellently. A special thanks to Emre who has been very punctual, polite, helpful and professional at all times. Thanks to the Doctor and her team who were professional and caring. Although it is early days to talk about results, the experience at Clinic Center has been very positive and I will recommend this Clinic…P.S. I love Istanbul…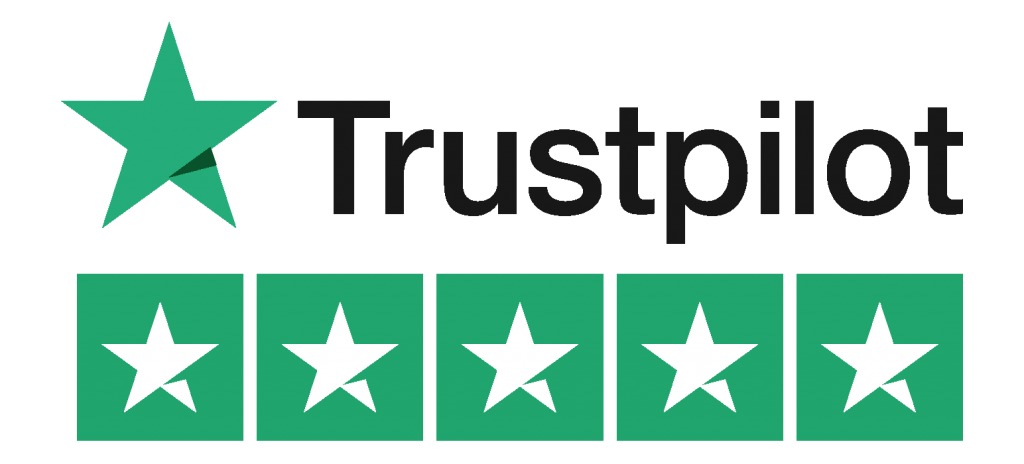 Ishfak, Ireland
Overall I had a pleasant experience and I was very happy with the service. I definitely received good value for money as my bold area was big and I was told I needed 2x sessions. I was impressed with how my treatment went. It was a bit painful at the beginning with the injections I was told it will take anything from 6 months to a year to see the end results. Today is day eight since my surgery and it's already healed. My patient service coordinator was a guy called Emre who was very helpful and always happy to attend to any concern I had. I would definitely recommend Clinic Center …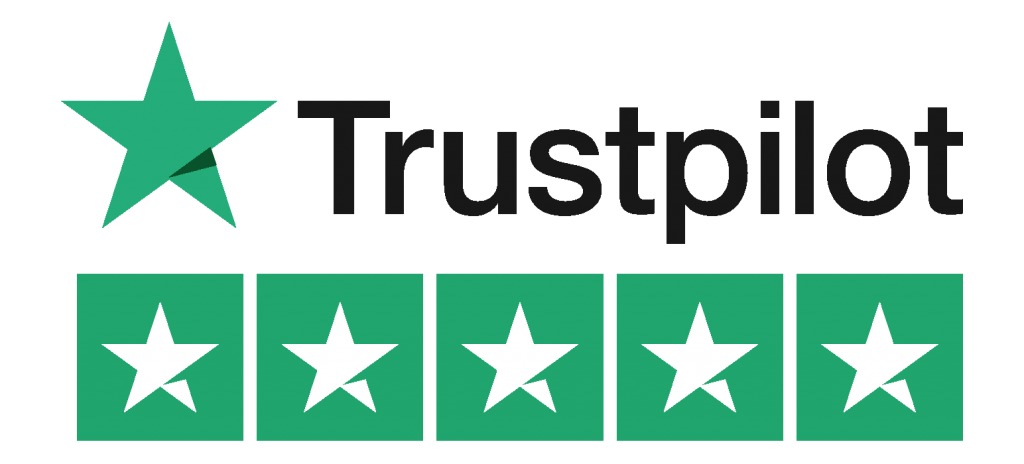 John, UK
https://www.trustpilot.com/review/cliniccenter.co.uk

I had my hair transplant with Clinic Center at the beginning of September and the initial results are very promising. My hair started to grow and I applied post-op instructions very carefully. I sent the pictures to my doctor periodically and get a response from Clinic Center. Therefore I am very satisfied with the service and treatment provided. Recommended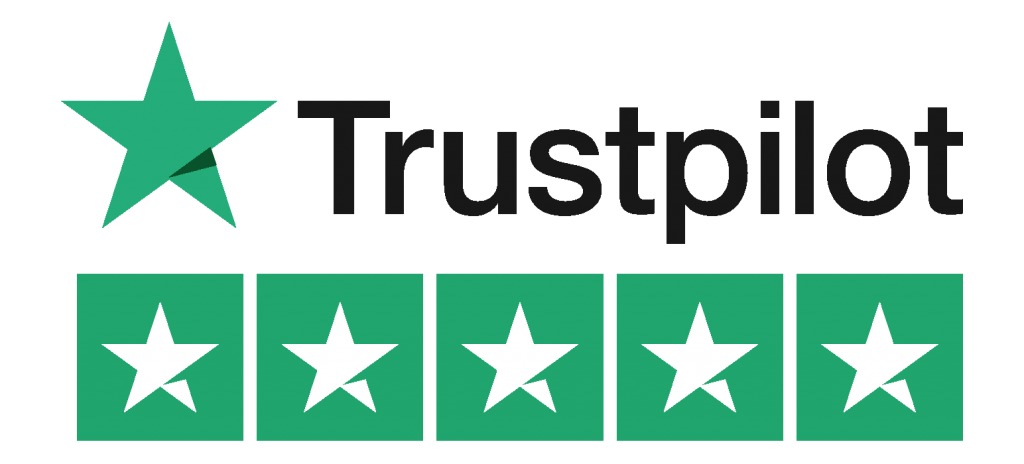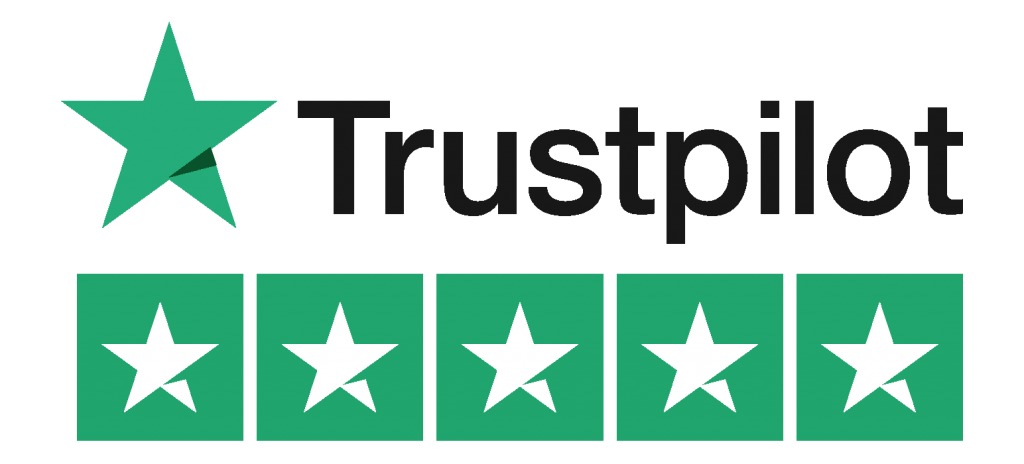 Jamil, UK
https://www.trustpilot.com/review/cliniccenter.co.uk

Great experience from start to finish had a few issues, to begin with, which the hosts quickly sorted out, very friendly and welcoming every member of the team played their part, the Hotel was fantastic my teeth look amazing at a fraction of UK prices and would definitely recommend the Clinic Centre, well-done guys and thank you.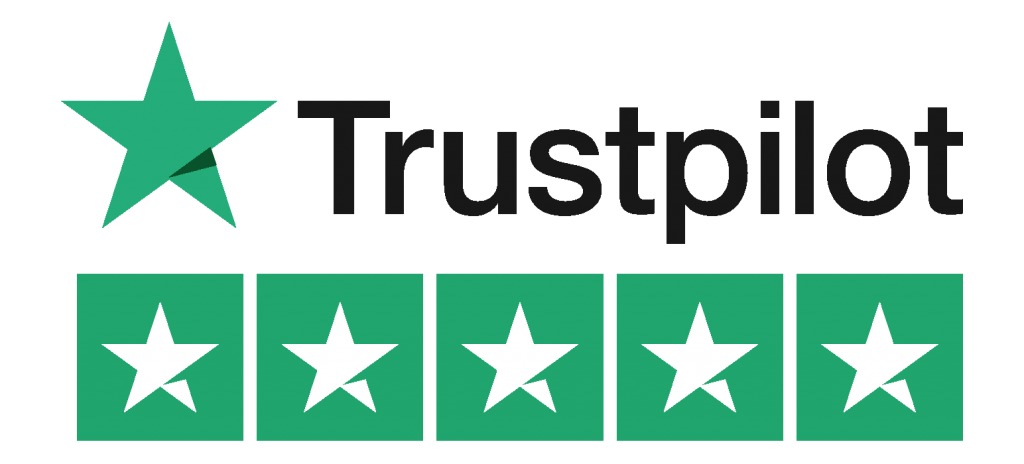 Hair Transplantation Frequently Asked Questions
Am I an eligible candidate for a hair transplant?
All healthy and mature individuals who do not have a serious chronic disorder, cardiovascular diseases, uncontrolled diabetes, kidney disorders, bleeding and coagulation disorders such as haemophilia and have an adequate amount of hair in the donor area are considered eligible candidates for hair transplant in Turkey. It is analyzed in detail by partner hair specialists, regardless of whether the patient is suitable for the procedure or not. Primarily, it is required to query non-genetic factors causing hair loss with pre-operative tests. If the tests show that there is not a systematic problem, the donor area is examined. In the event that it is determined the hair loss type is eligible for a hair transplant procedure and the candidate has an adequate number of grafts, a procedure date is given.
Why should I choose Clinic Center?
Clinic Center offers its patients reliable, customer-satisfactory, and high-quality service. A high customer service satisfaction rate makes Clinic Center stand out from other companies. With our all-inclusive package that includes a guarantee certificate, personal host, accommodation, inner transfers, check-ups, and amenities such as medical shampoo, lotion, and treatments at a competitive affordable prices, patients have the ultimate opportunity to rejuvinate their natural hair through our reputable partner medical team of hair specialists.
Does Clinic Center assist with high-quality hair transplant services?
Yes. Hair transplant in Turkey that is assisted by Clinic Center offers high-quality treatment with its partner reputable hair specialists and demand is growing each year. For further information about partner hair specialists of Clinic Center, visit our partner doctor's page.
What is the cost of a Hair Transplant in Turkey?
Hair Transplant in Turkey is more affordable compared to other countries due to the cheap living costs in the country. But the exact number of hair transplant fees may vary according to each case and its needs.
Why is the hair transplant procedure affordable in Turkey? Does it affect the quality of service?
Clinic Center Turkey partner specialists perform reliable and high-quality service and the cost of a hair transplant in turkey is much more affordable because the costs of travel and accommodation are relatively cheap hair transplant turkey in the country. However, this does not affect the quality of service you will get, which was awarded the fourth time by one of the most effective forums on hair transplant WhatClinic.com.
Is a hair transplant painful?
Thanks to developing technology, hair transplant turkey cost is no longer painful and the operation is carried out under local anaesthetic so you can even listen to music during the procedure. Little to no pain is to be expected as the anaesthetic is put into the scalp. Once the skin is anaesthetized, there is no pain. If the anaesthesia wears off during the course of the procedure, additional anesthesia is applied to the area.
How many grafts do I need?
You will have a free consultation assisted by Clinic Center in which our partner hair specialist will assess the extent of your balding areas and the strength of your donor areas. Then provide you with an estimation of the amount of coverage you can get and the number of grafts that can be extracted without damaging your donor area.
How long does the procedure last?
It depends on the number of grafts to be transplanted. Completing a 1,500 grafts procedure would normally take about 4 hours. If the balding area is larger, up to 4,000 grafts, which might take around 9 to 10 hours.
When will my new hair start to grow?
You are expected to experience some hair loss before your new hair will start to grow. This is due to the trauma that your hair grafts experience during the transplantation and this is completely normal. Your hair will start to grow in three months and you will see your final results after a year.
How long will the results last?
The results of hair transplantation are permanent. The hair will grow and continue to do so for the rest of you.
When can I recover and see the results?
Crusts might reveal after the hair transplant. These will disappear at the end of 10 days as fine dandruff if the head is washed appropriately. The patients may continue their daily lives by wearing a loose hat and they can return to work while being careful at all times. Hair starts to grow in the first three months after the procedure. Final results can be seen after 9 months up to 1 year.
Which part of the body do you use as a donor area?
Body and beard hair can be used as additional donor resources for treating androgenic alopecia on rare occasions. It's important to note that the transplanted hairs typically do not change their color, curl pattern, or diameter. They maintain the characteristics of the donor area from which they were extracted. This consistency ensures that the transplanted hair blends seamlessly with the existing hair, providing a natural and harmonious appearance. Usually, the back of the scalp where hair grafts are genetically resistant to hair loss is used as a donor area. However, in some cases, hair grafts could be transferred from the beard or other parts of the body.
How long does it take for transplanted hair to grow?
On average, hair grafts will begin growing noticeably between 3 and 4 months post-op. The most significant growth will be seen after 6 – 8 months and growth will continue for up to one-year post-op before you see the final results. First new hair will grow then it will fall out. Then you will observe the transplanted hair is growing stronger and thicker.
Does the hair in the recipient area fall and grow back?
The hair that has been transplanted will have little crusts for about one week before falling out after two weeks and ultimately regrow within 2 to 3 months after the transplant. Since the hair loss involves only those hairs which have been transplanted and not your original hair, during the period before regrowth you will look just like you did before the procedure.
Does my head have to be shaved for the procedure?
Yes, the recipient area must be shaved in order to achieve the best results, and the angle of the new hair must match that of the natural hair. Only when the hair is shaved to roughly 2mm is the true direction and angle of hair growth revealed. If the native hair in the recipient's hair is not shaved, the hair specialist must move the hair out of the way to make the openings. When this is done, the visible angles of hair growth are distorted and it becomes virtually impossible to match the angles, resulting in permanent shock loss of the existing hair.
What will it look like after the hair loss procedure?
The hair grafts form small scabs in the days after the procedure. If one has enough surrounding hair, these scabs can be camouflaged. If not, the small scabs may be visible but do not attract much attention. By keeping the scalp moist, they will come off in a few weeks. The transplanted hair is your own hair, therefore; you will achieve a natural-looking result. By using your own hair grafts with the FUE technique, your hair will look natural and dense.
Can I dye my hair after Hair Transplant in Turkey?
Yes, you can. However, we recommend you do it 5 to 6 weeks after the operation.
Do I need to have a hair transplant periodically?
It depends on the patient. Whereas for some patients, one operation would be enough, for some further operations might be necessary due to continuing hair loss.
How can I be sure about my hairline?
You will decide on your hairline with your hair specialist during the free consultation which Clinic Center will assist with before your procedure. Since the hairline is important for a natural appearance your hair specialist will perform the hairline as natural-looking as you wish according to the case.
Do you use a micromotor during Hair Transplant in Turkey?
Clinic Center Turkey partner hair specialists use the micro motor only for extraction of hair grafts since it is more efficient and does not damage existing grafts in the donor area.
How long will it be enough for the second session?
It depends on the case of each patient but there are two different scenarios for the 2nd Session; either it could be done 1-2 days after the first session or it could be done 8 months after the first session when the patient witnesses the final result of the first session.
How long will it take to heal after a hair transplant procedure?
The next day, after washing and check-up that will be done by the hair specialist crusts, will start to disappear and patients can go back to their daily life in 1 to 2 days. In 3 months, your new hair will start to grow and in 6 months to 1 year, you will see the complete result.
Do I need to shave my hair before I come for Hair Transplant in Turkey?
Your hair will be shaved by our partner hair specialists just before your procedure; you should not shorten or shave your hair beforehand since it needs to be shortened under the control of the medical team in size of 2-3 mm in order to be convenient for the procedure.
When can I start to exercise again after my Hair Transplant in Turkey?
You can start to do exercises after 3 to 4 weeks depending on the type while being cautious since it can make hair grafts sweat and increase the tension and damage their new grafts.
Hair Implants Patient Review Videos