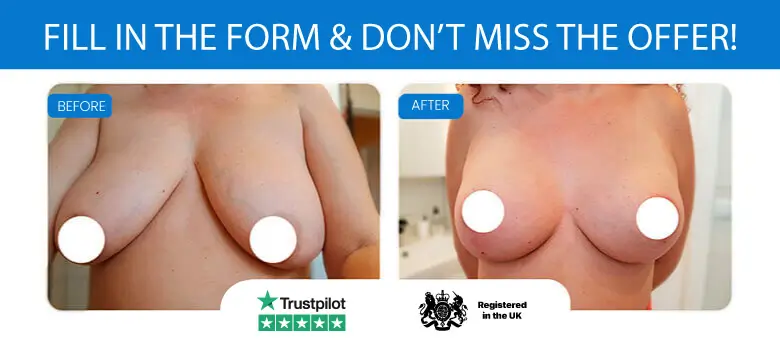 Procedure | Cost | Clinic | Recovery | Reviews | All-Inclusive Package | Surgeons | FAQ's | Before & After | Videos
Clinic Center, recorded at Company House in the UK, offers an opportunity for affordable breast uplift Turkey to achieve your ideal body proportion. Sagging breasts may even cause depression if not treated. Fill out the consultation form to get a personalized treatment plan for breast uplift Turkey, and to gain your body goals for affordable breast lift Turkey prices.
Get Your FREE Treatment Plan NOW!
What is Breast Lift Turkey?
Plastic surgery has been a remedy for those who are unhappy or insecure about a certain part(s) of their bodies either aesthetically or functionally. Nowadays, more and more women apply for plastic surgery in order to boost the way they look and their self-esteem. With the most talented plastic surgeons and highly-developed plastic surgery clinics, cosmetic surgery in Turkey has been on a continuous rise in terms of popularity. Every year, thousands of women suffering from saggy breasts opt for breast uplift in Turkey to get the fuller and lifted breasts they used to have once. However, how much is a boob job in Turkey? In addition to satisfying cosmetic surgery results, the country also offers affordable boob lift costs.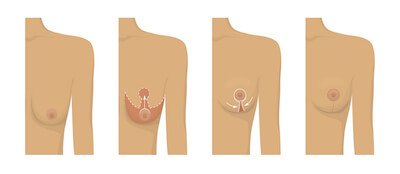 Throughout their lives, women are subjected to numerous elements that can affect the appearance of their breasts. Changes in the breasts and skin elasticity loss may result from pregnancy, breastfeeding, weight fluctuations, gravity, ageing or heredity and breast lift Turkey is preferred to restore a more aesthetically pleasing shape after pregnancy and breastfeeding, to improve proportion following significant weight loss and for these patients, breast uplift turkey and implant should be combined to provide the ideal fullness. Mastopexy cost turkey procedure can alter the consequences of time, providing you with the boobs you had years ago.
Breast Lift turkey or Mastopexy turkey is the surgical interference that lets breasts be lifted to a higher spot. It is also possible to perform an areola reduction during boob lift surgery, which means the plastic surgeon will decrease the size of the pigmented skin surrounding the nipple.
Breast lift turkey surgery takes about one to four hours depending on whether an extra surgery like a breast augmentation or breast reduction is done. You may need to wear a compression garment following your mastopexy for several weeks to help reduce swelling during your recovery process. If drains are used alongside bandages, they are likely to be taken off within one or two days. During this time any insoluble stitches stay where they are for a week or two. You may feel some pain, bruising and swelling additionally numbness around the areola, all of which should lessen in several weeks.
Breast uplift turkey surgery is performed through incisions on your breasts and there are several incision techniques. Your plastic surgeon will go for the most suitable system for your mastopexy by considering the measurement and shape of your breasts and the adaptability of your skin as well as the stage of your breast sagging to give you the firm breasts you want.
Breast Lift Turkey
Women with saggy breasts have long found the solution in cosmetic surgery, namely with breast uplift turkey. Before making the decision to go for a boob job, there are main questions that one needs to seek answers to which plastic surgery clinic and plastic surgeon they will choose or how much a breast lift turkey costs. For those who cannot afford breast lift surgery turkey price in their countries or look for the best cosmetic surgeon; plastic surgery in Turkey is the right answer. Performing thousands of breast uplift turkey surgeries, plastic surgeons in Turkey have extensive knowledge and experience.
Besides, plastic surgery clinics in Turkey have come a long way thanks to their brand-new technologies and high-quality service standards. Another explanation why the nation is an appealing target for a breast lift turkey is the prices that it offers. Breast uplift cost in Turkey is highly affordable in contrast to those in other European countries.
Breast lift abroad offers high-quality service at affordable costs, many women who desire their breasts to look firmer, perkier and more youthful prefer getting their breast lift in Turkey. Breast Uplift Turkey assisted by Clinic Center offers some of the best plastic surgeons in the country, a personalized treatment plan, affordable cost and a high satisfaction rate with our breast lift turkey surgery, by using the latest technology, top-rated facilities and advanced techniques to ensure that you obtain the best possible results. During your consultation with your doctor, you can tell him or her the results you'd like to have and what you're worried about while you are talking about the surgery.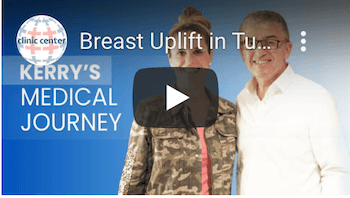 Breast Lift Turkey Cost
How much does a breast lift cost in Turkey? One of the leading reasons for picking a plastic surgery clinic for breast lift Turkey is the price of the surgery. Although breast lift turkey costs vary from clinic to clinic, breast lift prices in Turkey are much more affordable than in many other countries. Cooperating with the best plastic surgeons, Clinic Center offers a quite reasonable breast uplift turkey price. Upon your first contact with our partner clinic, we arrange all the steps of your medical journey. You can learn more about breast lift cost Turkey once you contact us.
Countless women favour getting their breast uplift abroad due to the higher costs put forward to them by their healthcare system. Because Turkey has the technology and professional cosmetic doctors rivalling European standards alongside lower employment costs, it provides women who want to have of them: good quality and affordable breast lift turkey cost. Patients who go to Turkey for mastopexy cost can presume to save up to 70 per cent on their procedure. Clinic Center's all-inclusive packages offer some of the highest grade facilities in the country for mastopexy in Turkey. Your health is always our predominance, consequently, all of our partner hospitals are internationally recognized and evaluated highest for hygiene and quality.
To get further information on how much a boob lift costs in Turkey and to book your surgery; you can simply get in contact with us online.
| | | | | |
| --- | --- | --- | --- | --- |
| Breast Uplift | Breast Uplift Cost Turkey | Breast Uplift Cost UK | Breast Uplift Cost Europe | Breast Uplift Cost US |
| Breast Uplift Costs | £3,200 – £4,000 | £5,500 – £6,500 | €5,900 – €7,000 | $7,500 – $9,000 |
Best Breast Lift Turkey Surgeons
Clinic Center is providing its patients with high-quality cosmetic surgeries thanks to its internationally recognised and certified doctors. Clinic Center surgeons are meticulously selected taking into account their careers and international experiences. As a result, Clinic Center doctors are the best plastic surgeons in Turkey considering their backgrounds, experiences and specialisations in their fields. They are internationally certified and acknowledged by global core institutions such as ISAPS and EBOPRAS. As Clinic Center, we only live with the best breast lift surgeon Turkey. You can check their backgrounds below,
Clinic Center's partner surgeons provide breast uplift turkey surgery with the assistance of Clinic Center Turkey to our patients with high-quality service at an affordable breast lift turkey price.
Our skilled and experienced partner surgeons are experts in their fields and will be with you during the consultation to determine your personalized treatment plan before the surgery based on what kind of look you want for your breast uplift Turkey and help you get the best results you want
As stated by Clinic Center's partner Dr. Hakan Gundogan, the success of breast lift turkey surgery depends on the experience of the surgeon performing the operation and the competence of the team. As stated by Dr. Gundogan, the more skilled procedures performed with appropriate methods, the more satisfactory the results will be.
Another partner Dr. Cagri Sade agrees with Gundogan. Sade, who has performed mastopexy turkey cost for thousands of people until today, emphasizes that it is more possible to achieve successful results with the right aftercare. Clinic Center and our honoured partner surgeons will be with you during your checkups and even after you return to your country with our aftercare department to assist you with any questions you might have about your boob uplift.
Breast Lift Turkey Results
Having youthful and firm breasts has always been a woman's dream. Those who suffer from saggy breasts expect to improve the appearance of their breasts through boob lift surgery. However, a significant number of women are worried that the surgery will leave awful scars or that the breasts will not be aligned. This is why candidates must be very cautious while picking a plastic surgery clinic. Using the newest methods and technologies, plastic surgeons in Turkey get pretty natural boob job results.
As long as the patient makes a good choice and follows the post-operative instructions, it is possible for any woman to have their dream boobs through a breast lift Turkey. Although the change is already discernible right after the procedure, patients can see the final breast uplift turkey result 6 months later, when the swelling is totally gone.
What Are The Main Outcomes Of Breast Lift Turkey For Women?
Boost self-assurance
Reclaim the firmness of the breasts
Feel younger and more appealing
Have the confidence and appreciate a wider range of clothes that are in fashion
A breast lift turkey can rejuvenate your body dimension with a breast profile that is more young-looking. You will be able to protect your new image longer if you don't gain or lose weight and keep a healthy lifestyle. You can look at our before and after photo gallery to see the results of the breast uplift surgery.
Breast Uplift in Turkey Before And After Gallery
Here you can see the breast lift turkey before and after our successful operations.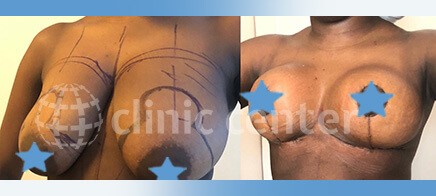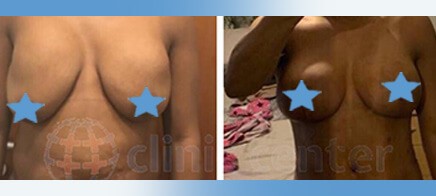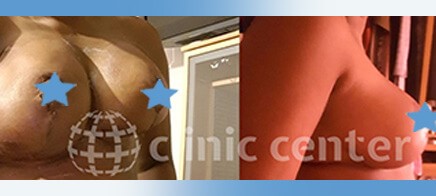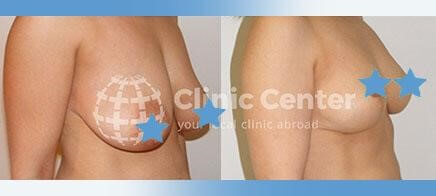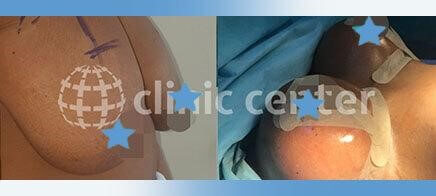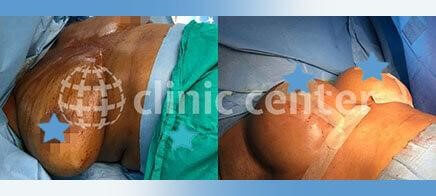 >>Click here to see more before and after pictures
Breast Lift Turkey Recovery
The first 24 hours after the booblift turkey, patients may feel uncomfortable. Generally, if there have been no complications, patients are allowed to go home the next day after breast lift turkey surgery. It is normal to feel some pain and tenderness, which can be relieved through medications during the recovery period. In most cases, patients get back to their daily routines 1 week after mastopexy. The cosmetic surgeon will take out the bandage and drains it a few days later.
Generally breast lift turkey healing period lasts a few weeks. During this time, the patient needs to abide by some instructions so as to ensure the success of the surgery. A special bra will be given to the patient and this should be put on during the full breast lift healing time. Patients can sleep on their tummies. Patients normally go back to work and do normal activities like sports in 1 to 2 weeks. It's very important to abide by all the post-op instructions given by the plastic surgeon to guarantee smooth recuperation. Click here to see our breast lift before and after gallery.
Swelling is another issue experienced by patients during breast lift turkey recovery. The swelling will go down day by day; however, it is possible to see the final booblift turkey result 6 months after the surgery.
Breast Uplift in Turkey Clinic
Being the best plastic surgery clinic in Turkey, Clinic Center offers all-inclusive treatment packages with great opportunities. Our partner clinics provide everything you will need during your breast lift in Turkey; including accommodation, transfer, personal host and follow-up examinations. Clinic Center is also in cooperation with the best plastic surgeons in Turkey, who will give you highly satisfying boob job results. We are waiting to hear your comments on your amazing breast lift turkey before and after pictures.
Breast lift turkey assisted by Clinic Center offers you the best price guarantee:
Physical consultation in London, online video consultation all over the world
Best breast uplift surgery
4 nights of accommodation at a 4-star hotel
1-night hospital stay
Transfers between airport, hotel and hospital/ clinic
International personal host
Special group discount
Free check-ups and regular follow-ups
Medical garments, support bra etc.
By choosing Clinic Center to assist you with your breast lift in Turkey, you will feel and look better.
You can be sure that you are in the best hands with your breast lift surgery in Turkey. Our partner cosmetic surgeons are ISAPS (International Society of Aesthetic Plastic Surgery) members, hold countless certificates and are specialists in their respective fields. Our partner medical team includes the top plastic surgeons in Turkey who are put through a strict selection process which examines their credentials, diploma and speciality factors. Clinic Center gives the most patient-centred comprehensive service with its breast uplift in Turkey.
Breast Lift Turkey All-Inclusive Package
Clinic Center Turkey all-inclusive package deals with your medical travel and everything you require for a pleasant stay in Turkey is sorted before your breast reduction operation. Here are the package details;

Internationally Certified Doctors
Clinic Center partner plastic surgeons are selected after a close screening and hold reputable EBOPRAS, ISAPS and ASAPS memberships. With us, you can be certain that you are in good hands
Special Group Discount
The more the merrier! You and your friend will benefit from a special discount in the case of bringing them along with you for a breast lift turkey or any other surgery.

Medical Garments, Support Bra etc.
Clinic Center will provide you with the necessary equipment to be used after the breast uplift surgery.

Accommodation at a 4-star Hotel
Having surgery whether it is small or big requires efficient resting for a full recovery. For this reason, Clinic Center will make certain you have one of the finest and most comfortable stays until your departure.

VIP Transfers
For a more convenient journey, from the moment you arrive in Turkey, your transfer will welcome you at the airport and bring you to your hotel.

International Patient Host
Whilst you are in Turkey, you will have a host whilst going to your surgery, being discharged and going for your checkups.
Breast Lift Turkey Fast Facts
| | |
| --- | --- |
| Procedure: | Breast Uplift (Mastopexy) |
| Duration: | 3 to 4 hours |
| Recovery: | 7 to 15 days to return to work |
| Anaesthesia: | General anaesthesia |
| Stay: | 4 nights hotel, 1-night hospital |
| Side Effect: | Temporary swelling, bruising, soreness, discomfort, nipple sensitivity, numbness |
| Complications: | Scars, Bleeding, Seroma, Infection, Extrusion, Swelling, bruising and pain, Asymmetry, Increased or reduced sensation, Damage to deeper structures, Unsatisfactory result, Change over time, Allergic reaction (chest infection, blood clots, heart attack or stroke and death) |
| Exercise: | After 1 month |
| Scars: | Yes (depending on the incision type) |
| Pain: | Slight (depends on the patient) |
| What to bring: | Comfortable clothes (sweatshirts, button-down or zipped shirts etc.) |
| Results: | Immediate (final results after 4 to 6 months and may change due to pregnancy, gravity, weight or age) |
| Multiple surgeries: | Breast augmentation, breast reduction, liposuction, nose surgery |
Breast Lift Turkey Operation Reviews
These breast lift surgery Turkey reviews were written by our real patients at their own request explaining and sharing their experiences about getting a breast lift Turkey reviews in an impartial and reliable manner. You can find the same breast uplift reviews comments on online platforms.
Sabrina, US
I had a breast lift on one side as well as implants. The lift was done from the areola on the right side using a crescent incision and then I had the implants inserted via an incision under the breasts. I am very happy with the overall appearance and feel of the procedure and implants. The lift made the breasts symmetrical and now they are identical in size and shape after the implants… They are small and done well but still noticeable. It has only been 4 months so I hope the colour will continue to fade over time.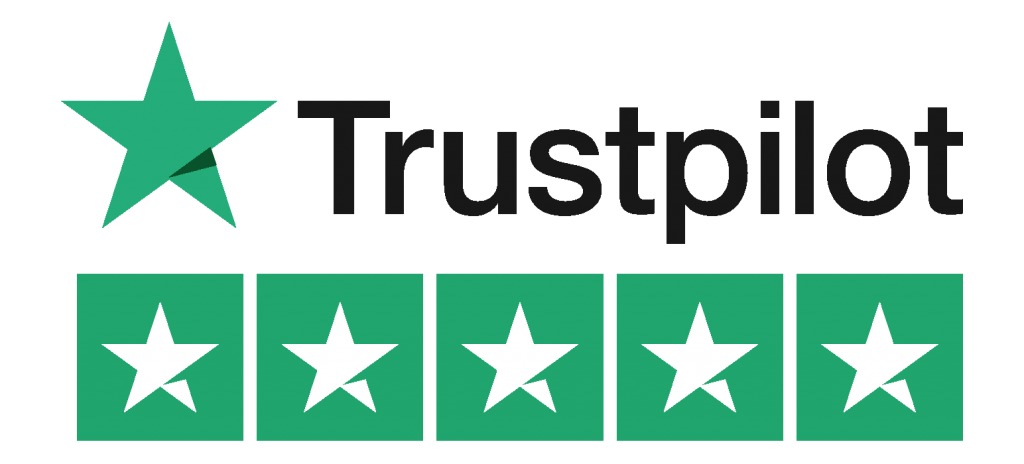 Lina, UK
I had my breast augmentation, lift and implant with Clinic Center and I highly recommend it. My host who is always with me during my operation and helped me with anything that I can imagine, my doctor was amazing, kind and helpful and I gotta say he just changed my life. I am so impressed with the result after my mid-age, I feel like 20's again with his amazing talent. I am completely satisfied with my medical travel with Clinic Center. Thanks for all your effort and kindness.

https://www.whatclinic.com/cosmetic-plastic-surgery/turkey/istanbul-province/istanbul/clinic-center-istanbul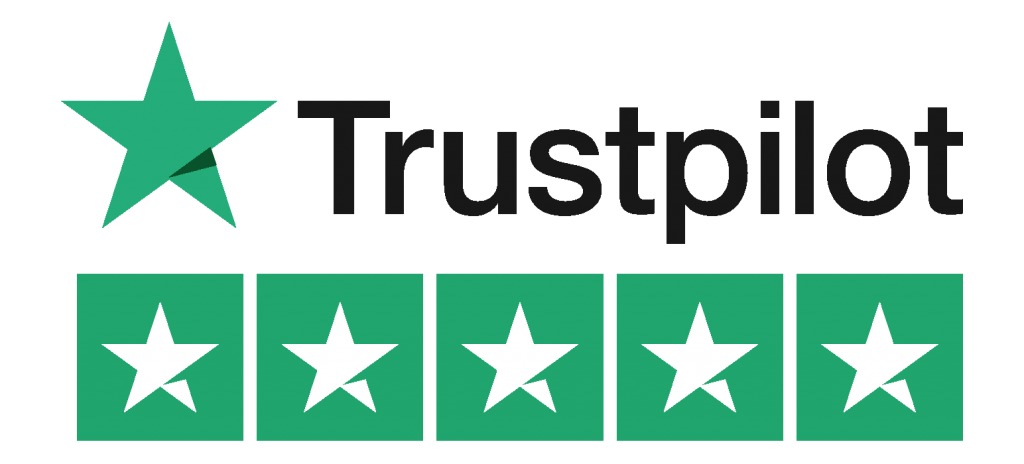 Adele, UK
This was my first time ever travelling abroad for surgery from London and I would definitely recommend the Clinic Center for plastic surgery! Upon arrival to Turkey for breast augmentation and uplift I was picked up from the airport and taken to the hotel. My host accompanied me to the hospital and was there with me through the process and this made me feel really relaxed. The surgeon was absolutely amazing listening to everything I said during the consultation, the hospital was very clean and the staff was absolutely helpful during my stay. I was taken care of well and I am so glad that I chose Clinic Centre for this journey. Would highly recommend them!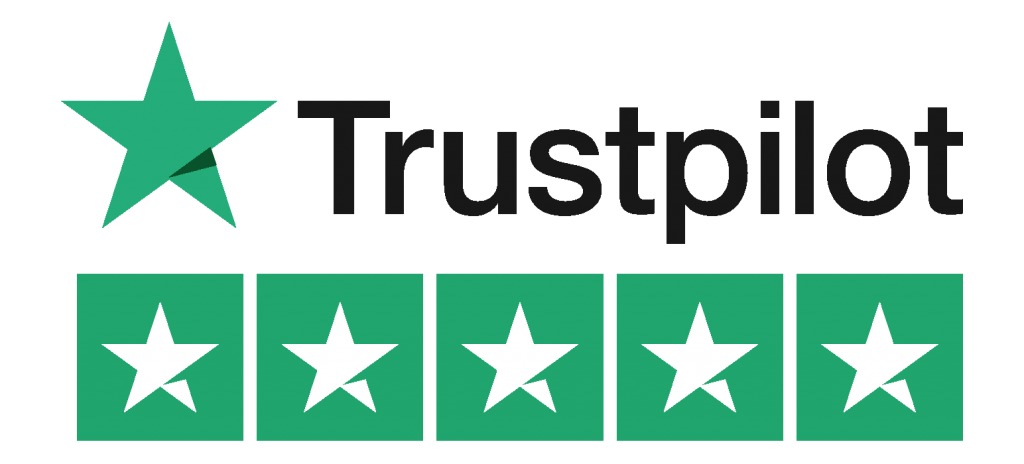 Mandy, UK
It is been about three months since my breast lift surgery. I feel amazing and so happy at how proportionate I am. My new breasts are looking perky and there is really minimal bruising. Thankfully the team calmed me down before the surgery (which was a practical miracle!). Found a clinic that I could trust and they took care of the rest. Thank you Clinic Center!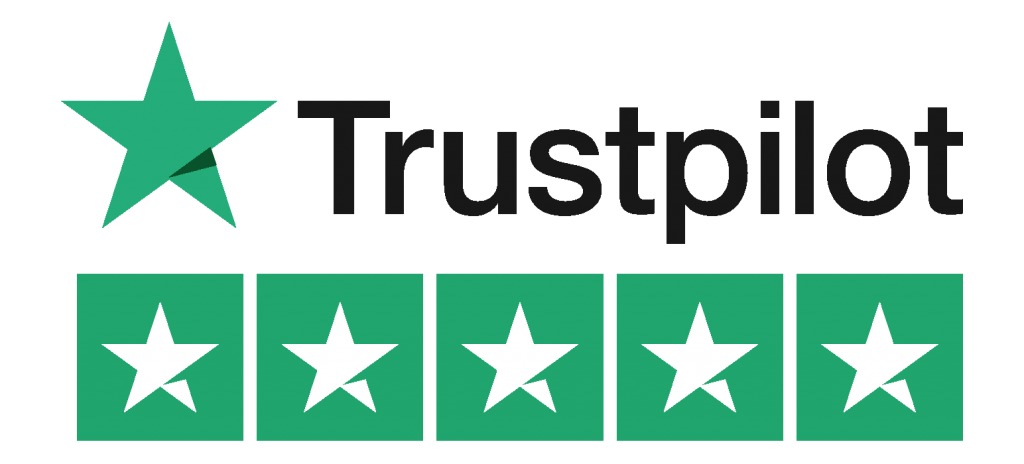 Madalina, US
I had a breast lift and implants and my results are amazing! Clinic Center have the best doctors ever! I'm beyond happy with my results! Thank you, Clinic Center for everything that you've done for me!

https://www.whatclinic.com/cosmetic-plastic-surgery/turkey/istanbul-province/istanbul/clinic-center-istanbul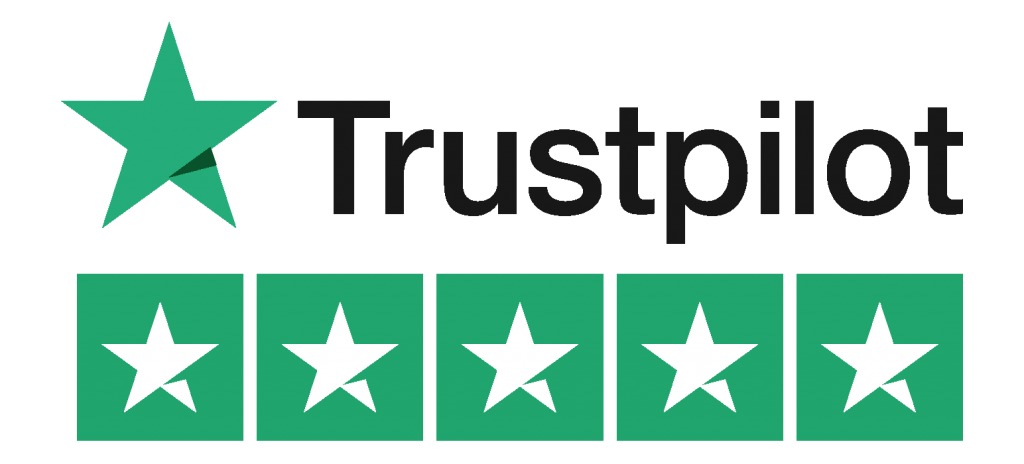 Shuanna, UK
After having 2 lovely children my skin stretched and my breasts sagged especially after breastfeeding. Then I decided to have uplifted and searched for a good doctor and clinic for me. Then I ended up my research with Clinic Center. My doctor also suggested me to have implants which were the best for me.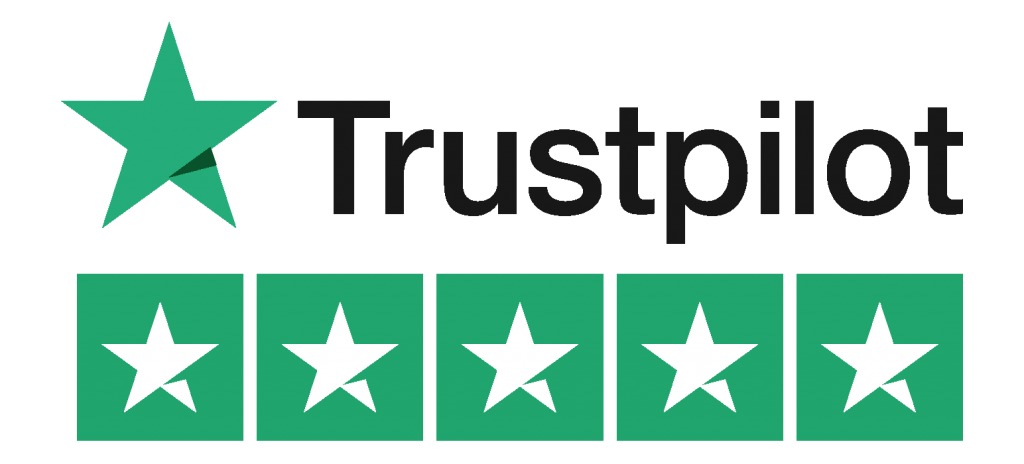 Breast Lift Turkey Frequently Asked Questions
Are the results of breast lift turkey lifelong?
Yes. The results of breast uplift are generally lifelong, but habitual ageing, notable weight fluctuations and pregnancy in the future can have an effect on the long-term results.
Do breast lift scars fade fully?
Breast lift scars will not fade fully. But they will go away considerably one year later after the surgery.
Is breast uplift identical to breast enlargement?
The point of a breast uplift surgery is to firm and tighten the drooping breasts while the point of a breast augmentation surgery is to enlarge the size of the breasts. But, breast uplift operation can also be performed together with breast augmentation operation if a patient wants to have both bigger and firm breasts.
What is the distinction between breast augmentation and uplift?
Breast enlargement especially centres on augmenting the size of the breasts whereas breast lift centers on reshaping the contour of the breasts. But you can have both operations at the same time which is more favoured most times for having a better-proportioned result.
Can breast uplift and enlargement or reduction be done together?
Yes, breast uplift and enlargement or reduction operations can be done together. Many of our patients combine these surgeries with each other.
Can I nurse my baby after the breast lift operation?
Yes, it is possible to nurse your baby after mastopexy as long as the nipple is left connected to the primary breast tissue. While it needs to be made a point that pregnancy and nursing can influence the shape of your breasts which means you may want to wait until later to have a breast uplift operation. If you expect that you may desire to nurse your baby at some point after your operation, talk about this with your doctor.
Can breast lifts enlarge breast measurement?
Breast lift operation has no immediate effect on the measurements consequently most of our patients choose to get a breast lift with implants.
What is the cost of a breast lift turkey?
So, how much is a boob uplift? Breast lift prices in Turkey are much more economical than in most countries. Working side by side with the top cosmetic surgeons, Clinic Center offers a quite reasonable breast uplift price. Upon your first contact with our clinic, we arrange all the steps of your medical journey.
What is a non-surgical breast uplift?
Non Surgical breast lift operation is where there are no cuts or incisions involved. You also don't need to be under general anaesthesia. Even though there are a lot of non-surgical choices on the market, when you have an obvious sagging, choosing the breast lifting operation will be more suitable and fruitful.
Breast Uplift in Turkey Patient Review Videos
Disclaimer
The information on this site is not intended or implied to be a substitute for professional medical advice, diagnosis or treatment. All content, including text, graphics, images and information, contained on or available through this website is for general information purposes only. It is not advice on your specific needs and circumstances. It does not replace the need for you to have a thorough consultation, so you should get advice from a suitably qualified medical practitioner. Please bare in mind that as with all operations, there are risks involved in having cosmetic surgery.