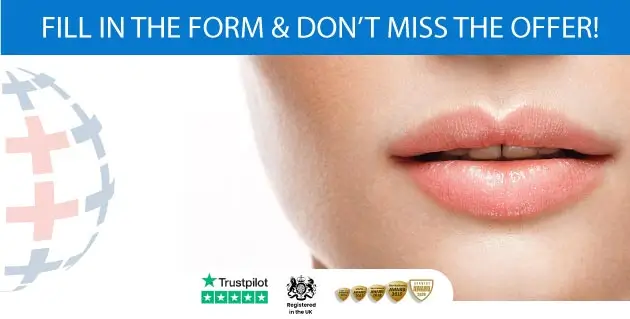 Get Your FREE Treatment Plan NOW!
What is Lip Filler?
The most common technique for lip fillers is a dermal filler. There are other types of fillers that can be injected to your lips. Almost all of these products are similar to hyaluronic acid, which is the most popular filler of all. Hyaluronic acid is a natural chemical that can be found inside your body. This type of chemical hyaluronic acid helps your lips to look and feel fuller. Before hyaluronic acid, the most used dermal filler was collagen. However, with new findings in the medical field, there are more affordable and safer choices.

Natural Lip Fillers in Turkey
Lip filler is a quicker way to achieve plumper lips. Lip filler in Turkey is an inpatient procedure in which you do not have to stay the night at the hospital. Lip filler abroad takes only around 15 minutes to do. If you are in Turkey as one of our patient's companions, you can get in contact with your patient service coordinator to learn more about lip filler in Istanbul. You can also get in contact with us through this form. After you've had the lip filler procedure, there are a few rules to follow:
Do not touch your lips for 2 days.
Do not apply any make-up for 2 days
Do not exercise for 2 days at least.
Also, after your procedure, won't be left alone. We have an aftercare team whom you can ask anything.
Lip Fillers Cost in Turkey
Lip filler is the quickest and safest way to achieve the lips you desire. You can have a free consultation with our doctors to discuss your goals. Lip filler is a non-surgical treatment and it is a cost-efficient option to other treatments. In Turkey, you will have the best possible price for your lip filler treatment. Contact us now to learn more about lip filler abroad.
Lip Filler FAQ
How long does the procedure take?
Lip filler in Turkey takes around 15 minutes to apply.
How bad does it hurt?
It may feel like a sudden prick in the skin, not painful but uncomfortable.
Will they look good right after?
You will see the result immediately.
How do I take care of them after?
After the treatment, for two days do not touch your lips and avoid exercising.