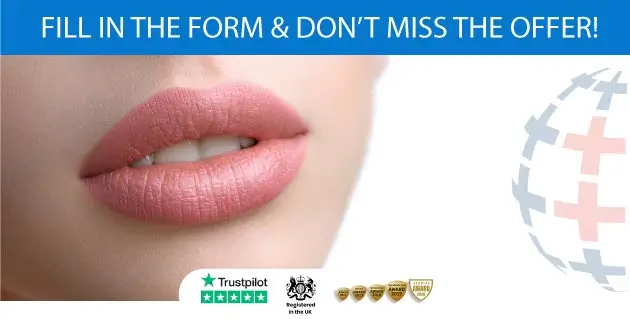 What is An Upper Lip Lift?
Upper lip lift procedure is a small procedure where the Clinic Center doctor takes off the extra skin by making a little scar concealed at the bottom of the nose. There are number of techniques for upper lip lift in Turkey. Important thing is to decide which one is the right choice for you. You will have a consultation with our surgeons to decide about it. Here are the three common techniques used for upper lip lift abroad.
Direct lip lift
If you want a more defined lip border, a direct lip lift is the right choice. However, this method usually leaves a scar on the upper lip.
Central lip lift
Central lip lift shortens the distance between the nose and the upper lip. This way, the scars will be hidden under the shadow of your nose.
Corner lip lift
What corner lip lift basically does is, it lifts your lips from the corners of your mouth, thus giving you a more smiley face. This is for people who have downturned lips.
Get Your FREE Treatment Plan NOW!
Upper Lip Lift in Turkey
Unlike other lip augmentations, upper lip lift in Istanbul is permanent. Another difference from other lip augmentations is that this treatment only has an effect on your upper lip. Recovery from upper lip lift in Istanbul is pretty quick, the patient can go back to work just 3 days later. The treatment itself takes around one hour. You can have an upper lip lift in Istanbul right away if you are already in Turkey as a companion to one of our patients. This procedure doesn't have any effect on your movement so that you can still help your friend or enjoy the city. As Clinic Center, we also have video consultation, or you can come to our office in London, contact us now!
Rest for at least one day.
Do not exercise for 2 weeks.
Sleep on your back or your sides for a week.
Do not stretch your mouth too much.

Turkey is the best place for having upper lip lift, not just because of affordability, but also the doctors in Turkey have vast experience in their field. Upper lip lift usually takes around 1 hour and done on an outpatient basis, which means there is no need for you to stay at the hospital. Our staff will provide you the best price possible for upper lip lift cost. Contact us today to have a free consultation today!
Upper Lip Lift FAQ
How much skin will be removed?
The amount of skin depends on your goals and your surgeon's suggestions.
Will there be scars?
There are several techniques mentioned above, in some methods scars are visible while in most cases it is not.
When can I see the result?
You will start to see the results after 1 week when the swelling is gone.
Are there any risks?
Typical risks include; excessive scarring, seroma, infection, numbness.