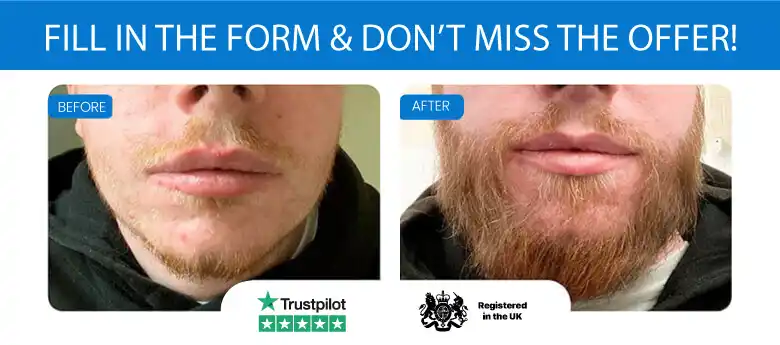 Registered to Companies House, Clinic Center has helped thousands of men achieve satisfying beard transplant results. Write down your contact information to the consultation form to have beard transplant in Turkey for a modest cost covering everything one might need.
Get Your FREE Treatment Plan NOW!
What is Beard Transplant?
Beards and moustaches are two of the most important parts of men's looks and are mostly seen as signs of masculinity, therefore facial beard loss can affect even psychology. Due to heredity, ageing, scarring, immune diseases or trichotillomania beard can become thin, patchy or spotty and even disappear completely. For those who suffer from such cases, a beard transplant is a popular and effective solution to beard loss preferred by many. It is, for sure, the best way to grow a beard and trigger beard growth.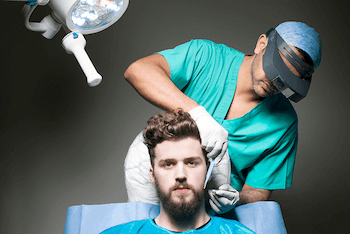 It will no longer be necessary to worry about lack of facial hair, or scratch to see if it grows more. Science continues to advance and beard loss already has a solution: beard transplantation. A beard transplant is a permanent and the best solution to beard & moustache hair loss. It is a pain-free cosmetic surgery procedure that restores the beard by transplanting grafts from high-density areas into the recipient area.
The techniques used can be either DHI or FUE, where grafts are taken from the back or back of the scalp, which is called the donor area. These follicles are then thoroughly examined under a microscope and placed one by one in the area where the beard hair loss occurs. Read more about FUE technique here.
Who Should Do Beard Transplantation?
In fact, many men suffer primarily from unevenly distributed or non-existent facial hair. In the most severe cases, alopecia of the beard is not uncommon and is usually genetic.
In this case, only a beard transplant can help you grow a thick beard, but under certain conditions. For example, the key to a successful beard implant is to have enough grafts available in your donor area, which is often your own beard.
Hence, anyone over 20 years of age and diagnosed with no systematic disease can undergo beard and moustache transplantation as long as they have enough grafts for the permanent treatment of facial hair loss.
DHI Beard & Moustache Transplantation
DHI (Direct Hair Implantation) is one of the most effective methods used in the treatment of thinning / balding beards or moustaches. Unlike the FUE method, in the DHI beard transplant method, the preparation of the recipient site and implantation of the follicle are performed simultaneously, that is, the extraction and implantation are combined as part of a one or two-step process. The implantation of beard hair follicles extracted directly from the recipient areas is done without the need to create channels in the recipient area, using an implanting pen (Choi pen).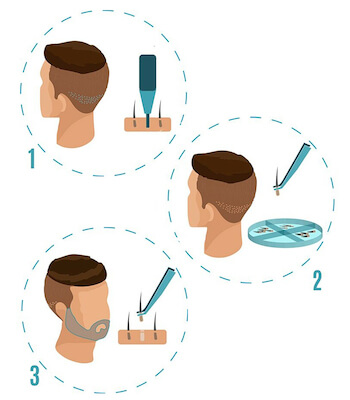 DHI Beard Transplant is one of the methods that Clinic Center offers as a cure for beard loss. By choosing this method, thousands of men achieve the beard they desire thanks to Clinic Center's all-inclusive packages with affordable prices.
Beard Transplant Cost in Turkey
Beard implant in Turkey is one of the star treatments in the field of hair implants. Not only because of the masculine appearance it gives but also because it constitutes a distinctive and almost defining feature of men's faces. The beard or moustache transplant by Clinic Center is the exact solution to achieve this look.
Clinic Center offers advice and consultation free of charge, with a simple assessment through photographs. Our partner clinic provides beard transplantation at quite affordable prices with a high-quality of medical service. To find out more about beard transplant cost in Turkey, you can simply get in contact with our medical consultants online.
Stages of Beard & Moustache Transplant
Considering that you are about to go for a permanent solution to beard loss; it is quite likely that you are curious about the stages of a beard or moustache transplant. Basically, there are four stages of the procedure which are listed as follows:
Consultation
Local anaesthesia
Operation
Maintenance
Consultation
The Beard transplant procedure begins with the doctor's examination. Two important points are considered during this stage: the number of grafts and the regions to be transplanted. The specialist will simply determine where you experience loss of beard hair. In the last stage of the consultation, he will make marking for a beard and moustache line according to the person's wishes. This line is one of the main components that will highly effect your beard transplant results.
Local anaesthesia
So, how painful is a beard transplant? It might be good to know that local anaesthesia is utilized to eliminate the possibility of severe pain and discomfort. In this way, the operation can be completed in a more comfortable and painless way. Local anaesthesia is usually done with a needle. But, needle phobia patients can benefit from the needle-free technique. Local anaesthesia is applied to two different regions. First, the donor area is anaesthetized. After collecting the roots of the hair, the planting area is numbed.
Operation
The operation stage consists of three main parts. At first, the hair follicles are removed from the donor area one by one, then the channels are opened in the recipient area, where you lack of facial hair. Finally, the hair follicles that undergo certain treatments are planted in previously open channels.
Maintenance
Before leaving the clinic, the medical team will inform you about how to deal with beard transplant aftercare. The day after the operation, they will show you how to wash your hair by yourself.
Click here for pre and post-operative instructions.
Beard Transplant: Should You Do It?
Strong and healthy hair is important, but a thick beard and moustache also boost many men's self-confidence and give them a good-looking feeling. It is common that men suffering from facial hair loss first apply medications in search of a solution to thinning their beard or moustache. However, most of these medications or supplements fail to grow a thick beard. At this stage, the best solution to beard hair loss might be a beard transplant.
First of all, you should know that having bald spots on the beard is an extremely common problem, especially in the cheek area. There are few scientific reasons to explain the causes of beard hair loss, but it could be due to these factors:
Genetics
Hormones
Lifestyle Factors
Genetics
In more than 50% of men, beard hair loss is caused by genetics. Those experiencing facial hair loss due to genetics are also likely to suffer from male pattern hair loss. This is when beard hair loss does not respond to any kind of medication or supplement, thus making beard transplantation the only option.
Hormones
Another explanation is that the general levels of androgens (testosterone and DHT) could be low to trigger facial hair growth. The common characteristics of men with lower amounts of male hormones are mainly the absence of facial hair and/or a thin, brittle beard in which many bald spots appear.
Lifestyle Factors
It is also known that life factors also play a key role in the loss of facial hair. Hence, men with a stressful lifestyle are more likely to suffer from beard hair loss as stress has a direct effect on hormone levels. Those who don't sleep enough might also end up with beard hair loss as the studies say.
Besides, it has been proved that some systematic diseases and medications can cause new bald spots on the beard to appear.
Pros and Cons of Beard Transplantation
A few years ago, the loss of a beard or moustache was considered an unsolved problem. However, after the recent advancements in the treatment of beard and moustache loss, facial hair loss is no longer a problem. With the latest beard transplant technology, it is possible to grow a healthy beard and moustache. Beard transplantation in Turkey is also quite advanced. All-inclusive health services with affordable prices and free medical consultation in the UK make Clinic Center the best beard transplant clinic in Turkey. If the beard transplant is performed with the correct techniques and the latest technology, you will not encounter any problems after the process.
Clinic Center All-Inclusive Package Includes:
Beard transplant with guaranteed certificate
Best beard transplant in Turkey with the reputable medical team

Maximum number of hair grafts with FUE technique
Special group discount

Accommodation at a 4-star hotel

Award-winning customer service (2016-2018 by Whatclinic.com)

Airport transfers with VIP car

International personal host
Check-up and follow-up care

Medical shampoo, lotion, medicines etc.
Beard Transplant Results
After your beard transplant experience assisted by Clinic Center in Turkey, you will achieve below beard transplant results;
Natural and dense-looking facial hair

Increased self-esteem

Fuller and thicker beard

Masculine look
Beard Transplant Turkey Before and After Pictures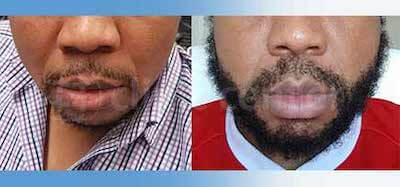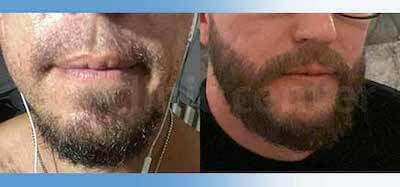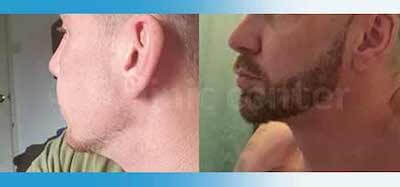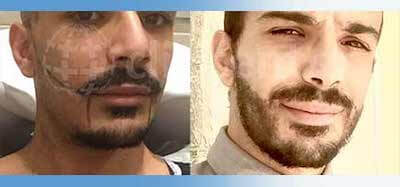 For more information on beard transplants in Turkey, contact us here.

Transplant with Guarantee Certificate
Your hair transplant procedure is under Clinic Center guarantee and in the unfortunate event of any malpractice of your procedure, you will be offered a free-of-charge hair transplant.

Maximum number of hair grafts with FUE Beard transplant
You will experience dense and natural-looking hair transplant results from reputable specialists with high-quality service and affordable prices at Clinic Center.

Special Group Discount
The more the merrier! You and your friend will benefit from a special discount in the case of bringing them along with you for the hair transplant procedure.

Hair Treatment Treatment
Hair Treatment speeds up the healing process and by combining Hair Treatment with a hair transplant not only you will have a much faster recovery but also the transplanted hair follicles will be vitalized and stimulated.

Accommodation at a 4-star Hotel
Having a procedure whether it is small or big requires efficient resting for a full recovery. That is why Clinic Center will make sure you have one of the best and most comfortable stays until your departure by providing accommodation at a 4-star hotel in Turkey.

Transfers with VIP car
For a more convenient journey, from the moment you arrive in Turkey, your transfer will welcome you at the airport and bring you to your hotel.
International Patient Host
Different countries, different people. How will you manage everything? Your international host, who is reachable 24 hours, will accompany you during your medical travel.

Check-up
A day after your procedure you will have your check-up and aftercare instructions for a successful healing process. We also provide regular follow-ups to make sure you have the best natural-looking results.

Medical shampoo, lotion, medicines etc.
Medicines (antibiotics, pain killers, anti-edema), special shampoo and lotions necessary to be used after a hair transplant is provided for each patient.
Fast Facts
| | |
| --- | --- |
| Procedure: | Taking individual facial hair grafts from the donor area and transplant into to balding parts (recipient area). |
| Duration: | 2 to 6 hours |
| Stay: | 3 nights hotel |
| Anesthesia: | Local anesthesia |
| Shaving: | Yes (3 months after with scissors) |
| Recovery: | 3 to 5 days to return to work |
| Hair Treatment: | Yes (to stimulate facial hair growth and fasten the healing process) |
| What to bring: | Comfortable clothes (sweatshirts, button-down or zipped shirt etc.) |
| Side Effect: | No |
| Exercise: | After 3 to 4 weeks |
| Facial Wash: | After 15 days |
| Scars: | No |
| Pain: | None to slight |
| Results: | Permanent (with 98% success rate) |
| Multiple surgeries: | Hair transplant, liposuction, rhinoplasty, dentistry |