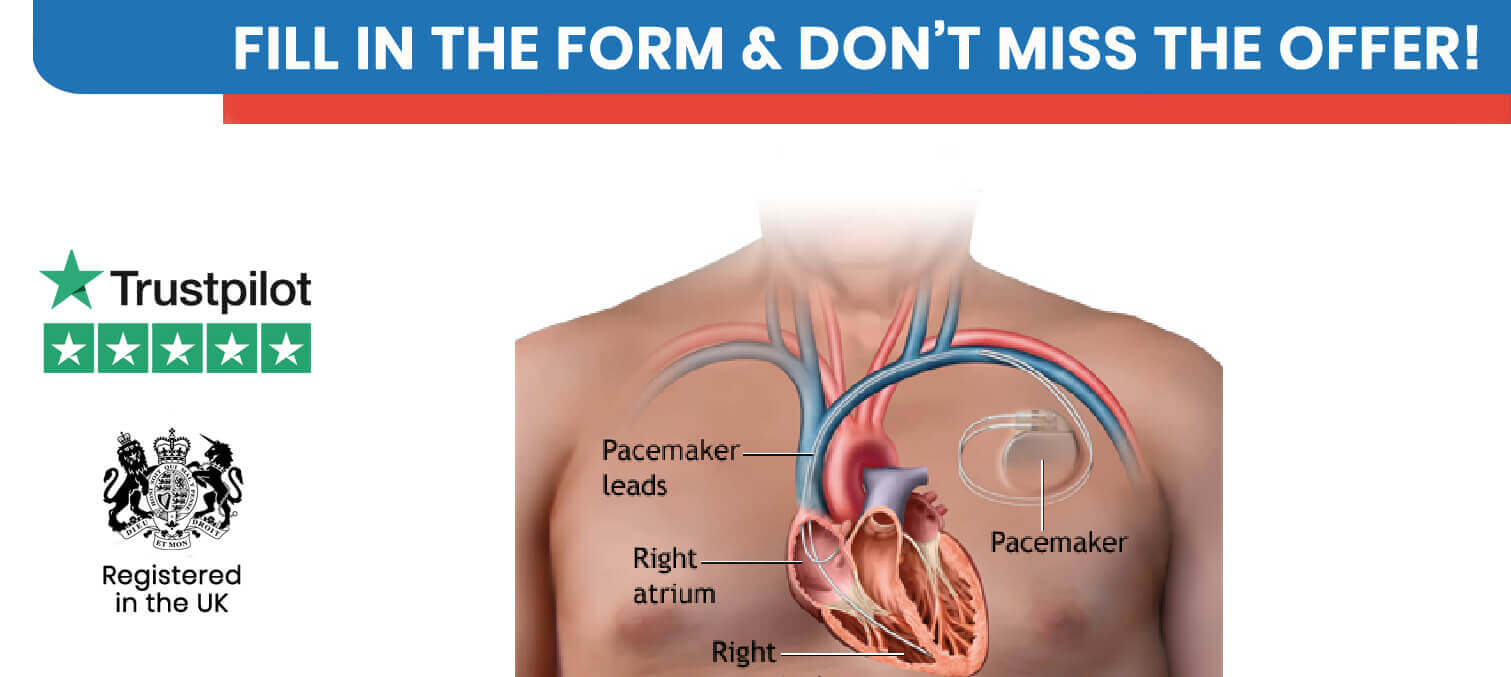 Health is the number one thing in our lives. If it isn't good, naturally we aren't too. However, certain procedures may not be affordable in your country or you may have to wait a bit too long. Clinic Center, registered in the UK, sorts everything out for all of its patients, so the patients can just focus on the procedure and then focus on healing. Just fill in the contact form to reach us for details!
Get Your FREE Treatment Plan NOW!
What is a Pacemaker Procedure, and How is it Done?
Pacemaker procedure is where a small device that helps to control abnormal heart rhythms gets inserted. So that the heart rhythm goes back to normal.
Pacemaker of the heart procedure takes 1-2 hours. When the preparation time is added, it could be a bit longer.
One or more elastic insulated wires are put into an important vein under or near the patient's collarbone and lead to the patient's heart using X-ray images. One end of each wire is attached to a suitable position in the patient's heart, while the other end is attached to the pulse generator, which is usually implanted under the skin below the patient's collarbone.
Is Pacemaker Procedure a major surgery?
No, pacemaker isn't a major surgery. The procedure is normally done under local anaesthesia and the patient, if they feel well enough, can be discharged on the same day. It also depends on what the doctor says.
Pacemaker Procedure Techniques in Turkey
There are two techniques used for pacemaker procedure,
Endocardial (transvenous) Approach: This is the most standard technique. It is done with local anaesthesia. So the patient is awake at the time. But, won't feel pain during the procedure. An incision is made in the chest where the leads and pacemaker are put in. The lead(s) is put through the incision and into a vein, then lead to the heart with the help of the fluoroscopy machine. The lead tip fastens to the heart muscle, while the other end of the lead (fastened to the pulse generator) is put under the skin in the upper chest, where a pocket is created.
The Epicardial Approach: This technique isn't used as much in adults, but is it used more in children. For this technique, general anaesthesia is used. So the patient is asleep during the procedure. The Clinic Center surgeon fastens the lead tip to the heart muscle, while the other end of the lead (fastened to the pulse generator) is placed in an area built underneath the skin in the abdomen.
Even though healing with the epicardial technique takes longer than the transvenous technique, minimally invasive approaches have made shorter hospital stays and quicker recovery times possible.
The Clinic Center doctor will decide on which type of pacemaker implant technique is best for you.
Who is a Candidate for Pacemaker Procedure?
Good candidates for pacemakers are:
People with irregular heartbeats
People with slow heartbeats
People with fast heartbeats.
How to Prepare for Pacemaker Procedure?
Before the Clinic Center doctor decides if the patient needs to have a pacemaker, the patient will have tests done to find the cause of their irregular heartbeat. These could include:
Electrocardiogram (ECG): Records the patient's heart's electrical signals.
Holter monitoring: Patients wear this portable machine and it records your heart's activity during the day. Some personal devices, like smartwatches, offer electrocardiogram monitoring. Patients should ask the doctor if this is an option for them.
Echocardiogram: Is a machine that uses sound waves to make images of the heart. It is a non-invasive test.
Stress test: Also known as Exercise Stress Test, with this test, the patient's doctors can see how their heart works whilst the patients are exercising.
The patient will most probably be awake during the surgery to implant the pacemaker, which typically takes a couple of hours. Patient will have an intravenous line put, through which they might receive medicine to help them stay calm.
The majority of the pacemaker implantations are done using local anaesthesia to numb the incision area. The patient's chest is disinfected with a special soap.
If the patient is going to have the ICD pacemaker procedure under general anaesthesia they should also prepare like this:
Important Note:
Surgery will be CANCELLED if the patient is pregnant or has problems with their health (apart from the reason they came for)(the anaesthesiologist will check before the patient is taken to the operating room).
Two Weeks Before Surgery:
Alcohol drinking and smoking should stop. Nicotine affects the blood circulation and this can affect the result of the surgery and increase the risk of complication with anaesthesia.
One Day Before Surgery:
STOP EATING OR DRINKING ANYTHING AFTER MIDNIGHT.
Day of The Surgery:
Patients can shower before going to the hospital.
Patients shouldn't have any makeup on. They shouldn't have nail varnish and false eyelashes need to be removed.
Bringing comfortable clothes are shoes is enough.
If there is hair on the chest, it should be shaved.
Jewelry shouldn't be worn and valuables shouldn't be brought to the hospital.
What are the Risks of Pacemaker Procedure?
Risks are uncommon but not impossible. The risks are:
Infection
Allergic reaction to the dye or anaesthesia
Swelling, bruising or bleeding at the generator area, especially if you take blood thinners
Damage to your blood veins or nerves near the pacemaker
Collapsed lung
For more information, you can contact us on here:
Pacemaker Procedure Results in Turkey
Having a pacemaker should better the symptoms caused by slow heartbeat, such as fatigue, light-headedness and fainting.
Clinic Center doctor should control the pacemaker every 3 to 6 months. Inform your Clinic Center doctor if weight has been gained, if your legs or ankles have gotten swollen, or if you faint or get dizzy.
Patient's pacemaker's battery should last 5 to 15 years. When the battery wears out, patient will need surgery to have it changed. The procedure to change the pacemaker's battery is often faster and requires less recovery time than the procedure to implant the patient's pacemaker.
Because most of today's pacemakers automatically adapt to the patient's heart rate to match their level of physical activity, they can allow the patient to restart a more active lifestyle.
After the patient has healed, there are some special precautions that the patient has to follow:
It's not likely that the patient's pacemaker would stop working properly because of electrical interference. Still, the patient will need to take a few precautions:
Mobile phones: It's safe to talk on a mobile phone, but keep the mobile phone at least 6 inches (15 centimetres) away from the pacemaker. Patients shouldn't put their phone in a shirt pocket. When talking on their phone, they should hold it to the ear across from where their pacemaker was implanted.
Security systems: Passing through an airport metal detector won't obstruct with the pacemaker, even though the metal in it could sound the alarm. But, patient should keep away from lingering near or leaning against a metal-detection system. To avoid potential problems, patients should carry an ID card stating that they have a pacemaker.
Medical equipment: Patients should Inform all their doctors and dentists. So that they are aware that the patient has a pacemaker. Certain medical procedures, such as magnetic resonance imaging, CT scans, cancer radiation treatment, electrocautery to control bleeding during surgery, and shock wave lithotripsy to break up large kidney stones or gallstones could interfere with the pacemaker.
Power-generating equipment: Patients should stand at least 2 feet (61 centimetres) from welding equipment, high-voltage transformers or motor-generator systems. If the patient works around such machines, patients should ask their doctor about organizing a test in their workplace to decide whether the equipment affects their pacemaker.
Pacemakers and End-of-life Issues
If the patient has a pacemaker and becomes extremely ill with a problem unrelated to their heart, like cancer, it's possible that their pacemaker could extend their life. Doctors and researchers vary in their thinking about turning off a pacemaker in end-of-life situations.
Pacemaker Procedure Recovery and Aftercare
Patient may or may not stay at the hospital for the night. The patient's pacemaker will be programmed to fit their pacing needs. It's best if the patient comes with a friend or a family member.
Usually most pacemakers can be controlled from a far. Patient's pacemaker sends and receives information from their doctor's office, including their heart rate and rhythm, how their pacemaker is working, and its remaining battery life.
Clinic Center doctor might suggest that the patient should stop vigorous exercise or heavy lifting for about 1 month. Stop putting pressure on the area where the pacemaker was implanted. If the patient has pain in that area, patient should ask their doctor about taking over-the-counter medicines.
Advantages of Pacemaker Procedure in Turkey assisted by Clinic Center
A pacemaker can often eliminate the symptoms of bradycardia.
More energy
Less shortness of breath.
However, a pacemaker is not a cure. It will not prevent or stop heart disease, nor will it prevent heart attacks.
Pacemaker Procedure Cost in Turkey
For some time now Turkey has become very popular to have procedures done. Because the doctors in Turkey are very good and have years of experience and the prices in Turkey are very reasonable. When the prices are compared, it can be seen that the prices in Turkey are 50-60% lower than in the USA or the EU countries, the price especially for pacemaker insertion is very reasonable. Quite normally people do wonder, if the prices are so cheap, how are the doctors so good? The rent, taxes and hospital payments in Turkey are cheaper. That's why. Patients who come to us, go back home happy because Clinic Center only works with the best surgeons in Turkey, because of this, patients that come to us get the best service.
Pacemaker Procedure All Inclusive Package
Our all inclusive package is meant to make our patient's lives easier and it does. Why? Because after booking their operation, all they have to do is, just come to Istanbul. A transfer car will be waiting for them and their room will already be ready, so they can prepare themselves for the operation. Because we know that getting a procedure can be horrifying.
Because of these reasons, Clinic Center sorts all of it. Thanks to this, our patients always have a comfortable trip from Turkey to their home after having a good pacemaker implantation procedure in Turkey. For the patient to have the most comfort, Clinic Center organizes everything they may possibly need. But what are these?
Internationally Certified Doctors
Clinic Center partner cardiologist(s) is/ are picked after a close examination and once we are satisfied with their expertise, we become partners.
Check-up
Cardiologist or Clinic Center host will inform the patient of the check up day and doctor with also provide the patient with aftercare information so that the patient can have a successful recovery.
Accommodation at a 4-star Hotel
Clinic Center ensures that all of their patients have the best and comfortable stay until it is time for them to go back home.
Transfers with VIP car
We provide all transfers between airport-hotel-hospital.
International Patient Host
You weren't alone before you came, when you are going to the hospital you won't be alone either. Clinic Center International Patient Hosts will accompany you during your medical journey in Istanbul.
Pacemaker Surgery Fast Facts
| | |
| --- | --- |
| Length Of Procedure | 1-2 hours |
| Recovery Period | 1-2 weeks later, you most probably will be able to go back to your usual routine. |
| Incision | Minimal, near your shoulder. |
| Anaesthesia | Local anaesthesia or general anaesthesia. |
| Hospital Stay | 1 night, but you may be allowed to leave after your recovery process. |
| Exercise | 6 weeks later you can start doing sports like tennis, golf and swimming. |
| What To Bring | Comfortable clothes, a list of medicines you are taking and need to take, basic toiletries. Don't bring valuables(jewellery etc.) |
| Result | Symptoms caused by slow heartbeat, like fatigue, light-headedness and fainting should improve. |
Pacemaker Procedure FAQ
How long does the Pacemaker procedure take?
It takes 1-2 hours.
Is the procedure painful?
No it isn't. During the procedure you will be give a sedative or you will be under general anaesthesia. Also, Clinic Center cardiologist can prescribe you pain killers for afterwards.
Will I have a big scar afterwards?
No you will only have a small scar near your shoulder.
Will I need special care when I arrive at the hotel?
When you are being discharged, it would be good to have a family member or a friend with you. You aren't in need of special care. But, you're not allowed to carry heavy things.
When can I go back to work after surgery?
1-2 weeks after surgery.
When can I start exercising again after surgery?
2-3 days later, you can start doing a light exercise. Avoid strenuous exercises for 4-6 weeks.
Will I need any preoperative tests?
Before the Clinic Center doctor decides if you have to have a pacemaker, you'll have tests done to find the cause of your irregular heartbeat.
What will improve with Pacemaker?
Having a pacemaker should better the symptoms caused by slow heartbeat, such as fatigue, light-headedness and fainting.
How many patients have been treated?
About 3.000.000 patients world-wide have had this procedure done.
Will I be able to feel the Pacemaker?
No, patients don't feel it. Straight after the procedure, you will feel soreness. But that will go in time.
Disclaimer
The information on this site is not intended or implied to be a substitute for professional medical advice, diagnosis or treatment. All content, including text, graphics, images, and information, contained on or available through this web site is for general information purposes only. It is not advice on your specific needs and circumstances. It does not replace the need for you to have a thorough consultation, so you should get advice from a suitably qualified specialist and surgeon.