Clinic Center, registered in the UK, offers hair transplant, plastic surgery, and cosmetic dentistry treatments, performed modern, accurate, and efficiently by internationally accredited and talented partner doctors combining the latest technology and advanced surgical methods at affordable costs in Turkey. Over thousands of patients from the United Kingdom, Ireland, Germany, Italy, the United States of America, Canada, Australia, New Zealand, Middle-East, Africa and many more countries have been treated by professionals with the assistance of Clinic Center.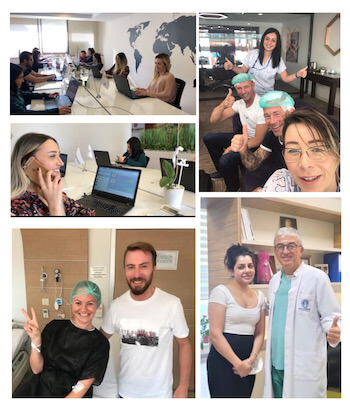 Clinic Center Team incorporated reputable and best-trained surgeons and specialists. Our belief is to assist in providing high-quality services with competitive affordable costs by qualified medical teams, at advanced hospitals, and with cutting-edge technologies that will guarantee the best results for all patients. All of the treatments are performed at internationally accredited hospitals. All the equipment used; including the doctors, caretakers, staff, and general hospital conditions and all of the processes are inspected and authorized by international medical bodies and the Turkish Ministry of Health.
Award-holder of Best Customer Service by WhatClinic.com, Clinic Center Patient Services works 7/24 to assist in providing the highest quality treatments. Being a UK-based company, a part of our team is ready to assist you by providing physical consultations in our London office. Starting from the consultation, the journey is monitored and assisted by our professional team. Each member of our team invests time in personal relationships and engages in thoughtful decision-making with our patients.
Clinic Center is the only company providing aftercare service when patients return to their cities in the UK. The unique aftercare network provided by 24 clinics in London, Birmingham, and Manchester is also a differentiating feature of our services. Moreover, we keep in touch with the patients and assist them to have their follow-up in Turkey.
Clinic Center's patient-oriented team does their best so that the patients have the best quality service and make them feel at home while helping them achieve THE look.
Clinic Center is an establishment of Ada Saglik Seyahat Saglik Turizmi ve Danismanligi Ltd. Sti.