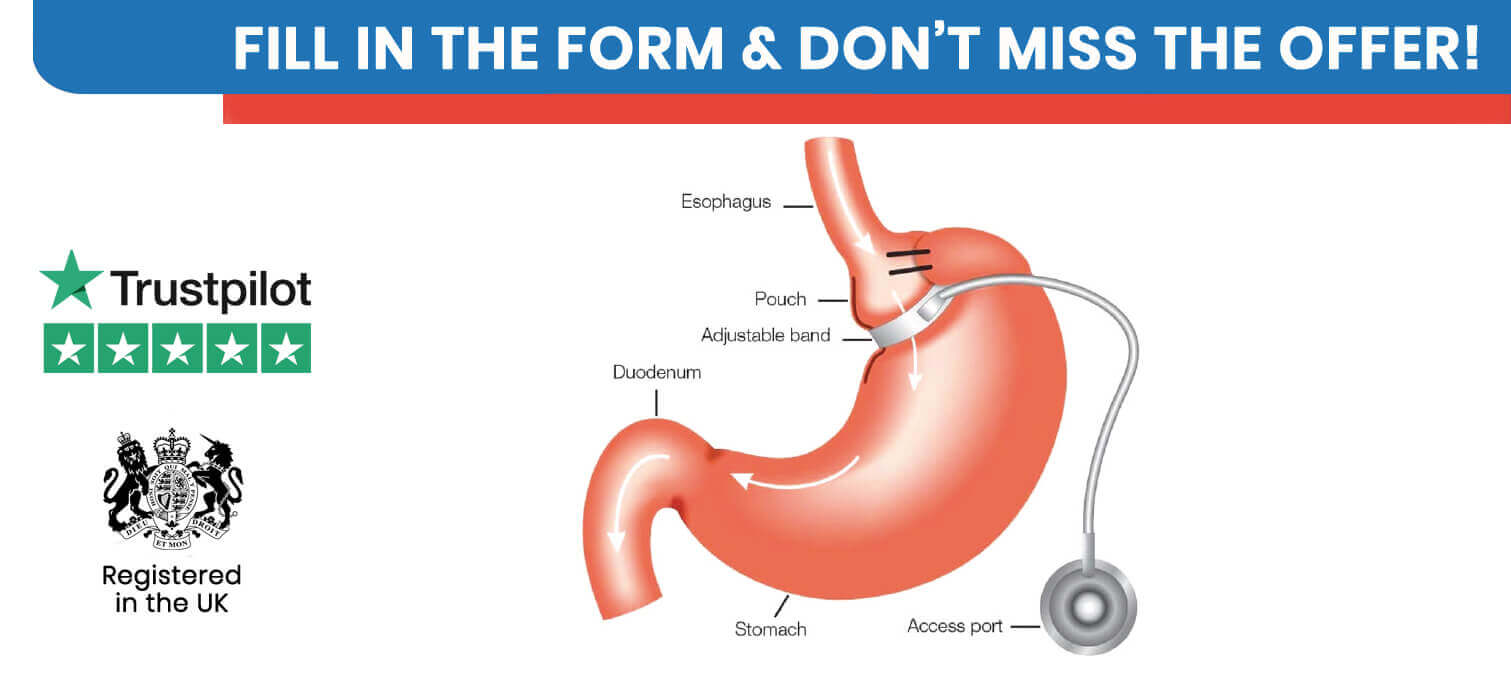 A woman's body develops depending on a variety of factors ranging from lifestyle to heredity. Especially for the boobs, there are lots of women having breast enlargement while those with big breast seek for a solution to reduce their size. Write in the online consultation form to hear more about Clinic Center's all-inclusive breast reduction offer!
Get Your FREE Treatment Plan NOW!
Adjustable gastric band surgery in Turkey is a one kind of bariatric surgery that is performed to decrease patient's eating and drinking portion. Goal of the surgery is to help patients that have obesity to lose weight in a healthier way with professional medical help. If you would like to have a face to face consultation with one of our consultants before coming to Istanbul, you are welcome to visit our office in London , if you can't come, you can have a video consultation instead . Clinic Center is registered in the UK and is the proud data sponsor of Brighton & Hove Albion Football Club.
WHAT IS ADJUSTABLE GASTRIC BAND
In adjustable gastric band surgery in Turkey, our Clinic Center partner surgeon places a ring with an inner inflatable band that is placed around upper side of the stomach to create a small pouch. Eating just a small amount of food will satisfy hunger and provide the feeling of fullness. The size of the stomach opening can be adjusted by filling the band with sterile saline, which is injected through a small device called a port placed under the skin.
The clinical impact of the band seems to be that it reduces hunger, which helps the patients to decrease the amount of calories that are consumed. Reduces the amount of food the stomach can hold is reversible and adjustable.
Adjustable Gastric Band Techniques in Turkey
Over the years and with new techniques in medicine, surgeons prefer to perform gastric banding with the "laparoscopic" (keyhole incisions) technique. That way the patient may not require to stay in the hospital.
How is Adjustable Gastric Band Surgery Done?
Adjustable gastric banding surgery is usually performed under general anaesthesia and it takes 30 to 60 minutes.
Adjustable Gastric Band surgery is performed in a fully-equipped hospital under general anaesthesia with the assistance of Clinic Center in Turkey. Depending on the medical condition, most patients don't need to stay in the hospital. But depending on the medical condition, some of them stay in the hospital for 1 night after the surgery. After the surgery, the patient will wake-up in the recovery room, where medical staff will monitor them for any complications.
Before going to the operating room, the patient will change into a surgical gown. Surgeons and nurses may ask several questions. Before the surgery starts, the patient will be given a general anaesthetic that will keep them asleep and comfortable during the procedure.
Patient's vital signs which include their pulse, blood pressure and respiration will be monitored in the recovery room. Patient will probably go home the day of the surgery and before being discharged, medical staff will provide them with a list of instructions on how to avoid complications, when they can go back to certain activities and how their eating plan should change.
Who is a Candidate for Adjustable Gastric Band Surgery?
In general, all weight loss procedures such as gastric sleeve procedure can be performed if patient's:
BMI is 40 or higher (extreme-severe obesity).
BMI is 35 to 39.9, and has a serious weight-related health problem that can be improved with losing weight. Some of these problems are sleep apnoea, type 2 diabetes, high blood pressure or heart disease.
A How to Calculate Your BMI Index
Metric system: Formula: weight (kg) / [height (m)]2: Weight in kilograms divided by height in meters squared. If height has been measured in centimetres, divide by 100 to convert this to meters.
Imperial: Formula: 703 x weight (lbs) / [height (in)]2: When using English measurements, pounds should be divided by inches squared. This should then be multiplied by 703 to convert from lbs/inches2 to kg/m2.
How to Get Ready for Adjustable Gastric Band?
Our Clinic Center partner surgeon may ask the patient to have a complete physical exam, blood tests, ultrasound of gallbladder and visits with other health care providers to make sure that the patient is healthy enough to have the surgery. Patients have to visit their doctor if they have some medical problems such as diabetes, high blood pressure, and heart or lung problems to make sure they are under control for having the surgery. Also, if patient is a smoker, the patient should stop several weeks before the surgery and not start to smoke again after the procedure. Smoking slows the recovery process and increases the risks for problems.
Patients have to inform the medical staff about the possibility of being pregnant and what medicines, vitamins, herbs, and other supplements the are taking or are allergic to.
During a week before surgery: Your Clinic Center partner surgeon may require the patient to stop taking some medicines that prevent blood clotting (blood thinner) such as aspirin, ibuprofen and others. (The surgeon will inform the medicines that the patient should not take)
On the day of surgery: Patients have to follow instructions about when to stop eating and drinking before the surgery. They also need to take pre-operation medicines if the surgeon needs them to.)
Adjustable Gastric Band Results in Turkey
The most important thing that any weight-loss surgery candidate should know is that weight loss is individual. The amount and speed of weight loss varies from person to person.
The final weight loss with gastric band in Turkey is not as much as with other weight loss surgery. Most patients lose weight slower than with other weight loss surgery and should keep losing weight for up to 3 years. Success rate of adjustable gastric band surgery in Turkey can be increased by exercise and a healthy eating habits. Gastric band patients may lose 1/3 to 1/2 of the excess weight with the assistance of Clinic Center in Turkey. Most people lose about 6 to 8 pounds (2 to 5 kilograms) a month in the first 6 month period. After surgery, between 12-18 month patients should lose over 100 pounds. Weight loss will decrease over time if the patient follows their diet and starts to exercise.
It may be possible to lose 40-60% or even more of excess weight within 1-1,5 years with gastric banding. But always keep in mind that you must also be willing to make permanent changes to lead a healthier lifestyle. To lose weight and to avoid complications from the procedure, patients have to follow the exercise and eating guidelines that their Clinic Center partner doctor and dietician has given them.
There is also the option to remove or adjust the band. Adjustability means it can be tightened or loosened.
Adjustable gastric band surgery has a relatively rapid recovery period than other weight loss procedures. Adjustable gastric band in Turkey can make it much easier for you to move around and perform routine daily activities, which could help improve your quality of life.
Advantages of Adjustable Gastric Band in Turkey assisted by Clinic Center
Clinic Center offers you all-inclusive treatment packages for you to have the best adjustable gastric band surgery in Turkey with affordable costs. Our all-inclusive packages provide you everything you might need during your adjustable gastric band abroad in Istanbul. Clinic Center also is in cooperation with the best bariatric surgeons in Turkey.
In addition to that, weight loss procedures such as adjustable gastric band surgery in Turkey by the assistance of Clinic Center may improve some of these conditions that often related to being overweight such as; Gastroesophageal reflux disease, heart disease, high blood pressure, high cholesterol, obstructive sleep apnoea, type 2 diabetes, stroke, infertility, asthma.
Adjustable Gastric Band Cost in Turkey
-Turkey has become -THE- place to go if you need surgery. Whether it is for cosmetic reasons or health. Turkey has proven itself to 1000s of patients that it has the best surgeons and still when prices in Turkey are compared to the countries like the US or the UK, the price in Turkey for adjustable gastric band procedure is very affordable. When our patients come here, they also want to go around Istanbul and 99% of them can't believe how low the prices are. Either for the surgery, food or general costs of things. So, when they come they get very good service and can still afford to enjoy themselves.
Adjustable Gastric Band All Inclusive Package
Free physical consultation in London , online & video consultations all over the world
Adjustable gastric band surgery carried out by the best plastic surgeons
Best price guarantee,
4 nights of accommodation at a 4-star hotel
1-night hospital stay if you need it
VIP Transfer between the airport, hotel and hospital
International patient host
Special discount for group bookings
Preoperative tests
Consultation and Check up
Medical garment
Adjustable Gastric Band Recovery and Aftercare
Patient will probably go home the day of the adjustable gastric band surgery since it is performed as "laparoscopic". Most patients are able to go back to their normal activities 1 or 2 days after returning home. You will be provided with a special diet list from your surgeon and some post-op instructions that you have to follow for healing and getting back your daily routine without any complications.
What are the Risks of Adjustable Gastric Band Surgery?
Adjustable gastric band in Turkey is major surgery that's why it has many risks. Some of these risks are very serious. Patient may discuss them with our Clinic Center partner surgeon for further information.
Risks for anaesthesia and surgical procedure in general are listed below;
Allergic reactions to anaesthesia or post-operation medicines
Excessive bleeding, blood clots, infection
Breathing or lung problems
Heart problems
Risks for sleeve gastrectomy procedure are listed below;
Gastritis (inflamed stomach lining), heartburn, or stomach ulcers
Injury to the stomach, intestines, or other organs during surgery
Leaking from the cut edge of the stomach
Poor nutrition
Scarring inside your belly that could lead to a blockage in your bowel in the future
Vomiting
Gastric band erodes through the stomach (if this happens, it must be removed).
Stomach may slip up through the band. (If this happens, you may need urgent surgery.)
Infection in the port, which may need antibiotics or surgery.
Your surgeon may not be able to reach the access port to tighten or loosen the band. You would need minor surgery to fix this problem.
The access port may flip upside down, making it impossible to access. You would need minor surgery to fix this problem.
The tubing near the access port can be accidentally punctured during a needle access. If this happens, the band cannot be tightened. You would need minor surgery to fix this problem.
Very rarely, complications of gastric sleeve procedure can be fatal like all every major surgery.
For more information, please contact us
What To Expect After Adjustable Gastric Band Surgery
After the procedure, patient will have a special diet plan given by the Clinic Center partner doctor. The special diet plan may put restrictions or limit on how much and what the patient can eat and drink. Patient will stay on liquids or mashed-up foods for 2 or 3 weeks and then will slowly add soft foods, then regular foods, to their diet. 6 weeks after the surgery, patient will probably be able to eat regular foods.
Surgeon can make the band tighter or looser any time after the surgery. It may be tightened or loosened if you are:
Having eating problems,
Not losing enough weight,
Vomiting after you eat
You may experience changes as your body reacts to the rapid weight loss in the first three to six months after sleeve gastrectomy such as; body aches, feeling tired like if you have the flu, feeling cold, dry skin, hair thinning and hair loss, mood changes. These reactions will also disappear when your body tolerates speed of your weight loss. You can always contact your Clinic Center medical consultant to learn more.
Fast Facts About Adjustable Gastric Band
Procedure:
Adjustable Gastric Band, limits patient's eating-drinking volume.
Duration:
45 to 90 minutes.
Stay:
1-night hospital, 4 nights hotel.
Anesthesia:
General anaesthesia.
Recovery:
1 day to discharge, 1-2 day to back to daily routine, 1 week to back to work (depending on each patient's medical condition).
What to bring:
Comfortable clothes that are easy to slip on or off as needed, (sweatshirts, button-down or zipped shirt, flip-flops, slippers or socks with tread etc.).
Side Effect:

Gastritis,
Heartburn or stomach ulcers,
Bowel obstruction,
Gallstones,
Hernias,
Stomach perforation,
Injury to the stomach, intestines, or other organs during surgery,
Leaking from the line where parts of the stomach have been stitched,
Low blood sugar (hypoglycaemia),
Poor nutrition,
Dumping syndrome,
Causing diarrhoea,
Nausea or vomiting,
Scarring inside your belly,
Vomiting,
Allergic reactions to anaesthesia or post-operation medicines,
Excessive bleeding,
Blood clots,
Infection,
Breathing or lung problems,
Heart problems

Exercise:
After 3 to 4 weeks.
Scars:
Small incisions.
Pain:
Mild (depends on the patient).
Results:
Discharge 1 day, patient should be able to move around 1-2 days without too much problem.
Combination of Surgeries: Excess skin removal surgery (panniculectomy) is a very common surgery for people who have lost extreme amount of weight.
Adjustable Gastric Band FAQ
How long does adjustable gastric band surgery take?
The adjustable gastric band in Turkey usually takes around 45 to 90 minutes.
Will I feel any pain?
The procedure is usually performed under general anaesthesia and there is no possibility of having pain during the procedure. Most patients have some pain after surgery and they just need to take oral pain medications for a few days after surgery. The majority of patients felt that pain was not a major issue during their recovery.
Will I need special care when I arrive home?
You should be able to function completely on your own after your discharge. A small number of patients with physical disabilities before surgery sometimes require extra assistance.
When can I go back to work after surgery?
After surgery, most patients return to work after 1 week. Some may be able to work from home as early as one week after surgery. Because of the significantly reduced calorie intake, many patients have low energy for a few days after surgery. However, most patients gain their energy back once they start to have soft food.
When can I start exercising again after surgery?
You will start exercising in the hospital slowly. You can slowly start exercising after 3-4 weeks but the key is listening to your body and your surgeon. If you lift weights or do sports, stay low impact for the first month; avoid competition, think participation. Build slowly over several weeks. If you swim, your wounds need to be healed over before you get back in the water.
How long should I wait to get pregnant after surgery?
Becoming pregnant can be easier as you lose weight. Your menstrual cycle may become more regular. If you need to eat more while you are pregnant, the gastric band can be loosened. After the pregnancy, the band is able to be made tighter again if you wish, and you can resume losing weight.
How do I know if I am successful with my weight loss?
Remember, success is not getting to your goal weight; it is getting to a "healthy" weight. If you have achieved a weight within approximately 40 pounds of your ideal body weight and maintain your weight, you are considered a success.
How will I know when to stop losing weight?
Your body knows how much weight it needs to lose. As long as you stick to your nutrition and exercise program, your body will adjust to the weight loss and stabilize at its appropriate weight.
Is it possible to regain my weight after adjustable gastric band procedure?
Remember, your gastric band is only a tool. It is not a cure for obesity. Snacking, drinking with meals, drinking caffeinated and carbonated beverages, not drinking enough water in between meals and not exercising are common behaviours that may cause you to regain your weight.
Does adjustable gastric band guarantee permanent weight loss?
No. A small percentage of patients will regain a substantial portion of the weight that is lost. This occurs primarily when the patient does not follow the dietary guidelines in the months and years following the procedure.
What do I do about excess skin after weight loss?
Most people can minimize excess skin by maintaining healthy nutrition, aerobic exercise and weight training. But if you need to have excess skin removed, we can help you consult with a plastic surgeon.
Must I be in good health to qualify for the surgery?
No, many of potential weight loss surgery patients are in poor health because of diseases caused by their obesity. These diseases include diabetes, high blood pressure, heart problems, lung problems, and kidney difficulties.
Will I need any preoperative tests?
Yes. To make sure the best possible outcome, your surgeon will administer specific blood tests, a chest x-ray, and an electrocardiogram (EKG) and more.
Can the surgery be reversed?
Adjustable gastric band surgery is both minimally invasive and completely reversible. But it is not advised. Reversing the surgery is considered another major procedure and you are at an increased risk for complications. Reversing the surgery also would increase your risk of regaining the weight you have lost.
Will I need to take vitamins?
There is no malabsorption with the gastric band because of that you will not require the same types of supplements as gastric bypass patients. Usually, taking a daily multivitamin with minerals along with eating a balanced diet is sufficient for most patients. Women may sometimes require a calcium supplement as well.
Will I feel the gastric band inside me?
Most patients are only aware of their gastric band when they eat. You may, however, notice your access port, particularly right after surgery when you are recovering, healing and still feel a little sore.
Can the gastric band be removed?
Although the Gastric Band System is not meant to be removed, it can be. In some cases this can be done laparoscopically. The stomach generally returns to its original shape once the band is removed. After the removal though, you may soon go back up to your original weight or even gain weight.
How many times can the gastric band be adjusted?
An adjustment is a quick, simple and relatively painless procedure. There is no limit to how many times it can be adjusted. Most patients need about three adjustments during the first year after surgery. Your gastric band can be adjusted as many times as your surgeon finds it necessary.
Disclaimer
The information on this site is not intended or implied to be a substitute for professional medical advice, diagnosis or treatment. All content, including text, graphics, images and information, contained on or available through this web site is for general information purposes only. It is not advice on your specific needs and circumstances. It does not replace the need for you to have a thorough consultation, so you should get advice from a suitably qualified medical practitioner. Please bare in mind that as with all operations, there are risks involved in having cosmetic surgery.