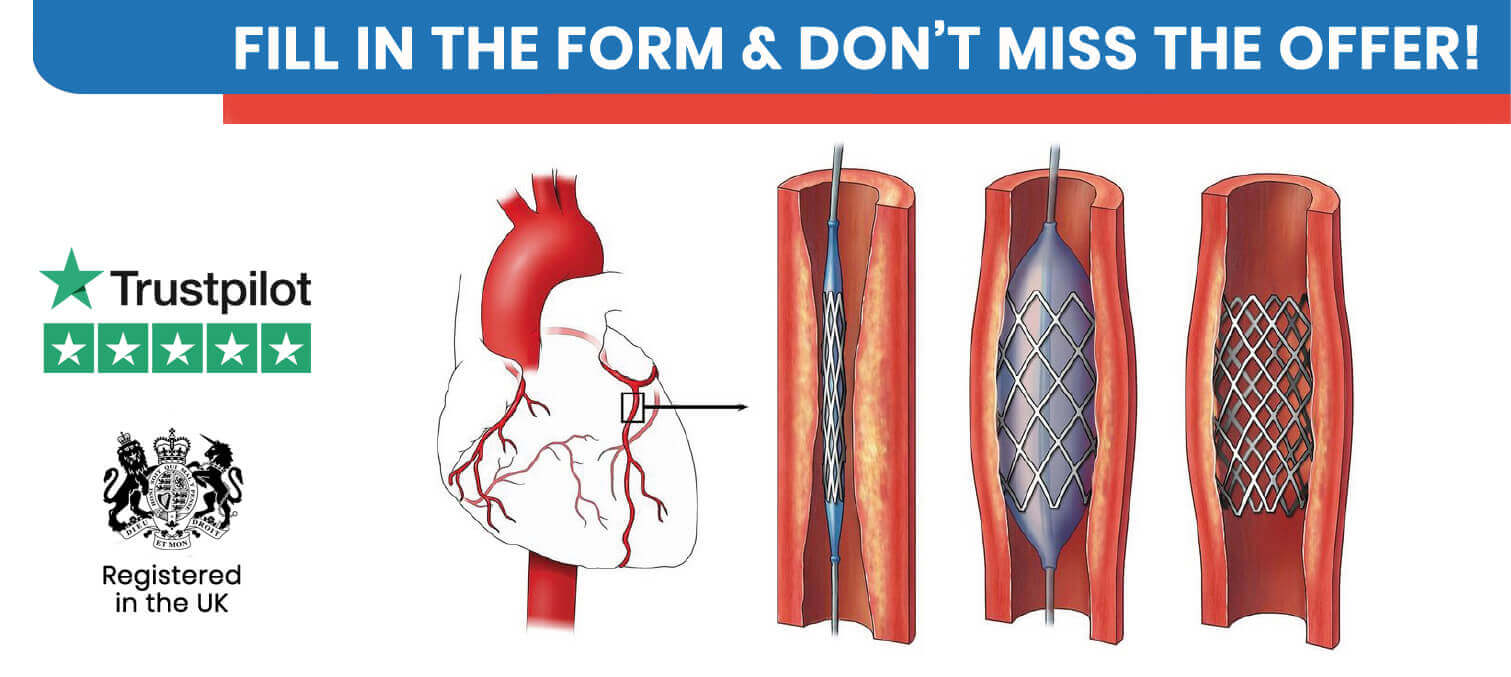 Get Your FREE Treatment Plan NOW!
What is an Angioplasty Procedure in Turkey?
Angioplasty, also known as, percutaneous coronary intervention and is a procedure done to open the blocked heart arteries. It is a non-surgical procedure and a thin flexible tube(a catheter) is used to place a stent.
Coronary angioplasty makes the blood circulate better, thus heart-related chest pain (angina) is reduced, making the patient feel better and increasing the patient's ability to be mobile. Pci cardiology is usually planned early.
Angioplasty procedure can also soothe the indications of heart disease if the patients haven't had a heart attack.
Fractional flow reserve (FFR): A lot of congested arteries benefit from angioplasty and stenting. However, some don't. FFR is an unusual type of wire-based technology doctors use to make that ascertainment when it isn't clear straight away.
Advanced imaging: Intravascular ultrasound (IVUS) and optical coherence tomography (OCT) are other types of catheterization that let the doctors to see what the congested arteries look like and place stents in the most appropriate areas.
Radial artery access: Cardiologists have habitually carried out angioplasty and stenting through a femoral artery(the main artery of the thigh). The doctors took a new approach, they have started to use the radial artery in the wrist. Whenever possible, the radial approach is used, allowing the patients to go home the same day instead of staying overnight to be monitored. Further radial advantages are:
Less bleeding and vascular complications
Quicker recovery time
Greater comfort
How is an Angioplasty Surgery, PCI in Turkey Done?
Angioplasty, also known as percutaneous coronary intervention, is carried out by Clinic Center cardiologist(heart surgeon) and a team of nurses and technicians.
The surgery is done via an artery in the groin, arm, or wrist. During the surgery, the patient may be awake but will be given a sedative to make them relaxed.
The patient's heart rate and blood pressure will be checked.
Clinic Center cardiologist uses a local anaesthetic to numb the area that is going to be operated. Then, a very small incision will be made. A small, thin guide wire then will be placed in the artery.
During the procedure, live X-rays will be used, Clinic Center doctor will thread a thin tube (catheter) through the patient's vein. Once the catheter is in place, the contrast dye is administered through it. This lets the doctor see the inside of the patient's blood veins and find the blocked areas on X-ray pictures called angiograms. A small balloon either with or without a stent at the tip of the thin tube is blown up at the area of the blockage, this expends the blocked area. After the vein is expanded, the balloon is flattened and the catheter is taken out.
The procedure takes 30-90 minutes. But when the getting ready and the recovery times are added, it can take several hours in total.
Because the patient is under local anaesthesia, the patient won't actually feel pain but might feel pressure in the area where the catheter is placed. There is going to be a bit lack of comfort when the balloon is inflated and when the vein is stretched, but normally patients don't feel any sharp pain during the surgery.
In some surgeries, a patient has a stent placed. Thereby, the doctor puts in a thin flexible tube, also known as a catheter, in an artery in the arm or leg of the patient, nearly same as the balloon angioplasty surgery. A specially designed thin flexible tube conveys the stent to the small area in the artery. The stent is broadened, compressing the plaque up against the artery wall and holding the artery open with a mesh tube. The thin flexible tube used to convey the stent is then drawn out, but the stent stays in the artery permanently to maintain healthy blood flow.
How Long Does Angioplasty (Percutaneous Coronary Intervention) Procedure Take?
The PCI cardiac procedure takes about 30-90 minutes. But when getting ready and the recovery times are added, it can take several hours in total. Patient and their friends/ family that they may bring with them should be ready for this.
Who is a Candidate for Angioplasty, Percutaneous Coronary Intervention?
Candidates for PCI heart procedure are,
People who have had a heart attack.
People who are not feeling better even though they have a healthy lifestyle.
People who have chest pains that are getting worse.
People who have a blood flow that isn't what it should be.
People who are in good health to have the procedure.
How to Prepare for Angioplasty, PCI?
Before a scheduled heart angioplasty surgery, Clinic Center cardiologist checks the patient's medical history and do a consultation. Before the PCI cardiology procedure, some tests may need to be done including a chest X-ray, electrocardiogram, and blood tests. If it isn't already done, Clinic Center doctor will also do a coronary angiogram to see if the arteries to the heart are closed up and if they can be treated with angioplasty.
If the doctor finds congestion whilst doing the angiogram, it's possible that the doctor may choose to do angioplasty and stent surgery straight away. After the angiogram, while the patient's heart is still catheterized, the doctor may inform the patient to change or stop taking some of their medicines before surgery, like aspirin, non-steroidal anti-inflammatory drugs (NSAIDs) or blood thinners. Patients shouldn't forget to tell the doctor about all the medications they take, including herbal supplements. Patients will be told to stop eating or drinking six to eight hours before their surgery. Patients can take confirmed medicines with only small sips of water on the morning of their surgery. They should take all of their medicines to the hospital, including nitroglycerin(if it is being taken.)
If the patient is going to have the Angioplasty procedure under general anaesthesia they should prepare like this:
Important Note:
Surgery will be CANCELLED if the patient may be pregnant or the patient has health problems(apart from the reason they came for)(the anaesthesiologist will check before the patient is taken to the operating room).
Two Weeks Before Surgery:
Patients shouldn't drink alcohol and should stop smoking. Nicotine affects the blood circulation and this can affect the result of your procedure and increase the risk of problems with anaesthesia.
One Day Before Surgery:
After midnight, nothing should be eaten or drank.
Day of The Surgery:
Patients can shower before going to the hospital.
Patients should come without any cosmetic products on their body(eyelashes, nail varnish(gel etc.) fake nails).
Patients should pack a bag of loose-fitting clothes and comfortable shoes.
If there is hair on the patient's chest, it needs to be shaved.
Patients shouldn't wear jewellery, or bring valuables to their surgery.
What are the Risks of Angioplasty?
Every surgery has its risks. The risks for coronary angioplasty are;
The operated artery can re-narrow.
Blood clots.
Bleeding.
Kidney problems.
Heart attack.
Damage to a heart valve or artery.
Infection.
It is a low risk, but the patient might still have a stroke.
Death
Angioplasty, PCI Results in Turkey
The chest pain that existed should go down.
Blood flow to the heart should improve.
Patients may be able to exercise better. However, having the heart angioplasty procedure won't make the heart disease go away.
Patients will have to have a healthy lifestyle and will have to take the medication as prescribed by the Clinic Center cardiologist.
To keep their heart in good shape, patients have to stop smoking, lower their cholesterol levels, keep their weight at a healthy number, check diabetes, and high blood pressure.
After the procedure, if patients feel like they used to before(having chest pain at rest etc.) they should contact a doctor or emergency help.
For more information, don't hesitate to contact us:
What to Expect After an Angioplasty Surgery?
Patients will most likely be taken to a recovery room for several hours to be monitored.
Patients need to stay in bed for 2 to 6 hours, this depends on their particular condition.
If there is discomfort, pain medication might be given.
Patients will be supported to drink water and other fluids to help get rid of the contrast dye from their body.
After a percutaneous coronary intervention, most patients stay in the hospital for the night.
Angioplasty Recovery and Aftercare
Depending on what the doctor says, the patient will at least stay at the hospital for one night. During this time, patient's heart will be monitored and medications will be given. One week after the surgery, patients should be able to return to work or their daily routine.
Patients should drink plenty of fluids to help flush their body of the dye. For at least one day, patients should not do heavy exercises and lifting heavy items. Patients shouldn't smoke and should eat healthy food. Patients should take their medicines as instructed by the Clinic Center doctor. Patient should ask their doctor or nurse about other restrictions in activity.
Advantages of Angioplasty (Percutaneous Coronary Intervention) in Turkey assisted by Clinic Center
As there are risks, there are also advantages of having the angioplasty procedure;
Risk of another heart attack is possibly lowered.
Gets the blood flowing to the heart again quickly.
Lessens chest pain.
May prevent shortness of breath.
Patient may not need open heart bypass surgery.
Angioplasty (Percutaneous Coronary Intervention) Cost in Turkey
Turkey has more or less become the place to go for all kinds of surgery and rightly so. Because, the surgeons are experts in their fields and the prices compared to the USA and the EU countries is around 50-60% lower for percutaneous coronary intervention. People may be sceptical because the angioplasty cost in Turkey is much lower compared to the price in their country, so they could wonder "are the doctors good?". But when they look into the doctors, they see that the quality of the doctors is very high. So, when they come to Turkey they win. Also, because Clinic Center works with the best surgeons in Istanbul, our patients will get the best possible service.
Angioplasty (Percutaneous Coronary Intervention) All Inclusive Package
Thanks to our package, our patients always have a comfortable trip from Turkey to their home after having a successful operation for percutaneous coronary intervention in Turkey. For the patient to have maximum comfort, Clinic Center organizes everything they may possibly need. Here are the details:
Internationally Certified Doctors
Clinic Center partner cardiologist(s) is/are chosen after they are closely checked and once we are with their experience, we start to work with them. With us our patients can be certain that they are always in good hands.
Check-up
On the discharge day, Clinic Center cardiologist or host will inform the patient of the check up day and doctor with also provide the patient with aftercare information so that the patient can have a healing process without any issues. We also help our patients to have their usual follow-ups to make sure the patient can concentrate on getting better.
Accommodation at a 4-star Hotel
After having any kind of procedure anyone would want to rest properly to start to heal quickly as possible. That is why Clinic Center makes sure that all of their patients have a pleasant stay until it is time for them to go back to their countries.
All transfers with VIP car
For a more comfortable trip, Clinic Center transfer takes them to all of the necessary places.
International Patient Host
Travelling abroad for surgery can be quite daunting. Especially If it is a country that the patient has never been to before and doesn't speak the language. The patient or patients can think what are they going do to when they arrive? How will they find the doctor or the hospital? Who is going to tell them what is happening or going to happen? Mainly for these reasons, Clinic Center has our patients with an international patient host that will accompany the them during their medical travel. So our patients can just think of getting ready for the procedure and nothing else.
Fast Facts About Angioplasty (Percutaneous Coronary Intervention)
| | |
| --- | --- |
| Length Of Procedure | Up to several hours. |
| Recovery Period | 2-7 days. |
| Incision | Small incision in the groin or wrist. |
| Anesthesia | General |
| Anaesthesia | Normally a sedative is given. |
| Hospital Stay | One night. |
| Exercise | After several days. |
| Complications | Scars, bleeding, seroma, infection, extrusion, swelling, bruising and pain, asymmetry, increased or reduced sensation, damage to deeper structures, unsatisfactory result, change over time, allergic reaction (chest infection, blood clots, heart attack or stroke and death), hole in the septum (septal perforation), breathing difficulties, altered sense of smell. |
| Medication | If you need it, the doctor will prescribe you medication. |
| What To Bring: | Comfortable clothes, a list of medicines you are taking and need to take, basic toiletries. Don't bring valuables(jewellery etc.) |
| Pain | Mild, depending on the patient. |
| Result | Increased blood flow through the coronary artery, chest pain should decrease. |
Angioplasty (Percutaneous Coronary Intervention) FAQ
How long does the Angioplasty(PCI) procedure take?
Including the operating time and the recovery room time, It can take up to several hours.
Is the procedure painful?
No it isn't. You will be given a sedative. That way you will feel relaxed and not feel pain. If you feel the need, Clinic Center cardiologist can prescribe you pain killers for afterwards.
Will I have a big scar afterwards?
No you will only have a small scar in the groin or wrist.
Will I need special care when I arrive at the hotel?
When you are being discharged, it is best to have a family member or a friend with you. Especially the first day after being discharged.
When can I go back to work after surgery?
Then you can return to work a week later.
When can I start exercising again after surgery?
A week later or after your wound has healed you can start exercising.
Will I need any preoperative tests?
Prior to having an angioplasty procedure, you'll need an evaluation to make sure that the operation can be done.
This also gives you a chance to ask any questions to your Clinic Center cardiologistç
During your pre-operative evaluation, you may have blood tests and a general health check to ensure you're suitable for the procedure.
What will improve with Angioplasty?
Increased blood flow through the coronary artery, chest pain should decrease.
How is PCI different from medical management of coronary artery disease?
Percutaneous coronary intervention is a minimally invasive surgery that heals blockages in coronary arteries and helps to stop CAD symptoms from returning. Medicines can heal your symptoms, but it doesn't heal the blockage.
How many patients have been treated?
Approximately 600.000 patients get treated yearly.
Disclaimer
The information on this site is not intended or implied to be a substitute for professional medical advice, diagnosis or treatment. All content, including text, graphics, images and information, contained on or available through this web site is for general information purposes only. It is not advice on your specific needs and circumstances. It does not replace the need for you to have a thorough consultation, so you should get advice from a suitably qualified medical practitioner. Please bare in mind that as with all operations, there are risks involved in having cosmetic surgery.