Balloon Angioplasty and Stent Procedure in Turkey
(Peripheral Arterial Disease)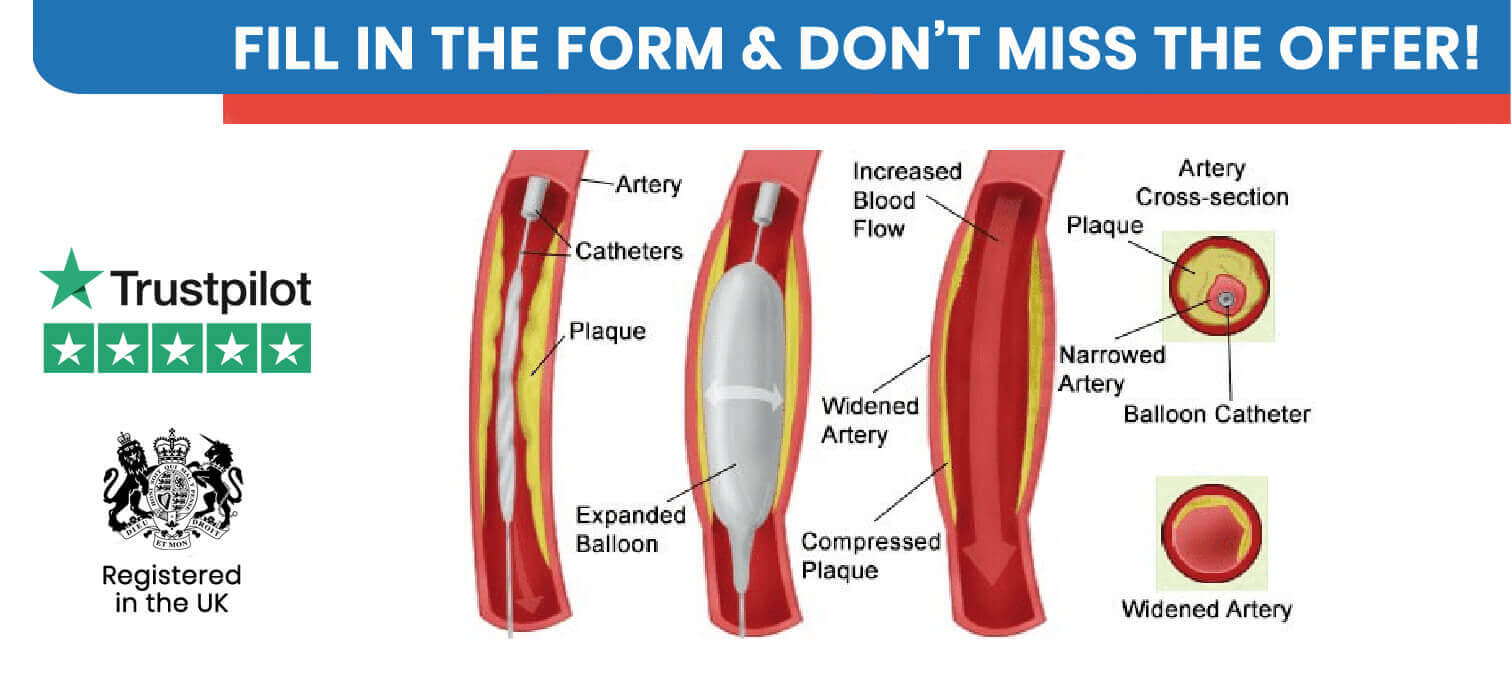 Thousands of patients have come and got various procedures done at Clinic Center, registered in the UK, and left Turkey with a smile on their faces. If you'd like to get more information on how much a balloon angioplasty and stents in Istanbul costs; you can simply get into contact with filling this form
Get Your FREE Treatment Plan NOW!
What is a Balloon Angioplasty and Stent Procedure in Turkey (Peripheral Arterial Disease)?
Also known as Peripheral artery disease, balloon angioplasty is done on patients who have a common circulatory problem in which narrowed arteries reduce blood flow to their limbs.
How is a Balloon Angioplasty and Stent Procedure Done?
The patient lies on a table, usually on their back. A cannula is put in the arm, so the anaesthesiologist can give sedative or pain killers.
The operated area gets cleaned with antiseptic. The skin and deeper tissues get anesthetized with a local anaesthetic, this may sting a bit but afterward the patients don't feel pain. Then a needle will be inserted into the artery. Angioplasty balloons are placed into the artery through a catheter. There will be machines that monitor the rate of the heart and blood pressure. If it wasn't done before, the surgery will start with an angiography. So the doctor can see where and how many blockages the patient has.
After cardiologist checks to see if there are blockages or not, the procedure starts with the cardiologist putting a thin wire through the catheter to the area that will be operated on. This way, the cardiologist will be able to perforate the blocked artery. Along the wire, a tiny deflated balloon will be pushed to the area that is blocked, the balloon will be expanded. Expanding the balloon will compress the plaque against the wall of the artery, this will widen the artery. It is not abnormal for patients to feel a bit uncomfortable whilst the balloon is expanded, the reason for this is, the artery is being stretched. The uncomfortable sensation should go as the balloon is deflated. Once this is done, your cardiologist will deflate the balloon and remove it.
Who is a Candidate for Balloon Angioplasty and Stent Procedure?
People who have blockages in their heart vessels might need angioplasty
People who have a lot of discomfort in their chest,
People who have may have blockages that put them at risk of a heart attack or of dying.
How to Prepare for Balloon Angioplasty and Stent Procedure?
Whilst the patient is having their consultation with a cardiologist, they should inform their cardiologist about the medications that they are taking. This includes herbal supplements. If they have any allergies, they have to inform the doctor about that too. They should also inform the doctor if they plan on having any other procedure and/or dental treatments soon. The patient will be asked to not eat or drink for some time before the surgery. Depending on what the doctor thinks, the patient may need to stay at the hospital for one night.
For the procedure, they will have a gown to wear. If they can't take aspirin they should inform the doctor because he or she may ask the patient to take an aspirin a week before the surgery. This helps to prevent blood clots during the balloon angioplasty operation. Also, the patient should check with their doctor about the medications that they can take and they should stop before the surgery. Clinic Center cardiologist may want the patient to take their daily medications before the surgery on the surgery day, If so, then the patient should take it or them with a small amount of water.
What are the Risks of Balloon Angioplasty and Stent Procedure in Turkey?
What are the risks of balloon angioplasty?
More blockage on the area that was treated.
Bleeding.
Clotting.
Damage to blood vessel or heart valve.
The operated area may become infected.
Cardiac arrest.
Bruising.
What are the risks of the stent procedure?
Stent can close up.
The insertion site could get infected.
The artery can be blocked again.
The stent can pierce the artery.
Faintness or dizziness.
Blood clotting.
Pain or discomfort.
Balloon Angioplasty and Stent Procedure Results in Turkey
For a lot of people, balloon angioplasty, also known as "Peripheral Arterial Disease", improves blood circulation through what used to be the blocked artery. Because of this, the patient should have less pain and a greater capacity to walk and exercise.
While balloon angioplasty procedure and other surgical treatments can unblock your arteries and help keep them unblocked, these procedures are not a cure for peripheral arterial disease. The best way to assist the good results after the surgery is to adopt a heart-healthy way of life. A lot of people have undergone this surgery and afterward started living healthily afterwards.
Clinic Center cardiologist can give the patient recommendations as to how the patient can enhance their cardiovascular health.
What to Expect After a Balloon Angioplasty and Stent Procedure in Turkey
After the balloon angioplasty and stent placement, patients are taken to a special care room and the nurses monitor the patient's heart rhythm and blood pressure. Whilst this is happening, the sheath (a catheter introducer tube) may be removed, and pressure will be applied to the penetrated area until the bleeding stops.
When patients start to wake up, they may feel groggy from the sedative, this is normal. Clinic Center cardiologist or the nurse will inform the patient of when they can get out of bed and walk around. Patients should be able to walk within 2 to 6 hours after the balloon catheter angioplasty surgery. Normally, patients only stay in the hospital for several hours and some might even go home the same day. However, the amount of time patients stay in the hospital will depend on if there were any difficulties during the surgery and how well the catheter insertion site is healing.
Most patients can go to work and their normal routines after about a week. Patients who have a very physical job should wait longer. Please check with the Clinic Center cardiologist before doing any strenuous physical activity. Like with all medical surgery, there are risks.
Advantages of Balloon Angioplasty and Stent Procedure by Clinic Center
Clinic Center is registered in the UK and is Brighton & Hove Albion Football Club's first data sponsor. Also, Clinic Center gives aftercare service in the UK(We are the only company to do so), you can get more information about it here: Clinic Center offers all-inclusive transcatheter aortic valve replacement packages abroad for patients who don't want to have to deal with organizing it. Also because we work with the best doctors, our patients have good experiences.
The treatment package that our patients will have whilst having a Transcatheter Aortic Valve Implantation Surgery in Turkey includes everything that they could need and it comes with the best price guarantee.
By choosing Clinic Center to help you with your balloon catheter angioplasty in Turkey, you will feel and will be able to live better afterward.
For more information, you can contact us
Balloon Angioplasty and Stent Procedure in Turkey Cost in Turkey
Turkey has virtually become the surgery capital of the world and rightly so. Because the doctors are very experienced in their fields and the price compared with a lot of countries is very budget-friendly. As time goes by, everything is getting expensive, and foreign patients who can't afford it realize that the same operation they need to have, costs less in Turkey and the quality is the same or even better. When patients compare the balloon angioplasty cost or stent cost with the price in their own country, they notice that the prices in Turkey are very low and the quality of the doctors is very high. So it is a win-win situation for the patients that come to Turkey. Also, because Clinic Center works with the best surgeons in Turkey, our patients get the best possible service.
Balloon Angioplasty and stent procedure in Turkey (Peripheral Arterial Disease) All Inclusive Package
Our patients are happy with our all-inclusive package. Because, then they can solely focus on what they actually came for instead of worrying about sorting things with the transfers or the hotel. We make sure that our patients always have a comfortable journey from Turkey to their home after having a successful coronary balloon angioplasty (Peripheral Arterial Disease) in Turkey. For the patient to feel comfortable as much as possible, Clinic Center organizes everything they may need. Here are the details:
Internationally Certified Doctors
Clinic Center partner cardiologist are chosen after a close examination and once we are satisfied with their experience. Our patients can be certain that they are in good hands.
Check-up
We also help our patients to have their usual follow-ups to make sure the patient can concentrate on getting better.
Accommodation at a 4-star Hotel
Clinic Center makes sure that all of their patients have a pleasant stay until it is time for them to go back to their countries.
All transfers with VIP car
For a more comfortable trip, Clinic Center transfer takes them to all of the necessary places.
International Patient Host
Clinic Center has our patients with an international patient host that will accompany the them during their medical travel. So our patients can just think of getting ready for the procedure and nothing else.
Fast Facts
| | |
| --- | --- |
| Procedure: | Septorhinoplasty |
| Duration: | 1 – 3 hours |
| Stay: | 6 nights at the hotel |
| Anesthesia: | General |
| Recovery: | Take 2 weeks off work. |
| What to bring | Comfortable clothes that you won't need to pull over your head. |
| Side effects | Stuffiness, swelling, temporary loss of smelling, bleeding. |
| Complications | Scars, bleeding, seroma, infection, extrusion, swelling, bruising and pain, asymmetry, increased or reduced sensation, damage to deeper structures, unsatisfactory result, change over time, allergic reaction (chest infection, blood clots, heart attack or stroke and death), hole in the septum (septal perforation), breathing difficulties, altered sense of smell. |
| Exercise | 3 – 4 weeks later. |
| Scars | Depending on the technique you might have a small scar. |
| Pain | Mild, depending on the patient. |
| Results | Swelling will go down after approximately 2 weeks and final results can start to be seen between 6 months to 1 year later. |
| Multiple Surgeries | Liposuction, breast surgeries, hair transplant. |
Fast Facts About Balloon Angioplasty and stent procedure in Turkey (Peripheral Arterial Disease)
Length Of Procedure: It can take up to several hours.
Recovery Period: A week after your surgery, you should be able to go back to work.
Incision: Small incision in the groin or wrist.
Anaesthesia: Normally a sedative is given.
Hospital Stay: If it is a non-emergency procedure, you stay overnight. It is usually one day after the catheter is removed. However it could change according to how you are feeling.
Exercise: A week later or after your wound has healed you can start exercising.
Medication: If you need it, the doctor will prescribe you medication.
What To Bring: Comfortable clothes, a list of medicines you are taking and need to take, basic toiletries. Don't bring valuables(jewellery etc.)
Result: It could restore blood flow to legs, to prevent gangrene. Chest pain is relieved.
Balloon Angioplasty and stent procedure in Turkey (Peripheral Arterial Disease) FAQ
How long does the balloon angioplasty procedure take?
Balloon angioplasty and stent placement is not a major surgery. But still, it needs to be done with care like all surgeries. So, depending on the state of the patient, it can take up to several hours. It is best if the patient's family and/or friends prepare themselves for waiting this long.
Is balloon angioplasty and stent procedure a major surgery?
No it isn't. The balloon angioplasty and stent placement procedure itself can take up to several hours and is usually done under local anaesthesia.
What is the difference between a stent and angioplasty?
The difference between a stent and angioplasty is; stent is a small, something that can stretch, mesh-like tube that helps the artery and supports it to keep it open. Angioplasty is; a surgery to unblock or widen the blood vessels that were blocked so the blood supply to the heart can continue properly.
Is the procedure painful?
No it isn't. During the procedure you will be under general anaesthesia. Also, Clinic Center cardiologist can prescribe you pain killers for afterwards.
Will I have a big scar afterwards?
No you will only have a small scar in the groin or wrist.
Will I need special care when I arrive at the hotel?
When you are being discharged, it is best to have a family member or a friend with you. Especially the first day after being discharged.
When can I go back to work after surgery?
If you surgery was done as a planned surgery. Then you can return to work a week later.
When can I start exercising again after surgery?
A week later or after your wound has healed you can start exercising.
Will I need any preoperative tests?
Before a planned angioplasty, Clinic Center doctor will check your medical history and do a physical exam. You might need to have some routine tests, including a chest X-ray, electrocardiogram and blood tests before your procedure. Your doctor will also perform an imaging test called a coronary angiogram to see if the veins to your heart are blocked and if they can be healed with angioplasty.
What will improve with balloon angioplasty?
Blood flow through the previously blocked arteries will improve. Chest pain should decrease.
How many patients have been treated?
More than 2.000.000 patients world-wide have had this procedure done.
Can the stent be felt?
No it can't be felt.
Does the balloon stay in?
No it doesn't stay in. After the artery is widened, it gets removed.
Disclaimer
The information on this site is not intended or implied to be a substitute for professional medical advice, diagnosis or treatment. All content, including text, graphics, images and information, contained on or available through this web site is for general information purposes only. It is not advice on your specific needs and circumstances. It does not replace the need for you to have a thorough consultation, so you should get advice from a suitably qualified medical practitioner. Please bare in mind that as with all operations, there are risks involved in having a cardiovascular surgery.