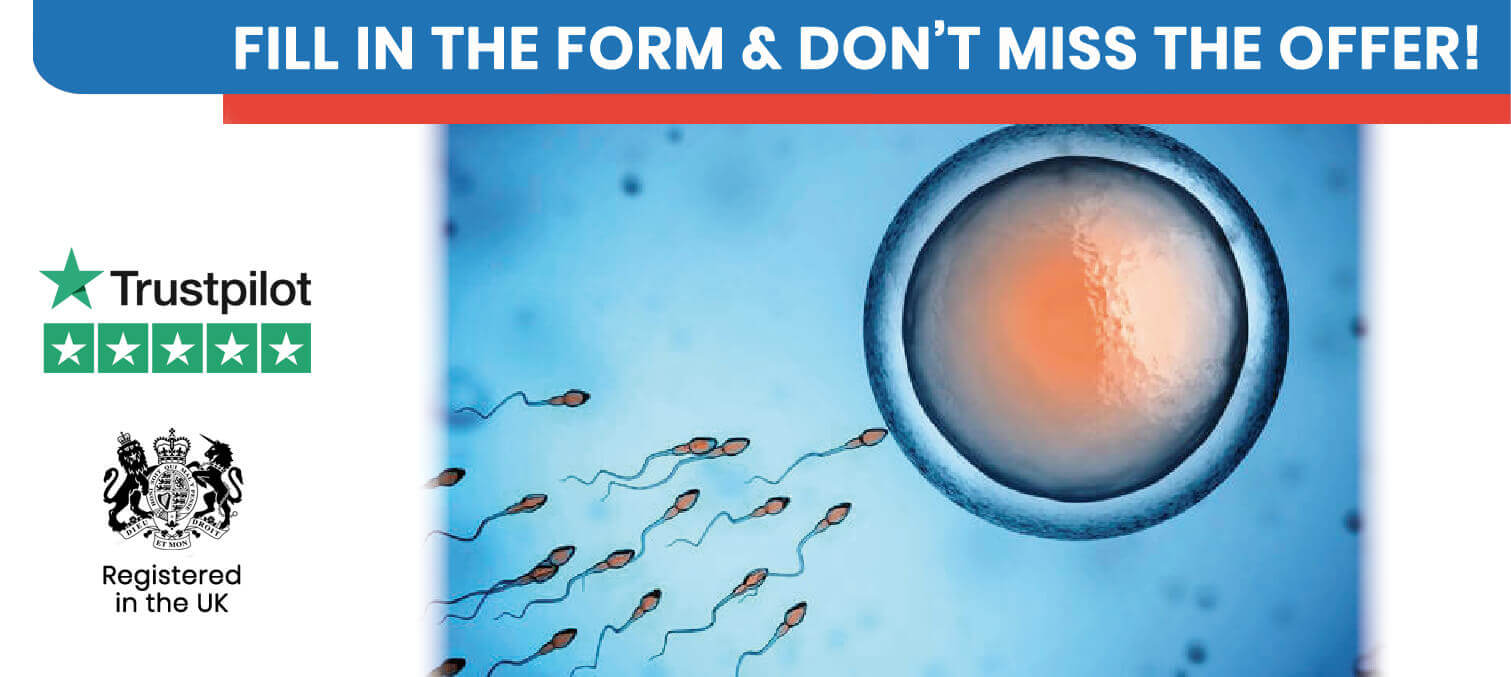 Having poor-quality eggs or semen may result in infertility among couples. Registered in the UK, Clinic Center offers infertility treatments such as embryo, egg and sperm donation in Turkey. To get further information on egg, sperm and embryo donation cost, you can simply contact us online.
Get Your FREE Treatment Plan NOW!
Egg, Sperm & Embryo Donation in Turkey
Having poor quality eggs or semen may result in infertility among couples. Registered in the UK, Clinic Center offers infertility treatments such as embryo, egg and sperm donation in Turkey. To get further information on egg, sperm and embryo donation cost, you can simply contact us online.
What are the Types of IVF Donations?
Although IVF is an effective method to achieve pregnancy from the egg and semen of a couple, there might be situations where the amount or quality of these are not sufficient. This is when egg, sperm and embryo donation come into play:
Egg Donation in Turkey

Donor egg transfer is an assisted reproduction treatment that offers patients who are unable to develop an embryo on their own the opportunity to have a child. In an egg donation, IVF (IVF) is performed with the peculiarity that the eggs are from a donor and the sperm are from the recipient partner. There may also be the case, if it is women who face motherhood alone, that the sperm is also from a donor. Thus, egg donation makes possible the miracle of life in women who otherwise could not have children.

Sperm Donation in Turkey

About 30% of infertility cases occur from male causes. Sperm donation in Turkey allows these couples, or women who are considering solitary motherhood, to fulfil their dream of starting a family. Sperm Donation is a voluntary, solitary and altruistic act by means of which, a healthy male with a very good quality of semen makes an assignment to make the dream of a couple who have infertility problems come true.

Embryo Donation in Turkey

Embryo donation treatments help fulfil the desire of women and couples who cannot conceive with their own gametes. The evolution of embryo donation has been increasing in the last 10 years.  Embryo donation in Turkey involves the use of embryos donated by some other couple; which will be used to achieve a pregnancy through the transfer of frozen embryos.
Why do People Choose Egg, Sperm and Embryo Donation?
To summarize; when women lack eggs or men suffer from the absence of semen, donor egg transfer and sperm donation are the best options to achieve pregnancy. If these methods fail, it is also possible to undergo an embryo transfer. Egg, sperm and embryo donation can be chosen in the presence of:
Low quality or insufficient amount of eggs or semen
Women who want to get pregnant without a partner
Serious genetic diseases, with a high risk of transmission
Failure of all the other fertility treatments to achieve an embryo
Repeated failure of embryonic implantation.
How is IVF Donation Done step by step?
Sperm, egg and embryo donation starts with tests to detect the quality of the given semen, egg or embryo and a hormonal treatment to the recipient.
Egg Donation Process in Turkey
In the laboratory, fertilization of the donor's egg takes place with the sperm sample, which can come from a donor or from a partner. In parallel, the patient is medicated for 10 days before the egg donation to prepare the uterus and thus maximize the chances of implantation of the embryo. This stimulation is guided at all times by our staff, who, through the results of ultrasound and blood tests, supervises its correct evolution. Our partner specialists carry out the transfer of the best embryo, depositing it inside the uterus using a cannula that allows access to the ideal place for implantation.
Sperm Donation Process in Turkey
During the sperm donation process, the donor must attend the clinic repeatedly, so it is important that they feel comfortable and at ease. In the first two visits for sperm donation, the introductory interviews are carried out (between 30-60 minutes), in which all the necessary information is provided to carry out the act of sperm donation, and in turn, questions are asked about his family history and life habits. In addition, different hormonal, pathological, genetic and psychological studies are carried out. Subsequent visits last no more than 15 minutes, where donors only need to obtain a semen sample to be fertilized with a woman's egg through a cannula or in vitro.
Embryo Donation Process in Turkey
The embryo donation process is smooth and simple. The recipient woman receives a hormonal treatment that prepares the uterus for embryo transfer, which consists of depositing the embryos in the uterine cavity through the vagina. Embryo donation in Turkey is an outpatient process that does not require anaesthesia or admission.
The number of embryos transferred to the uterus cannot exceed three in one cycle. Patients will receive from the biomedical team the information necessary to decide the number of embryos to be transferred, with the intention of obtaining pregnancy and avoiding multiple gestations as much as possible.
IVF Donation Results in Turkey
Thanks to the well-qualified embryologists and the latest technologies; Turkey has been an attractive spot for sperm, egg and embryo donation. When carried out by professionals, these assisted reproduction techniques can help the candidates achieve pregnancy with a high IVF success rate. When a woman with an insufficient number of eggs goes through a donor egg transfer, she will be able to carry the embryo fertilized by her partner's semen in her own uterus.
Moreover, thanks to sperm donation in Turkey, many women without a male partner and patients where the male's semen presents anomalies of different kinds without solution have the possibility of fulfilling their dream of being parents.
Embryo transfer in Turkey is recommended when both sperm and egg donation have failed. Through embryo transfer, it is possible to become parents even when the candidates have no semen or eggs of their own.
IVF Donation Cost in Turkey
Egg and sperm donation cost vary depending on the number of trials, the embryologist chosen and even the country where the sperm, egg and embryo donation will be carried out. It is known that, expectedly, embryo donation cost is higher than the egg and sperm donation cost. But still, a personalized treatment plan is essential to inform patients about the cost of sperm, egg and embryo transfer. To get further information on IVF donation and egg, sperm or embryo donation cost; you can simply contact us online.
All Inclusive Package for Egg, Sperm and Embryo Donation
Registered in the UK, Clinic Center provides egg, sperm and embryo donation carried out by a qualified embryologist under high-standard conditions. After going through pre-operative tests and evaluations; you will be offered a personalized treatment plan which will fulfil your dreams to become parents. In addition to the high IVF success rate, Clinic Center organizes every step of your sperm, egg or embryo donation in Turkey. A video consultation from your home or a physical consultation at our London office is now available. Once you have had the consultation, our team offers you:
Accommodation at a 4-star hotel
VIP transfer
International patient host
Pre and post-operative tests
Septorhinoplasty Surgery All-Inclusive Package
With the all-inclusive package, our patients will have a comfortable trip from Turkey to their home after having a successful septorhinoplasty procedure in Istanbul. Clinic Center does everything possible so that our patients feel maximum comfort, Clinic Center arranges everything our patients may need. Here are the details:
Internationally Certified Doctors
Clinic Center partner plastic surgeons are chosen after a close examination and hold the respected EBOPRAS, ISAPS and ASAPS memberships.
Medical garments
Clinic Center will give the necessary equipment to be used after surgery for each patient
Check-up
A day after the septorhinoplasty procedure, Clinic Center doctor or host will inform the patient of the check up day and aftercare information for a successful recuperating process will be given.
Accommodation at a 4-star Hotel
Clinic Center will make certain that all of their patients have the best and comfortable stays until their departure.
All transfers with VIP car
For a more comfortable trip, Clinic Center provides transfer services whilst our patients are here.
International Patient Host
Clinic Center provides our patients with an international patient host that will accompany the them during their medical travel.
Pre&Post-op Instructions for Egg, Sperm and Embryo Donation
Take your hormone pills given by the embryologist regularly, generally at the same time of the day.
Some supplements like folic acid might be good for the embryo development.
Stop consuming alcohol or smoking at least 3 weeks before the treatment.
Do not consume herbal tea or take blood thinners without consulting your embryologist.
Inform your health care provider about the diseases you suffer from or the medication you take on a daily basis.
After the Implantation, avoid heavy lifting or exhausting daily activities.
Show up for your follow-ups and do not neglect your post-operative tests.
Fast Facts
| | |
| --- | --- |
| Procedure: | Septorhinoplasty |
| Duration: | 1 – 3 hours |
| Stay: | 6 nights at the hotel |
| Anesthesia: | General |
| Recovery: | Take 2 weeks off work. |
| What to bring | Comfortable clothes that you won't need to pull over your head. |
| Side effects | Stuffiness, swelling, temporary loss of smelling, bleeding. |
| Complications | Scars, bleeding, seroma, infection, extrusion, swelling, bruising and pain, asymmetry, increased or reduced sensation, damage to deeper structures, unsatisfactory result, change over time, allergic reaction (chest infection, blood clots, heart attack or stroke and death), hole in the septum (septal perforation), breathing difficulties, altered sense of smell. |
| Exercise | 3 – 4 weeks later. |
| Scars | Depending on the technique you might have a small scar. |
| Pain | Mild, depending on the patient. |
| Results | Swelling will go down after approximately 2 weeks and final results can start to be seen between 6 months to 1 year later. |
| Multiple Surgeries | Liposuction, breast surgeries, hair transplant. |
H2 FAQ
In which cases is donor egg transfer advised?
In general, egg transfer in Turkey is advised for women who cannot use their own eggs for different reasons: advanced age, surgical intervention, premature ovarian failure, an inherited disease that cannot be avoided, or repeated failures in several previous IVF attempts carried out with their own. ovules.
How is donor egg transfer done?
In the puncture, donor eggs are extracted, which will undergo IVF to create embryos, which will be transferred to the recipient and thus become a future mother.
What tests should I do before a donor egg transfer?
The recipient also undergoes some tests to check that the uterus is fine and to rule out possible infections. In addition, from the age of 40 a mammogram is requested to rule out the existence of a cancerous process before starting hormonal treatment.
What is the success rate of donor egg transfer?
Since the donors are young women, between 18 and 35 years old, this is the time which the eggs are of higher quality. So the success rate in egg donation treatments is 60-65% in the first attempt. As it is most common for embryos to be frozen, patients who have not achieved pregnancy on the first attempt can carry out another cycle and become pregnant, so the accumulated pregnancy rate can reach 75% in a single donation.
Who can turn to sperm donation in Turkey?
Going to a sperm donor is indicated in those cases where the couple's infertility originates from human causes. Either because they have a low sperm count, they have little mobility or their reproduction has been reduced.
How does pregnancy occur with a sperm donation?
The most common technique is assisted fertilization performed in clinics. We wait until the woman is ovulating and then proceed to introduce the semen into the uterus, in a quick and painless procedure. Most couples must undergo the procedure two or three times to achieve pregnancy. If this does not occur, additional causes are studied and in vitro fertilization is usually recommended.
How are sperm donors selected?
The sperm donor is a healthy man between 18 and 35 years old, who has gone through an exhaustive selection and different types of analysis to guarantee his optimal physical condition. Applicants also undergo psychological tests to determine their motivation to donate and to see that they are truly fit to become donors.
How many embryos can be transferred in the embryo donation?
Although the assisted reproduction law allows the transfer of a maximum of 3 embryos. At our clinic, we transfer an embryo with the same possibilities of implantation and thus avoiding the dangers of multiple pregnancies.
Do the donated embryos come from donors who have been tested to rule out diseases?
Although the embryos come from couples who have donated them. The tests performed are the same as for gamete donors.
Disclaimer
The information on this site is not intended or implied to be a substitute for professional medical advice, diagnosis or treatment. All content, including text, graphics, images and information, contained on or available through this web site is for general information purposes only. It is not advice on your specific needs and circumstances. It does not replace the need for you to have a thorough consultation, so you should get advice from a suitably qualified medical practitioner. Please bare in mind that as with all operations, there are risks involved in having cosmetic surgery.