You can define your face by reshaping your nose as you dream with a nose job in Turkey by Clinic Center.
Here you can view some before after nose job. Nose job can be operated and the result would be different in every case. It is very important what your complaint is and what your aim is to have the best nose job.You can see many different cases and nose job before and after pictures in rhinoplasty before and after gallery. You can see how a nose can change the whole face and appearance after nose job transformation.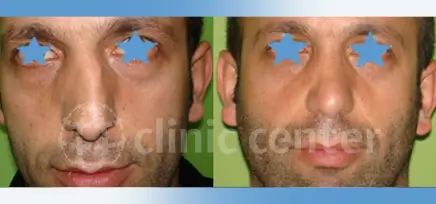 Gender is also important regarding the personalized treatment plan and the result. You can notice when you are checking mens nose job before after pictures in the gallery.
Septorhinoplasty consists of both rhinoplasty to satisfy your aesthetic concerns and resolving the nasal deviation problem which is not only for aesthetic concerns also about breathing problem as well. You can find many septorhinoplasty before after pictures.
Please take a look at our web pages on rhinoplasty and septorhinoplasty to get more information about these procedures, and don't forget to enquire us!
Disclaimer: Photos above show only typical results of nose job. Not everyone undergoing rhinoplasty will achieve the same.