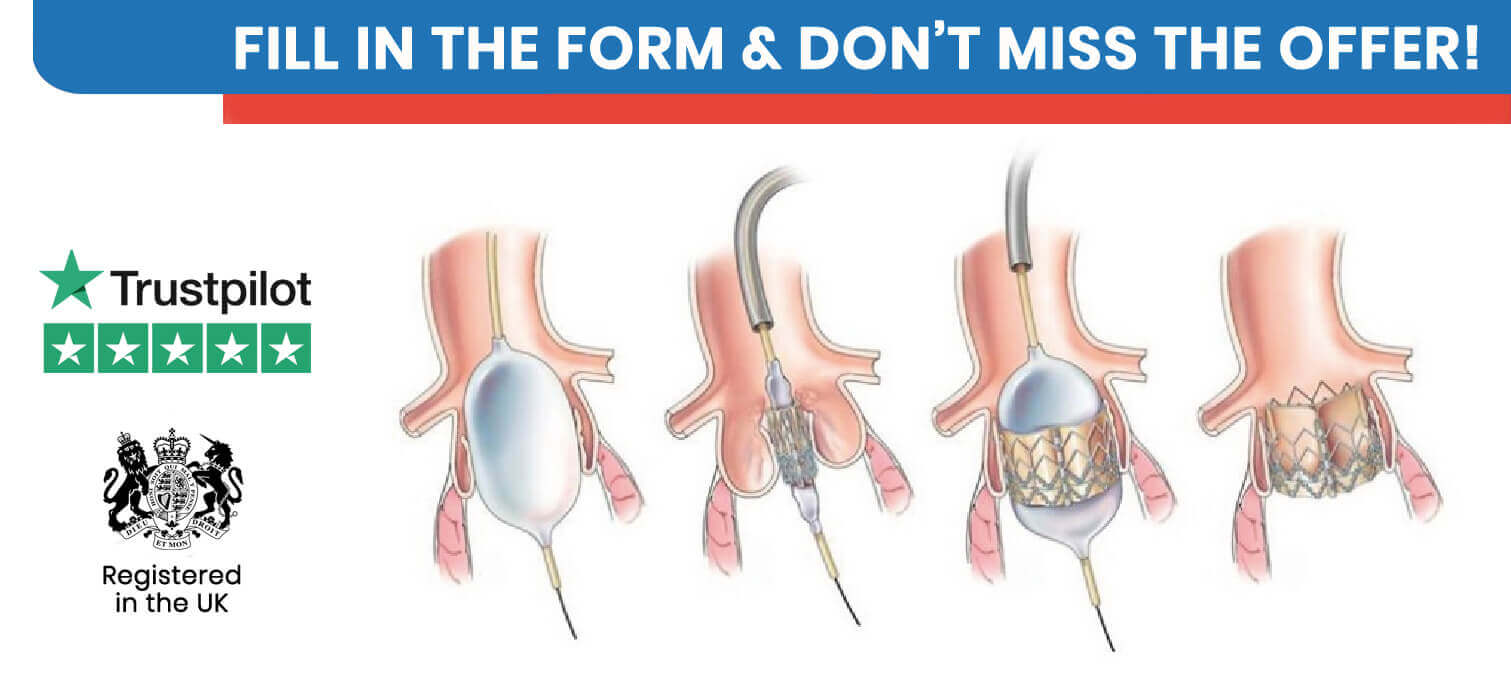 Every year Clinic Center welcomes thousands of patients who have chosen various procedures to have a healthy body at a reasonable cost. If you'd like to get more information on how much the TAVI / TAVR operation costs; you can simply get into contact by filling this form.
Get Your FREE Treatment Plan NOW!
What is a Transcatheter Aortic Valve Implantation Surgery?
Transcatheter Aortic Valve Implantation / Transcatheter Aortic Valve Replacement is a minimally invasive procedure that repairs the valve without removing the old and damaged valve.
Depending on the patient's health, the procedure also known as transcatheter aortic valve replacement (TAVR) or transcatheter aortic valve implantation (TAVI) can take 1.5 hours.
What is the difference between TAVI and TAVR?
TAVI means Transcatheter Aortic Valve Implantation. The procedure and its approaches are the same as TAVR Transcatheter Aortic Valve Replacement. The doctor may use the terms interchangeably when discussing the patient's TAVI procedure.
How is a TAVR/ TAVI Surgery Done?
Similar to a stent placement TAVI or TAVR procedure delivers a fully foldable replacement valve to the valve site through a thin flexible tube, also known as a catheter. The new valve gets expanded. The old valve leaflets get pushed out of the way. Compared with the standard valve replacement, TAVR or TAVI is a less invasive and a catheter-based procedure.
Who is a Candidate for TAVI?
A patient that wants a shorter recovery time.
If the patient has fainting fits, chest pain, irregular heart rhythm.
If the symptoms haven't got any better after using medication.
If the patient's aortic stenosis is severe, then the patient can be considered as a good candidate for TAVI heart procedure by the doctor.
How to Prepare for TAVI / TAVR Surgery?
Patients should ask their TAVR doctor what amount of activity is acceptable.
After the surgery, short periods of exercise might be hard depending on how severe the aortic stenosis has become.
It is important to take note of new symptoms that may arise during exercising, like shortness of breath, pain in the chest, or feeling faint.
Important Note:
Surgery will be CANCELLED if there is any possibility that the patient is pregnant or the patient has health problems(apart from the heart problem)(the anaesthesiologist will check before the patient is taken to the operating room).
Two Weeks Before Surgery:
Don't drink alcohol and don't smoke. Nicotine affects the blood circulation and this can affect the result of your procedure and increase the risk of complication with anaesthesia.
One Day Before Surgery:
STOP EAT OR DRINK ANYTHING AFTER MIDNIGHT.
Day of The Surgery:
Patients can shower before going to the hospital.
Patients shouldn't have any makeup on. There shouldn't be any product on their hair, nail varnish and false eyelashes need to be removed.
Patients should pack a bag of loose-fitting clothes and comfortable shoes.
If the patient has hair on their chest and they don't want another person to shave it. They should shave it.
Patients shouldn't wear jewellery, or bring valuables to their surgery.
What are the Risks of Transcatheter Aortic Valve Implantation Surgery?
Bleeding
Infection
Death
Stroke
TAVR Surgery Results in Turkey
TAVI / TAVR surgery results should improve the quality of life. It may also alleviate the signs and symptoms of aortic valve stenosis.
What to Expect After a TAVI Surgery?
Normally the patient can stay at the hospital for two to five days(depending on what the doctor thinks) recovering in the hospital. The patient will need periodic check-ups with the Clinic Center cardiologist after TAVR cardiology surgery. If there is anything new or worsening signs or symptoms patient should let the doctor know. After the procedure, the patient may need medications.
TAVR Recovery and Aftercare
After the TAVR heart procedure to treat severe aortic stenosis, patients may wonder what they can do to increase their healing process.
Clinic Center doctor will give specific instructions to help patients with their transcatheter aortic valve replacement recovery, this may have a special diet including, exercise, and medicine. It is essential to carefully follow the doctor's instructions, mainly if blood-thinning drugs are prescribed.
Patients will need help when they are discharged from the hospital. It is hard to predict how much help they will require, and for how long. It is best for the patients to plan ahead so that they will definitely have the help they need. Most patients who have a TAVI has said that it takes them 1 to 2 months to fully heal. If the patient lives alone, we suggest they arrange to have someone, a friend, or a family member stay with them for at least the first week to help them recuperate.
Eating properly is important for recovery. It's important that patients eat healthy foods every day. Patients might realize that they don't want to eat much for 2 to 4 weeks. If the patient had to limit the amount of liquid they could drink before their TAVR procedure, they must carry on to do so till they can ask their family doctor or their heart doctor.
Cardiac rehabilitation might not be suitable for every patient. That is why Clinic Center cardiologist will refer patients if it is required.
Advantages of TAVI / TAVR Assisted by Clinic Center
Clinic Center is registered in the UK and is Brighton & Hove Albion Football Club's first data sponsor. Also, Clinic Center gives aftercare service in the UK(We are the only company to do so) Clinic Center offers all-inclusive transcatheter aortic valve replacement packages abroad for patients who don't want to have to deal with organizing it. Also because we work with the best doctors, our patients have good experiences.
The treatment package that our patients will have whilst having a Transcatheter Aortic Valve Implantation Surgery in Turkey includes everything that they could need and it comes with the best price guarantee:
TAVI surgery in Istanbul with one of the best surgeons in Istanbul
Staying at a 4-star hotel
2-5 nights hospital stay
All inner transfers with car
Personal host
Free check-up and periodic follow-up
By choosing Clinic Center to help you with your Transcatheter Aortic Valve Implantation Surgery in Turkey, you will feel and will be able to live better afterward.
Transcatheter Aortic Valve Replacement Surgery Cost in Turkey
Turkey has become one of the most popular countries to have any kind of surgery. There are many reasons for this. One being, the doctors are very experienced in their fields and the price. As everything gets expensive, foreign patients realized that the same operation needs to have cost less in Turkey and the quality is the same or even better. When patients compare the TAVI procedure cost with the price in their own country, they notice that the prices in Turkey are reasonable and the quality of the doctors is very high. So it is a win-win situation for the patients that come to Turkey. Also, because Clinic Center works with the best surgeons in Turkey, our patients get the best possible service.
TAVI / TAVR Procedure All-Inclusive Package
Our all-inclusive package is meant to make our patient's lives easier and it does. Why? Because after booking their operation, all they have to do is, just come to Istanbul. A transfer car will be waiting for them and their room will already be ready, so they can prepare themselves for the operation. Because we know that getting a procedure can be horrifying.
Because of these reasons, Clinic Center sorts all of it. Thanks to this, our patients always have a comfortable trip from Turkey to their home after having a good TAVI procedure in Turkey. For the patient to have the most comfort, Clinic Center organizes everything they may possibly need. But what are these?
Internationally Certified Doctors
Clinic Center partner cardiologists are picked after a close examination and once we are satisfied with their expertise, we become partners. With us our patients are always in good hands.
Check-up
If the patient has stayed at the hospital, on the discharge day, cardiologist or host will inform the patient of the check up day and doctor with also provide the patient with aftercare information.
Accommodation at a 4-star Hotel
Anyone would need a proper rest after any sort of surgery or a plane trip. That is why Clinic Center ensures that all of their patients have the best and comfortable stay until it is time for them to go back home.
All transfers with VIP car
We provide transfers between airport-hotel-hospital.
International Patient Host
You weren't alone before you came, when you are going to the hospital you won't be alone either. But this time you will have an "International Patient Host".
Fast Facts About Transcatheter Aortic Valve Replacement Surgery
| | |
| --- | --- |
| Length Of Procedure | Approximately 1.5 hours |
| Recovery Period | Normally two weeks. |
| Incision | Depends on where the doctor will enter from. There could be a small incision or none. |
| Anaesthesia | Could be general or local. Depends on your situation. |
| Hospital Stay | couldn't find the information, so just to be safe lets say at least 30 days until a new info comes |
| Exercise | No lifting, pulling or pushing anything 10+ pounds for first 5 days after discharge. |
| Medication | If you need it, the doctor will prescribe you medication. |
| What To Bring | Comfortable clothes, a list of medicines you are taking and need to take, basic toiletries. Don't bring valuables(jewellery etc.) |
| Result | Improvement on quality of life. It may also alleviate the signs and symptoms of aortic valve stenosis. |
Transcatheter Aortic Valve Replacement Surgery FAQ
How long does the TAVI procedure take?
Approximately 1.5 hours
Is Transcatheter Aortic Valve Implantation a major surgery?
Transcatheter aortic valve replacement or transcatheter aortic valve implantation surgery can be called a major surgery. The patient is under general anaesthesia and will have to stay at the hospital for at least one night.
Is the procedure painful?
No it isn't. During the procedure, you will be under general anaesthesia or a sedative will be given to you. Also, cardiologist can prescribe you pain killers for afterward.
Will I have a big scar afterward?
Depends on where the doctor will enter from. There could be a small incision or none.
Will I need special care when I arrive at the hotel?
When you are being discharged, it is best to have a family member or a friend with you. Especially the first day after being discharged.
When can I go back to work after surgery?
A definite time can't be given because everyone heals different. So you can expect to go back to work from several weeks to months.
When can I start exercising again after surgery?
No lifting, pulling, or pushing anything 10+ pounds for the first 5 days after discharge.
Will I need any preoperative tests?
Yes. Pre-operative tests are done so that the doctor can see if it is ok to operate on you.
What will improve with TAVI/ TAVR?
The signs and symptoms of aortic valve stenosis might be relieved. Quality of life and overall health will be improved.
How many patients have been treated?
More than 150.000 patients world-wide.
Will I feel the replacement valve?
No, you won't feel it.
How long does TAVI/ TAVR it last?
TAVI/TAVR lasts about 10-15 years.
Disclaimer
The information on this site is not intended or implied to be a substitute for professional medical advice, diagnosis or treatment. All content, including text, graphics, images, and information, contained on or available through this web site is for general information purposes only. It is not advice on your specific needs and circumstances. It does not replace the need for you to have a thorough consultation, so you should get advice from a suitably qualified specialist and surgeon.