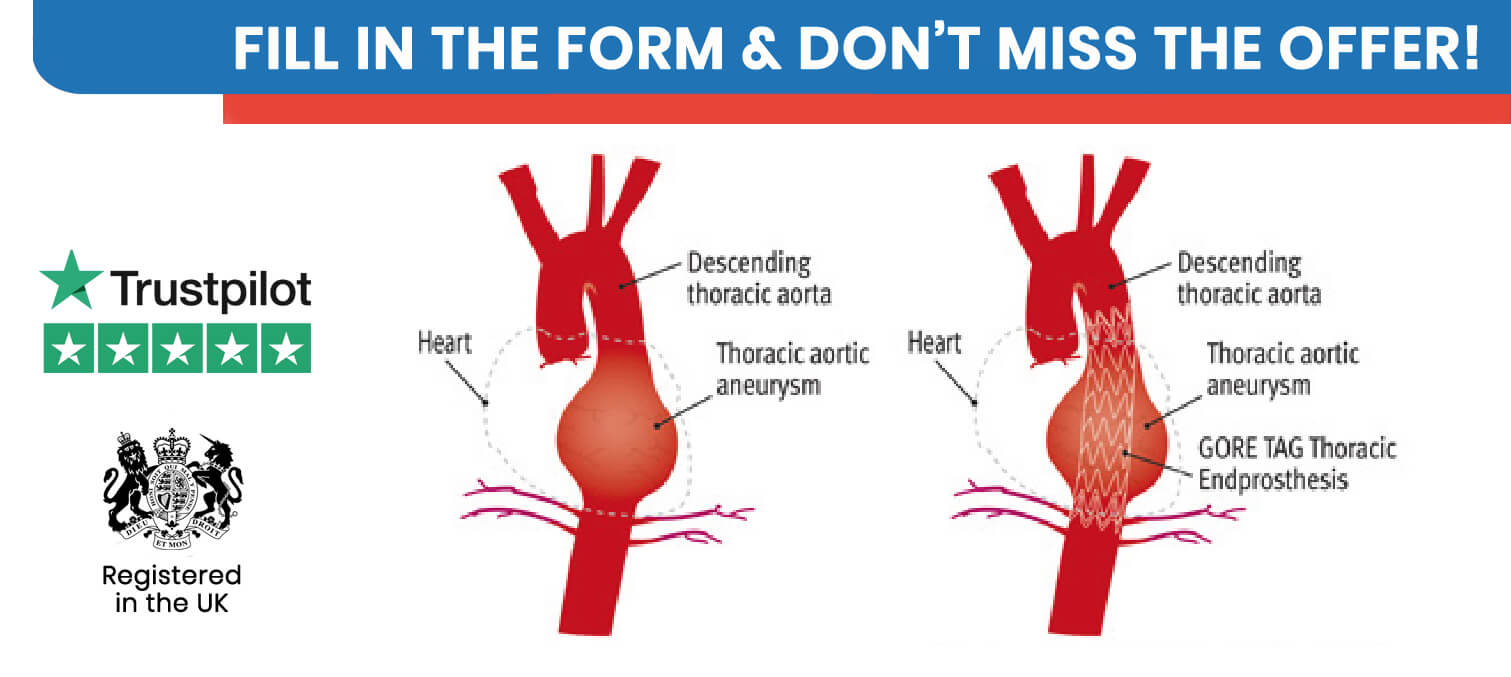 Get Your FREE Treatment Plan NOW!
The treatment for an abdominal aortic aneurysm (AAA) mostly depends on how big it is. AAAs are grouped into 3 sizes:
Small AAA – 3cm to 4.4cm across
Medium AAA – 4.5cm to 5.4cm across
Large AAA – 5.5cm or more across
Large AAAs are more likely to burst (rupture). Therefore, a surgery to stop this happening is usually recommended.
The risk of a small or medium AAA bursting is much lower. So, you'll normally be advised to have regular scans to check its size and make healthy lifestyle changes to help stop it getting bigger.
Clinic Center cardiologist will determine the size of your AAA and create a treatment plan best suited for you. If you'd like more information, you can contact us here. . Clinic Center is registered in the UK and has an office in London. So, If you'd like to speak to one of our consultants before coming to Istanbul, you are welcome to visit us
Small and medium AAAs
You might not need treatment if you have a small or medium AAA. This is because the risk of the AAA bursting is smaller than the risk of complications from surgery.
You'll be asked to come back for regular ultrasound scans to check if your aneurysm is getting bigger.
Scans are done:
Every year if you have a small AAA.
Every 3 months if you have a medium AAA.
Surgery may be offered if your aneurysm becomes a large AAA.
Large AAAs
If you have a large AAA, surgery to strengthen it with a piece of man-made tubing (a graft) is usually recommended because the risk of it bursting is bigger than the risk of complications from surgery.
There are 2 main types of surgery for an AAA:
Endovascular surgery (EVAR/TEVAR) – The graft is inserted into a blood vessel in your groin and then carefully passed up into the aorta.
Open surgery – The graft is placed in the aorta through a cut in your tummy.
Both techniques are equally good at reducing the risk of an AAA bursting. But, each has its own advantages and disadvantages. Contact your Clinic Center cardiologist about which is best for you.
If surgery is not suitable for you, you'll have regular scans to monitor your aneurysm and be given advice about healthy lifestyle changes, and you may be prescribed medicine to help stop the aneurysm bursting.
Types of AA Surgery in Turkey
Endovascular Aneurysm Repair (EVAR)
Endovascular aneurysm repair involves inserting a graft within the aneurysm through small groin incisions using X-rays to guide the graft into place.
The advantage of this type of repair is that there is no abdominal surgery. This technique is therefore safer than the traditional operation, and you need to spend less time in hospital. A disadvantage is that some patients have to undergo a further operation at a later stage to refine the initial procedure.
Thoracic Endovascular Aneurysm Repair (TEVAR)
Thoracic endovascular aortic repair (TEVAR) is a procedure to treat an aneurysm in the upper part of your aorta. The aorta is your body's largest artery. An aneurysm is a weak, bulging area in the aorta wall.
TEVAR is a minimally invasive surgery. That means it is done with a small cut (incision). With TEVAR, a device called a stent graft is used to reinforce the aneurysm. A stent graft is a metal tube covered in fabric. It helps prevent the aneurysm from bursting.
For more information, please contact us.
What happens during AA surgery?
TEVAR is a minimally invasive procedure. This means it is done with a small cut (incision). A vascular surgeon and a team of specialized healthcare providers will do the surgery. Your doctor can explain what to expect for your surgery. This is an example of how it is done:
You will be given anaesthesia to prevent pain. This may be general anaesthesia, which causes you to sleep through the procedure. Or, it may be regional anaesthesia, which numbs a certain part of your body.
A healthcare provider will carefully watch your vital signs, like your heart rate and blood pressure, during the procedure.
Your surgeon may make a small incision in the groin area as well as the arm to get into the aortic A thin tube (catheter) called a sheath will be placed in the artery.
Your surgeon will attach a stent graft to the end of the catheter. The stent graft is a tube made of a thin metal mesh (the stent). It is covered with a thin polyester fabric (the graft). The tube is collapsed so it is narrow and can fit through your blood vessel.
Using X-rays as a guide, your surgeon will thread the catheter, with the stent graft attached, through an artery in your groin to the affected part of your aorta.
Once the stent graft is in place, your surgeon will expand its metal frame and fasten it into place.
The metal frame expands like a spring and attaches tightly to the wall of your aorta. This provides a stable place for blood to flow. It also stops the aneurysm from bursting. The blood supply is now cut off from the aneurysm. This makes it shrink over time.
Your surgeon will remove the catheter. He or she will close the incision and put a small bandage on the wound.
What happens after AA surgery?
After the aortic aneurysm surgery in Istanbul, you will spend several hours in a recovery room. Your healthcare team will watch your vital signs, such as your heart rate and breathing. To help prevent bleeding, you may need to lie flat for several hours after the procedure.
After surgery, expect to stay in the hospital for at least 3 to 4 days. Clinic Center cardiologist and team will tell you more about what to expect.
Who is a candidate for AA surgery?
Not every patient or every aneurysm is suitable for EVAR. In particular, aneurysms arising close to or above the kidneys are more difficult to treat in this way. You will be assessed with a scan to determine if your aneurysm can be treated by endovascular repair. If suitable you will be offered a choice of type of repair by your Clinic Center partner surgeon.
What are the risks of AA surgery?
The risk of a major complication is lower for endovascular repair, as the operation does not interfere with the circulation as much as open surgery. However, the graft attachment is not as secure as in the open operation. As a result, you may need to follow up with scans to ensure that the graft has not slipped. It is estimated that about 1 in 10 patients may need further intervention or operation on their graft.
Recovery and Aftercare
After an uncomplicated endovascular repair, most patients return to the hospital ward for one to three days. You should be able to eat and drink normally once fully awake following your aneurysm repair. The nurses will aim to get you to sit up and walk as soon as possible. Once you are up and about, you should be able to leave the hospital. But, you may need painkilling tablets for up to a week.
Discussions with patients who have undergone endovascular repair suggest that it can be normal to make a full recovery in about two weeks. However, some people take longer and can tire and take several months to return to the health state they had prior to the operation. During this time, you should gradually build up your level of activity back to normal. You may resume normal sexual relations as soon as you as you feel comfortable.
Return to work: Most people who are treated with endovascular repair can return to work within a month after having surgery. If you drive for a living, please read the section on driving toward the end of this information page.
If aneurysms are successfully repaired, this prevents them from blocking or bursting and there is a very high likelihood that you will return to a normal life. Full recovery takes between 3 and 6 months after open surgery and 2 to 4 weeks after endovascular repair. The speed of recovery will also be affected by your age and general fitness.
Aortic Aneurysm Procedure in Turkey All-Inclusive Package
We understand that having packages that include everything is important. That is why we are providing it to our patients. So they can just focus on what they came for and not have to deal with the hotel arrangements or transfers. In our packages, patients receive these:
Internationally Certified Doctors
Clinic Center partner cardiologist(s) is/are chosen after they are closely checked and once we are with their experience, we start to work with them. With us, our patients can be certain that they are always in good hands.
Check-up
On the discharge day, the Clinic Center cardiologist or host will inform the patient of the check-up day and the doctor with also provide the patient with aftercare information so that the patient can have a healing process without any issues. We also help our patients to have their usual follow-ups to make sure the patient can concentrate on getting better. More information about our aftercare can be reached here:
Accommodation at a 4-star Hotel
After having any kind of procedure anyone would want to rest properly to start to heal quickly as possible. That is why Clinic Center makes sure that all of their patients have a pleasant stay until it is time for them to go back to their countries.
All transfers with VIP car
For a more comfortable trip, Clinic Center transfer takes them to all of the necessary places.
International Patient Host
Travelling abroad for surgery can be quite daunting. Especially If it is a country that the patient has never been to before and doesn't speak the language. The patient or patients can think what are they going do to when they arrive. How will they find the doctor or the hospital? Who is going to tell them what is happening or going to happen? Mainly for these reasons, Clinic Center has our patients with an international patient host that will accompany them during their medical travel. So our patients can just think of getting ready for the procedure and nothing else.
AA Surgery Cost in Turkey
A majority of the patients are curious about aortic aneurysm surgery cost in Turkey since it is considered rather expensive. But at Clinic Center, you are guaranteed to receive a high-quality service at an affordable rate. Clinic Center makes its difference in assisting its patients while providing high customer satisfaction with a reasonable aortic aneurysm surgery price in Turkey. To get further information about the cost of aortic aneurysm surgery, you can simply contact us through the online consultation form. https://cliniccenter.co.uk/contact-us/
Fast Facts About Angioplasty (Percutaneous Coronary Intervention)
| | |
| --- | --- |
| Duration | 2-4 hours |
| Hospital Stay | 2-14 days |
| Anaesthesia | General Anaesthesia |
| Recovery | 3-4 months |
| Exercise | At least after 3 months |
| Scars | Chest or abdomen |
About Aortic Aneurysm Surgery FAQ
What is an aneurysm?
An aneurysm is a dilation of a blood vessel (similar to a balloon) that poses a risk to health from the potential for rupture, clotting, or dissecting. Rupture of an aneurysm in the brain causes stroke, and the rupture of an aneurysm in the abdomen causes shock.
Who is at greatest risk?
White men over age 55 are at the greatest risk. In fact, aneurysms are among the top ten causes of death among this group. By about age 80, over 5% of white males will have developed an aneurysm. AAA's occur less frequently in white women, and they are relatively uncommon in African Americans of both sexes.
If I have an aortic aneurysm how big should it be before I am offered surgery?
Your aneurysm usually needs to measure a specific size and/or for you to have an increase in symptoms before you will be considered for surgery.
What are the risks of surgical repair?
The risk of death from surgery is related to hospital expertise and experience, the skill of the surgeon, and the basic underlying health of the patient. Mortality rates are frequently reported to be as low as 0 to 2% in academic medical centres with vascular specialists and superior intensive care. Rates may be higher in small community hospitals without dedicated vascular specialists. Patients without any history or signs of heart disease generally do very well. Because heart attack postoperatively is the leading cause of surgical mortality. Patients with known coronary artery disease should have a thorough cardiological evaluation prior to surgery.
How long does it take to recover, and what is the likelihood of returning to a normal life?
The average hospital stay is 7-10 days, and most patients take about 6 weeks off before returning to work. By that time, they have usually regained their sense of well-being, although some bounce back much faster. The vast majority of patients are back on a normal survival curve for life expectancy, consistent with their cohort of persons of similar age and with similar underlying health.
Disclaimer
The information on this site is not intended or implied to be a substitute for professional medical advice, diagnosis or treatment. All content, including text, graphics, images and information, contained on or available through this website is for general information purposes only. It is not advice on your specific needs and circumstances. It does not replace the need for you to have a thorough consultation, so you should get advice from a suitably qualified medical practitioner. Please bare in mind that as with all operations, there are risks involved in having cosmetic surgery.