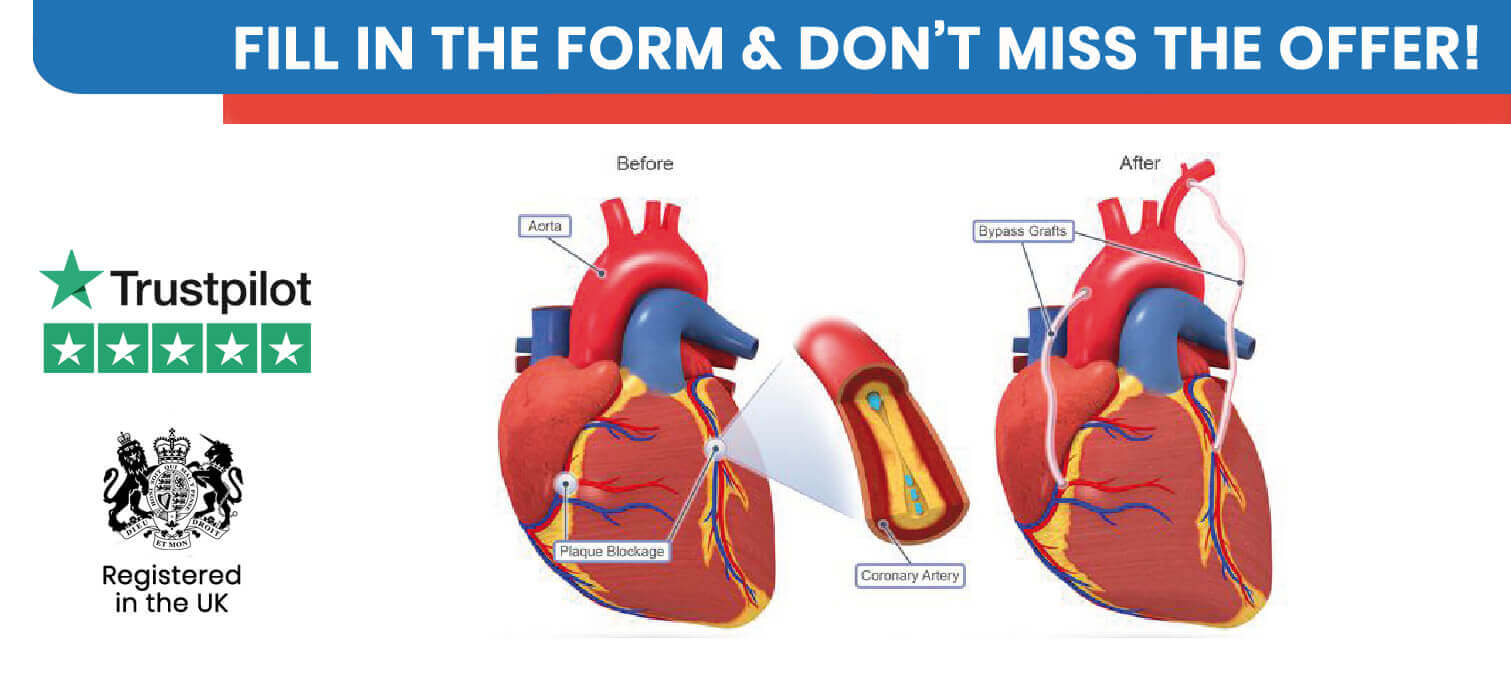 Get Your FREE Treatment Plan NOW!
Having a procedure in Turkey nowadays has become popular due to the experienced doctors. Same goes for Clinic Center, because we work with only the best, this guarantees that anyone that comes will get the best treatment as possible. We always look after our patients. Even when they go back to the UK. How? Because we also have aftercare services there too. You can get more information about our aftercare services from here:
If you'd like to receive information about coronary bypass surgery or another procedure, please feel free to contact us on here:
What is a Coronary Bypass Surgery?
Heart bypass surgery, or coronary artery bypass graft (CABG) surgery, is used to improve blood flow to your heart. A surgeon uses blood vessels taken from another area of your body to bypass the damaged arteries.
Is Coronary Bypass Surgery a major surgery?
Yes, it is a major surgery. Because it concerns the heart, therefore there are many risks involved and it is a long surgery.
Coronary Bypass Surgery Techniques in Turkey / Types of X in Turkey
Your doctor will recommend a certain type of bypass surgery depending on how many of your arteries are blocked.
Single bypass: Only one artery is blocked.
Double bypass: Two arteries are blocked.
Triple bypass: Three arteries are blocked.
Quadruple bypass: Four arteries are blocked.
Your risk of having a heart attack, heart failure, or another cardiac issue depends on the number of arteries blocked. Blockage in more arteries also means that the surgery may take longer or become more complex.
How is a Coronary Bypass Surgery Done?
Usually coronary bypass surgeries are carried out via a long cut in the chest during this time a heart-lung machine keeps blood and oxygen flowing through the patient's body. This is called on-pump coronary bypass surgery.
The Clinic Center surgeon lacerates the middle of the chest, along the breastbone. He or she then expands the the rib cage by opening it, to reveal the heart. After the chest is opened, the heart is briefly stopped with medicine and a heart-lung machine takes control to circulate blood to the body.
The surgeon takes a part of the healthy blood vessel, usually from inside the chest wall or from the lower leg, and connects the ends over and under the blocked artery so that blood flow is diverted around the narrowed part of the unhealthy artery.
How Long Does Coronary Bypass Procedure Take?
Coronary artery bypass graft procedure takes 3-6 hours. It could be longer than that when preparation and recovery times are added.
Who is a Candidate for Coronary Bypass Surgery?
People who have certain conditions may benefit from CABG, such as those who have obstructive coronary artery disease, a type of is chemic heart disease. Obstructive coronary artery disease occurs when plaque builds up in the coronary arteries that supply the heart with oxygen-rich blood.
How to Prepare for Coronary Bypass Surgery?
Preparation for a coronary artery bypass surgery in Turkey begins a couple of weeks before the surgery date.
Important Note:
Surgery will be CANCELLED if there is any possibility that the patient is pregnant or the patient has health problems(apart from the reason they came for)(the anaesthesiologist will check before the patient is taken to the operating room).
Two Weeks Before Surgery:
Patients shouldn't drink alcohol and should stop smoking. Nicotine affects the blood circulation and this can affect the result of your procedure and increase the risk of complication with anaesthesia.
One Day Before Surgery:
STOP EAT OR DRINK ANYTHING AFTER MIDNIGHT.
Day of The Surgery:
Patients can shower before going to the hospital.
Patients shouldn't have any makeup on. There shouldn't be any product on their hair, nail varnish and false eyelashes need to be removed.
Patients should pack a bag of loose-fitting clothes and comfortable shoes.
If the patient has hair on their chest and they don't want another person to shave it. They should shave it.
Patients shouldn't wear jewellery, or bring valuables to their surgery.
What are the Risks of Coronary Bypass Surgery?
Risks and potential complications vary for each person. Your Clinic Center partner cardiologist can help decide which treatment is the best option for you during physical consultation. Recent technological advancements have improved the procedure, increasing the chances of a successful coronary bypass surgery in Turkey.
There's still a risk for some complications after surgery. These complications may include:
bleeding
arrhythmia
blood clots
chest pain
infection
kidney failure
heart attack or stroke
 
Coronary Bypass Surgery Results in Turkey
Majority of the people who had the operation feel good and might remain symptom free for 10-15 years. Results and long term outcome depends on if the patient has a healthy lifestyle and if the prescribed medications are being taken properly.
Coronary Bypass Surgery Recovery and Aftercare
After a successful open heart or coronary bypass surgery in Turkey, symptoms such as shortness of breath, chest tightness, and high blood pressure will likely improve.
A bypass can increase blood flow to the heart, but you may need to change some habits to prevent future heart disease.
The best surgery outcomes are observed in people who make healthy lifestyle changes. Talk to your Clinic Center surgeon about dietary and other lifestyle changes to make after surgery.
Advantages of Coronary Bypass Surgery in Turkey assisted by Clinic Center
The cabg heart procedure can save the patient's life if they are having a heart attack or are at high risk of having one.
If the patient has continuing angina and shortness of breath from diseased heart arteries, elective coronary bypass surgery is highly effective at getting rid of or lessen the discomfort. Coronary bypass surgery can give you your life back.
Coronary Bypass Surgery Cost in Turkey
Whenever you hear someone had an operation abroad most of the time, that person had it in Turkey and then you'd be curious about the cost. After you learn of the cost, you will naturally be a bit surprised and wonder how can it be so affordable yet give very good results. There is a very good reason for that. Because the Turkish doctors have years of expertise. A lot of people wonder how the prices are so reasonable, there reason is, the rent, taxes, hospital payments are much lower in Turkey than they are in other countries. So if anyone would have coronary bypass surgery back at home, they'd most likely pay 60-80% more than they would have here in Istanbul. Because of the prices, sometimes our patients choose to come in the summer to have the surgery and then go on a holiday because not only the procedures are affordable. But also holiday costs are also affordable. So, why not contact us to get more details about coronary medical on here
Catheter Ablation All Inclusive Package
All-inclusive should mean that you don't need to arrange anything and that is what we do at Clinic Center. Because we know that getting a procedure can be scary. Clinic Center sorts all of the necessary arrangements. Because of this, our patients always have a comfortable trip from Turkey to their home after having a successful atrial ablation procedure in Turkey. For the patient to have the most comfort, Clinic Center organizes everything they may possibly need. But what are these?
Internationally Certified Doctors
Clinic Center partner cardiologist(s) is/ are picked after a close examination and once we are satisfied with their expertise, we become partners. With us our patients are always in good hands.
Check-up
If the patient has stayed at the hospital, on the discharge day, Clinic Center cardiologist or host will inform the patient of the check up day and doctor with also provide the patient with aftercare information so that the patient can have a successful recovery. More information about our aftercare can be reached here: https://cliniccenter.co.uk/aftercare-service
Accommodation at a 4-star Hotel
Anyone would need a proper rest after any sort of surgery or a plane trip. That is why Clinic Center ensures that all of their patients have the best and comfortable stay until it is time for them to go back home
Airport transfers with VIP car
For a more comfortable trip, Clinic Center transfer takes them to all of the necessary places.
International Patient Host
Travelling abroad for surgery can be quite daunting. Especially If it is a country that the patient has never been to before and doesn't speak the language. The patient or patients can think what are they going do to when they arrive? How will they find the doctor or the hospital? Who is going to tell them what is happening or going to happen? Mainly for these reasons, Clinic Center has our patients with an international patient host that will accompany the them during their medical travel. So our patients can just think of getting ready for the procedure and nothing else.
Fast Facts About Angioplasty (Percutaneous Coronary Intervention)
| | |
| --- | --- |
| Length Of Procedure | 3-6 hours |
| Recovery Period | 6-12 weeks |
| Incision | Depending on the technique, you will either have small incisions on your chest. Or a long one. |
| Anaesthesia | General anaesthesia. |
| Hospital Stay | 1 week |
| Exercise | Walking is okay after surgery. But don't do anything strenuous. |
| What To Bring | Comfortable clothes, a list of medicines you are taking and need to take, basic toiletries. Don't bring valuables(jewellery etc.) |
| Result | Most people feel good and may remain symptom free for 10-15 years. Results and long term outcome depends on if you have a healthy lifestyle and if your are taking your medications. |
Coronary Bypass Surgery FAQ
How long does the coronary bypass surgery take?
It takes about 3-6 hours.
Is the procedure painful?
No it isn't. During the procedure you will be under general anaesthesia. Also, Clinic Center cardiologist can prescribe you pain killers for afterwards.
Will I have a big scar afterwards?
Depending on the technique, you will either have small incisions on your chest. Or a long one.
Will I need special care when I arrive at the hotel?
Yes, you will need someone to be with you. First 3-6 weeks, you will probably will feel tired most of the time. Having someone to help you would make your life easier.
When can I go back to work after surgery?
If you are recovering well and if your job isn't physically strenuous, you can go back in 6-8 weeks.
When can I start exercising again after surgery?
You can exercise after 12 weeks. Before that you can do upper body range of motion exercises.
Will I need any preoperative tests?
Yes, you will have tests(Chest x-ray, EKG, vein mapping and more) done before coronary bypass surgery.
What will improve with coronary bypass?
Most people feel good and may remain symptom free for 10-15 years. Results and long term outcome depends on if you have a healthy lifestyle and if your are taking your medications.
Disclaimer
The information on this site is not intended or implied to be a substitute for professional medical advice, diagnosis or treatment. All content, including text, graphics, images and information, contained on or available through this web site is for general information purposes only. It is not advice on your specific needs and circumstances. It does not replace the need for you to have a thorough consultation, so you should get advice from a suitably qualified medical practitioner. Please bare in mind that as with all operations, there are risks involved in having cosmetic surgery.