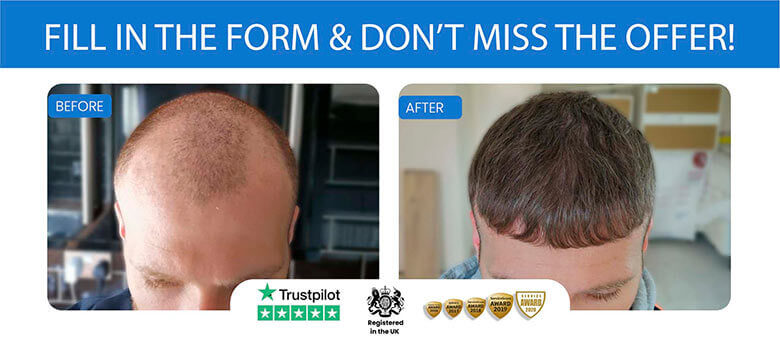 Clinic Center, recorded and active in UK, has extensive relations with medical centers in Turkey. Those who are interested in taking advantage of premium quality solutions in this regard are required to fill consultation form to reach most desired results.
Get Your FREE Treatment Plan NOW!
What is FUE Hair Transplant?
FUE hair transplant Turkey is the advanced technology option compared to FUT. Individual grafts that contains strands of hair are removed from the back and side of the head with 0.6mm-1.2 mm mini punches using special tipped micro-engines under local anesthesia and transplanted into the recipient area. Today FUE technique is preferred in most of the hair transplant procedures because it does not involve a surgical operation, it is a easily decided on technique. There is no cut and stitches on the extraction or scarring and surgical pain is minimized. Through this method, extracted grafts can be used in hair implants as well as beard transplant. After FUE hair transplant procedure is performed by our partner specialists the results will be natural and dense also since no suture removal is required, recovery time is approximately 7 days. Lifelong growing hair will change your appearance in the most positive way.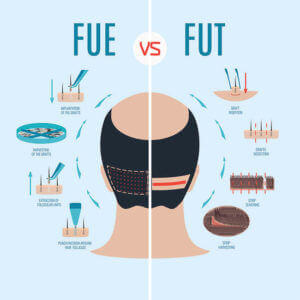 Now that you have made your mind to have the procedure; how will you decide on a hair transplant clinic? At this stage, there are two main points that most of the candidates take into consideration: the cost of the procedure and the results of the clinic's previous patients. As for the cost of FUE Hair Transplant, the procedure is preferred by many as it is a quite affordable, permanent solution. Besides, asking for the clinic's FUE Hair Transplant before and after photos would help one to get an idea of how successful the results of the clinic is.
Benefits of FUE Hair Transplant
No tissue strips are collected from the donor site, which means it doesn't leave any scar.
The follicles are taken not only from the back of the head, but also laterally, from the area above the ears.
It is performed under anesthesia; this makes the surgery painless and comfortable.
The hair follicles are extracted one by one through a special motor.
Up to a maximum of 5000 grafts, which would be equivalent to approximately 8000 – 12500 hair follicles.
Follicles can be removed from other parts of the body, such as the chest and shoulders if necessary.
It is a long-term and permanent solution to baldness.
It gives excellent results in mild or moderate cases of hair loss, from the front hairline to the nape.
Effective in the treatment of both male and female hair loss.
When compared to other treatments for hair growth, FUE Hair transplant results are the most natural ones.
It is also possible to rebuild a mustache, beard and eyebrows.
It is possible to cover scars on the scalp.
FUE Hair Transplants costs less than what people spend on other treatments.
The procedure is non-invasive, the next day after surgery, you can travel and return to your daily routine.
Approximately 20 days after hair transplant, the transplanted hair will fall out but start growing again permanently just in a couple of days.
Disadvantages of FUE Hair Transplant
It requires significant experience and training of the hair specialists.
Special equipment should be used during the operation.
FUE might not be appropriate for curly hair but can be decided upon after your free consultation with the specialists.
Clinic Center offers FUE Hair Transplant Turkey performed by experienced specialist in a well-equipped hair transplant clinic. For further detail, simply fill in the online consultation form or book your face-to-face consultation in our London Office through the website.
FUT (Follicular Unit Transfer) Technique
One of the most preferred techniques for hair restoration is Follicular Unit Transplant. FUT hair transplant technique is also known as the strip technique since the hair implanted is obtained by removing a strip from the back of the head. From the donor strip, the grafts are dissected under a special microscope. Once the dissection is done, the hair grafts are ready to be placed in the recipient region, where the person experience hair loss.
Every year, Turkey attracts thousands of men suffering from male pattern baldness for FUT hair transplant. Registered in the UK, Clinic Center offers free consultation in London and provides international patients with satisfying hair transplant results.
Advantages of FUT Hair Transplant
A significant number of follicles can be obtained even if the density of the donor area is not very high.
When compared to FUE technique, it is more difficult for the follicle to be damaged during extraction.
Between 1500 and 4000 follicular units can be transplanted in each surgical intervention.
It is carried out under local anesthesia, which means patients can go back to their daily routine the next day after hair transplant.
It is feasible for those who seek for a quick solution to hair loss.
The procedure takes relatively shorter time than other hair transplant techniques.
It is possible to have FUT Hair Transplant Turkey with quite reasonable costs.
Disadvantages of FUT Hair Transplant
There are, of course, some disadvantages of FUT Hair transplant when compared to the most popular option, FUE Technique, these are:
Scar: If the patient has a poor healing process, the FUT technique will probably also leave marks on the scalp. The scar left by this technique is in the form of a line and corresponds to the suture that the surgeon performs.
Longer recovery time: Post-operative care is more extensive than with FUE technique. For example, it is recommended to remove the stitches ten days after surgery, not to exercise until three months after FUT hair transplant, to take pain relievers and antibiotics, and, in some cases, patients report that it is difficult for them to achieve a comfortable position to sleep.However, Clinic Center is always a click away for help in the recovery period after FUT Hair Transplant. With our highly experienced partner medical team, we always provide post-operative instructions and optimum aftercare.
For more information on FUE hair transplant procedures in Turkey, contact us here.