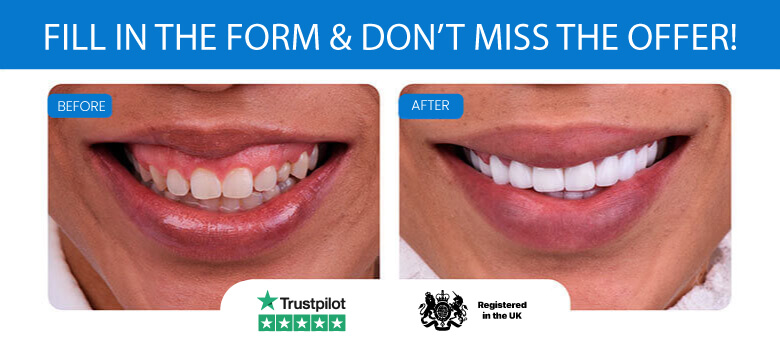 No matter how aligned and white your teeth are, gum diseases may prevent you from having the perfect smile. Clinic Center, a company that is registered in the UK, offers gingivoplasty and gingivectomy, generally combining them with main cosmetic dentistry treatments. To receive further information on dental treatments and gingivectomy or gingivoplasty prices, you can simply contact us online.
Get Your FREE Treatment Plan NOW!
If you have advanced, normal or mild gum disease such as gingivitis, gum regeneration, gum pockets, or some problems on your gums such as loose gums, soft gums; Clinic Center will assist you to cure and prevent gum diseases with our periodontal solutions like gingivoplasty or gingivectomy in Turkey. As Clinic Center, we offer you an affordable gum disease treatment with a professional dentistry team in Istanbul.
What is Gingivoplasty?
Gingivoplasty in Turkey also known as gum contouring or gum trimming is a cosmetic dentistry procedure that can reshape gum tissue and change the shape of your gums. In modern dentistry, this has been an effective way of curing gum disease. Typically, gingivoplasty is a special procedure used to reshape healthy gum tissue to better support teeth. A dentist can use this procedure to cut away excessive gum tissue that is giving you an unaesthetic "gummy smile" (gummy smile/excessive gingival display: smile that shows an excessive amount of gum under the upper lip) or to restore gum tissue that has receded and is now exposing too much of your teeth.
What is Gingivectomy?
The main difference between the gingivectomy and gingivoplasty is that a gingivectomy consists of removing the diseased gum tissue surrounding a gum pocket and treating loose gums around teeth. While a gingivoplasty is performed to reshape gum tissue usually for cosmetic reasons, because of this, it is also called gum cosmetic surgery.
A gingivectomy can be used in combination with a gingivoplasty and there are also cases where a gingivectomy can be used for cosmetic procedures too. Each procedure helps patients to prevent gum disease. If you cannot decide which procedure is the best for you, specialist dentists at Clinic Center will handle your case and help you to have the best results. Clinic Center offers you affordable gum infection cures and amazing results at the same time.
Internal Bevel Gingivectomy
Internal bevel gingivectomy can be used on patients who do not require such intense removal of excess tissue. In this type of gingivectomy procedure; your gum specialist will create a flap to elevate the tissue, incise the tissue to remove the enlarged and inflamed gum, then suture the gum back down and help the patient to get rid of gum infection.
External Bevel Gingivectomy
To reverse the effects of gingival enlargement internal or external bevel gingivectomy protocols can be used. Both procedures are used to successfully remove excessively enlarged gingival tissue and increase crown length. However, the external bevel gingivectomy, used in cases of abnormally dense overgrowth of gingiva, is a more aggressive treatment involving a full removal of the enlarged tissue.
Advantages of Gingivectomy & Gingivoplasty in Turkey Assisted by Clinic Center
Through your dental treatment assisted by Clinic Center, curing gum diseases such as gum pockets, gingivitis gum or loose gums is possible and trouble-free. With our all-inclusive packages, your dental treatment will be much more affordable and advantageous. You will have the following opportunities during your gum cosmetic surgery in Turkey:
Tailor-made treatment plan
Free X-ray if required
Best affordable price guarantee
Satisfying and long-lasting results
Inner transfers, between airport, hotel, and clinic
Special discount if you are coming with your friend
International patient host
Special rate for accommodation
To get further information on dental treatments and gingivoplasty or gingivectomy prices, you can simply contact us online.
Gingivoplasty / Gingivectomy All-Inclusive Package
Clinic Center will happily help you to have a good and comfortable stay in Turkey. Here are the details of our service and additional services that you can benefit.

USA trained professional dentists
You will get your procedure in Turkey done by USA trained partner dentists of Clinic Center. Your well experienced professional dentist will fix your problems victoriously.
Dental treatment
Clinic Center will happily help you deal with your mouth-related problems. You will have a successful procedure in Turkey assisted by Clinic Center.

Special discount if you are coming with your friend
Have another friend also with dental problems? Then you can come together and benefit from special discounts Clinic Center provides you and your loved one. Be better, together.

Free X-ray if required
You will have the opportunity to get a free X-ray before your procedure in Turkey if needed.

Best price guarantee
Gingivoplasty / Gingivectomy costs a fortune – not with the assistance of Clinic Center. Clinic Center guarantees to offer the most affordable price for you.

Transfers included
If you wish, you can forget all about the transfer problems in your trip. Clinic Center team is here to provide you all transfers for a trouble-free trip for your procedure.

International Personal Host
You never have to worry about any communication problem in our country while you are concerned about your procedure.

Special rate for accommodation
You will get your treatment and also stay in comfortable accommodations with the very special rates.
FAST FACTS
Length of Procedure:
A few minutes to an hour.
Recovery Period:
Sensitivity-discomfort will disappear in a few days
Cavity probability:
No
Anaesthesia:
Local anaesthetics
Diet:
liquid and cold meals in first 24 hours after procedure then slightly normal
Potential Candidate:
Patients who have uneven-irregular gums, gummy smile
Pain:
Pain-free procedure, mild discomfort-sensitivity can experience
Post dental care:
Avoid biting hard food immediately after procedure and then provide the same care as usual
Long lasting:
Permanent
Result:
Achieved immediately
Combination of treatments:
Mostly

total smile makeover

(Hollywood smile) procedure,

dental crowns,

dental implants, dentures.
Patients' Reviews
I have been working with these guys for years now! With lots of hard work and timely communication, they made sure they delivered the best to me. Highly recommended!
I have been working with these guys for years now! With lots of hard work and timely communication, they made sure they delivered the best to me. Highly recommended!
I have been working with these guys for years now! With lots of hard work and timely communication, they made sure they delivered the best to me. Highly recommended!
FAQ
Is Gingivoplasty Results Permanent?
Gum cosmetic Surgery in Turkey is intended to be permanent, and in the majority of cases, it is. However, in some cases, the removed gum tissue can grow back. This is called relapse and is one of the risks of the procedure.
If relapse is a concern, the dentist may recommend removing some bone from the top of the teeth to prevent the gums from growing back. You may be able to undergo another gum contouring procedure if relapse occurs.
What Causes Uneven Gums?
Uneven gums can be caused by a number of factors. The most common cause is genetics. Trauma, gum infection, and taking certain medications can also lead to uneven gums. It's important to determine the root cause of your uneven gum line before the procedure. If it's caused by gum disease or medication, then that will need to be addressed first.
Are There Risks to Gingivoplasty?
The side effects of gingivoplasty are rare, but it's still something to keep in mind. You could experience some side effects which includes: an allergic reaction to the anaesthesia, infection, gum tissue relapse
What Are the Benefits of Gingivoplasty?
The most immediate benefit is a better smile. There are also some oral health benefits. Removing excess gum tissue with gingivoplasty actually helps you prevent gum diseases. It does this by giving oral bacteria fewer places to hide.
Is Gingivoplasty procedure painful?
You will be given local anaesthetics during the procedure, which will prevent you from feeling any pain. The amount of pain actually depends on how much gum tissue is being reshaped. In any ways, you are likely to feel discomfort in first 2-3 days after procedure.
Are there any restrictions during recovery?
Yes. You will need to be careful with what you eat. Since your gums will be sensitive, you should avoid eating anything that is sharp or that could cut, poke, or irritate your gums in any way. For this reason, most people stick with a soft diet consisted of yogurt, soup, ice cream or pudding for first 2-3 days. You may be prescribed an antibiotic oral-rinse to use in order to prevent a potential infection, and when you do brush your teeth, you will need to do so very gently.
Is There A Medical Reasons for Gingivoplasty?
That depends on why you want to schedule a gum reshaping. If you are calling our office in the search of curing gum disease, we will first examine you to determine if you have the condition, discuss your treatment options, and work to eliminate the actual disease. At that point, you may very well need a gum contouring procedure in order to restore gums that have receded and are now putting the health of your teeth, roots, and jawbone at risk. In a very real sense, gum contouring and grafting can prevent gum disease and help save your teeth.
While typically gum recession is caused by gum disease, you could also experience this due to excessive tooth brushing, taking a prescription drug, or even genetics. In this case, as with gum disease, restoring your gum tissue may become essential for your optimum oral health.