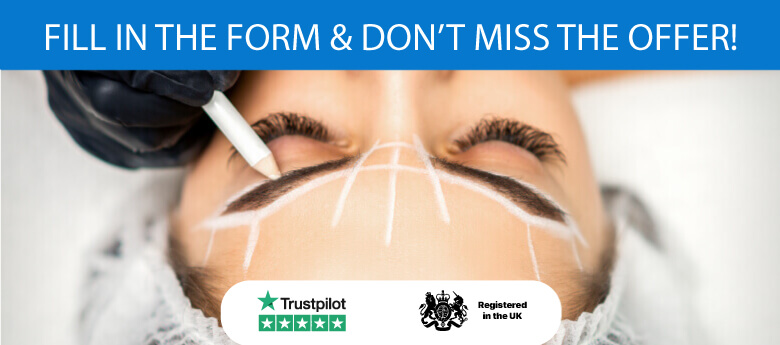 Clinic Center is a company that is based in the UK and provides aftercare services in the UK. If you live in London or able to come to London easily, you can even have a consultation before coming to Istanbul. Every year Clinic Center welcomes thousands of patients who have come to get various treatments, one of these is eyebrow transplant procedure. If you'd like to get more information on how much an eyebrow transplant costs; you can simply get into contact with filling this form.
Get Your FREE Treatment Plan NOW!
What is Eyebrow Transplant?
Remember when you had to fill in your eyebrows with makeup products because they either were too thin or not the shape you wanted or there were small gaps. Well, now you don't have to. Because there is a procedure for it eyebrow transplant. Eyebrow hair transplant in Istanbul is performed by a trichologist how do they do it?" you might ask, the trichologist transfers your own hair from the donor area (usually the back of your head)
The procedure is pretty straight forward, the trichologist draws eyebrows whilst doing this, you can direct the trichologist. Hair is taken out from the donor area and transferred to your eyebrows.
Eyebrow Transplant in Turkey by Clinic Center & Results
Turkey has long since been the best country to get FUE eyebrow transplant due to substantial advantages and opportunities the country provides. It is an indisputable fact that thanks to their extensive knowledge, trichologists in Turkey achieve natural-looking eyebrow implants results.
After an eyebrow transplant in Istanbul, many of our patients enjoy walking around the city since the prices in Istanbul for food and traveling are also affordable, like the eyebrow transplant Turkey price.
Eyebrow transplant turkey usually takes about 2 to 3 hours and is performed under local anaesthesia. Our patient services are available while you are in Turkey, in case if you experience any pain or discomfort after the surgery.
After the procedure, in the following 3 months, the patient should notice hair growth. In the following 8-12 months after the procedure, results can be seen. During this time, the patient might need to trim their brows.
Advantages of Eyebrow Transplant in Turkey Assisted by Clinic Center
Clinic Center is registered in the UK and offers all-inclusive surgery packages abroad for patients who want to get the eyebrows they have wanted. Working with one of the best trichologists in Turkey, patients who choose Clinic Center get natural-looking eyebrow transplant results.
Eyebrow transplant Istanbul with the cooperation of Clinic Center provides you the best price guarantee:
Free physical consultation in London, video consultations all over the world
Eyebrow transplant procedure with one of the best trichologists in Istanbul
2 or 3 night stay in a 4-star hotel
All transfers between airport, hotel, and the clinic
International patient host
Special group discount
Free check-up and periodic follow-up
By choosing Clinic Center to help you with your eyebrow transplant in Istanbul, you will feel and look better and won't have to use makeup products anymore. You may book your physical consultation in London now, or if you are resident in another city you may book your video consultation clicking here.
Moreover, Clinic Center aftercare services will help you during your recovery period.
Eyebrow Transplant Cost in Turkey
There are a lot of reasons why patients choose Turkey to have an eyebrow transplant. One of the reasons is, the eyebrow transplant price compared with their country is very affordable. Another reason is, Turkey, specifically Istanbul has a lot of very experienced trichologists and because of this, patients who come here will get the best eyebrow transplant and natural-looking eyebrow transplant result.
Turkey is the one of the most respected countries to have the eyebrow transplant procedure thanks to its experienced trichologists, a considerable number of procedures done every year, successful results, economical prices, and government incentives for medical tourism. eyebrow transplant price depends on different factors like the practice of the medical team and all the extras included within the prices. Each patient has a customized treatment plan depending on the age, surgery availability. Because Clinic Center is assisted by the Turkish Ministry of Health and Economy, we hold the privilege to provide comprehensive all-inclusive packages at a budget-friendly eyebrow transplant price.
All-Inclusive Package
With all-inclusive package, the patient will have a comfortable trip from their country to Turkey after having a successful eyebrow transplant Istanbul. For the patient to feel maximum comfort, Clinic Center will arrange everything they may need. Here are the details:
Check-up
One or two days after your procedure, our medical staff will see you again for your check-up
Accommodation at a 4-star Hotel
Clinic Center will make sure that all of their patients have one of the best and comfortable stays until they leave.
VIP Transfers
For a more comfortable trip, Clinic Center transfer greets our patients at the airport and brings them to their hotel and the clinic, then will take them back to the airport on their departure day.
International Patient Host
Clinic Center provides our patients an international patient host who will accompany the patients during their medical travel and makes sure that everything is going as planned.
Pre & Post-Op Instructions for Eyebrow Transplant
The upcoming instructions are general information that should be stuck to before and after an eyebrow transplant. Clinic Center isn't liable for the accuracy of these instructions. The instructions of your trichologist in Turkey after eyebrow transplant should be followed.
Pre-Operation Instructions
Important Note: If the patient isn't healthy enough to have the operation,(a blood test is done and the blood pressure is checked) the operation will be cancelled.
1 Week Before Surgery:
Before you eyebrow transplant, you need to stop taking some medications such as, aspirin, B or E vitamin, blood thinners and herbal medication.
3 Days Before the Surgery
Patients should stop drinking alcohol.
2 Days Before the Surgery
Patients should stop smoking. Because, it negatively affects blood circulation and slows down the wound healing.
Patients should stop eating spicy food.
Day of the Surgery:
Patients shouldn't apply any product on their hair. Patients should wear comfortable clothes like, button-down shirt or a jacket with a zip so. Before going to the hair clinic, patients should have a proper breakfast, and drink lots of water to stay calm and relax.
Post-Operation Instructions
Once the procedure is finished, healing changes from patient to patient and can take from two days up to two weeks.
Patients should sleep from the night of the eyebrow transplant till the next 5 nights on two pillows to keep your head elevated at 45 degrees.
Patients might feel swelling, itching, and pain for a couple of days, the trichologist will give medication for this.
Patients should wash the operated area the way the trichologist has said. Patients can wash the operated area the next day.
Patients shouldn't drink alcohol for 3 days after the procedure.
Patients shouldn't smoke for 2 weeks after the procedure.
Patients shouldn't do heavy exercise for 2 weeks after the procedure.
2-3 days after the procedure, patients can continue with their daily routine.
Patients should follow the instructions given by the trichologist.
Patients shouldn't take off the scabs.
Fast Facts
| | |
| --- | --- |
| Procedure: | Eyebrow transplant |
| Duration: | 2 to 3 hours |
| Stay: | 2-3 nights at the hotel |
| Anesthesia: | Local |
| Recovery: | Take 4 to 7 days off work. |
| What to bring: | Comfortable clothes. |
| Side Effect: | Bruising, scarring, infection, swelling. |
| Complications: | Excessive bleeding, nerve damage. |
| Exercise: | 2 weeks later exercise can be done. |
| Scars: | Very small and will go in time. |
| Pain: | Depending on the patient, it could be slight or major. |
| Results: | Hair follicles will grow new hairs after 3-4 months. After the eyebrow transplant, results can be seen 6-8 months later. |
| Multiple surgeries: | Dental crowns, rhinoplasty, vaser liposuction, liposuction |
Disclaimer
The information on this site is not intended or implied to be a substitute for professional medical advice, diagnosis or treatment. All content, including text, graphics, images and information, contained on or available through this web site is for general information purposes only. It is not advice on your specific needs and circumstances. It does not replace the need for you to have a thorough consultation, so you should get advice from a suitably qualified medical practitioner. Please bare in mind that as with all operations, there are risks involved in having cosmetic surgery.