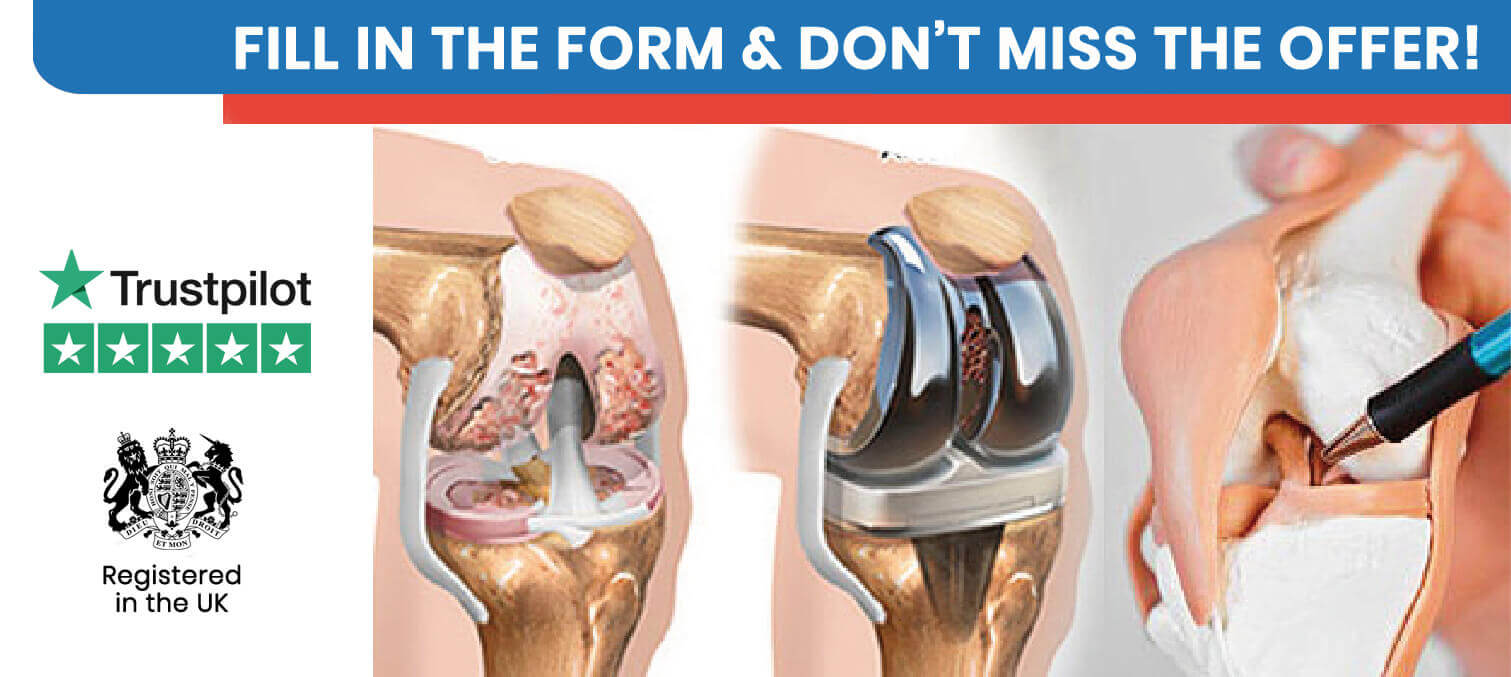 A woman's body develops depending on a variety of factors ranging from lifestyle to heredity. Especially for the boobs, there are lots of women having breast enlargement while those with big breast seek for a solution to reduce their size. Write in the online consultation form to hear more about Clinic Center's all-inclusive breast reduction offer!
Get Your FREE Treatment Plan NOW!
Knee replacement in Turkey is a surgical procedure performed to replace the knee joint with an artificial prosthesis. Based in the UK, Clinic Center acts as a bridge between international patients and the best orthopaedic surgeons who perform knee replacement in well-equipped hospitals at an affordable knee arthroplasty cost. To get further information on knee arthroplasty abroad, you can simply contact us online.
What is a Knee Arthroplasty?
Knees are a part of our bodies that are exposed to damages or easily become worn-out. Knee replacement in Turkey, or Knee Arthroplasty is the surgical repair of a joint, and involves rebuilding and replacing damaged joints using artificial materials or prosthetics. The goal of a knee replacement procedure is to eliminate pain and restore mobility. When carried out by a qualified orthopedic surgeon, the procedure is safe and quick. Knee arthroplasty in Turkey is mostly carried out under regional area and takes 1-2 hours depending on the type of knee replacement.
Types of Knee Replacement in Turkey
There are two different types of knee replacement carried out in Turkey:
Total Knee Replacement
Total knee replacement in Turkey is the replacement of the joint by a synthetic piece, through surgical intervention. It is an implant that is replaced with the damaged part of the knee to carry out its function, allowing the patient to move the joint again, eliminating any pain it may have. During a knee arthroplasty, the damaged bone and cartilage are removed. For this, either general anesthesia or regional anesthesia will be applied to the patient. The anesthesiology specialist will determine this together with the traumatologist, to cause the least discomfort to the patient and to make the intervention as comfortable as possible.
Partial Knee Replacement
Partial knee replacement in Turkey is an alternative to total knee replacement for some patients with osteoarthritis of the knee when the damage is limited to a particular compartment of the knee. In the past, partial knee arthroplasty was reserved for elderly patients who were involved in few activities, but with improved implants and surgical techniques, more patients are now being considered for partial knee replacement compared to a few years ago.
How is a Knee Replacement Surgery Done?
Total Knee Replacement: Total knee replacement lasts about two hours and consists of removing the damaged cartilage and bone from the joint, placing artificial parts in its place.
Once anaesthesia is given to the patient, the Traumatology specialist will make an incision in the joint to open it, of about 20cm. Then he will:
Remove kneecap and cut the ends of the femur and tibia, in order to place the prosthesis to the joint space.
Also cut off the bottom of the kneecap so that the new part fits well.
Fix the two parts of the prosthesis to the different bones, one attached to the femur and the other to the tibia, with cement or screws.
Repair the tendons and muscles of the joint, as well as close the incision.
Partial Knee Replacement: In partial knee arthroplasty, damaged tissue and bone are removed from the knee joint. This surgery is performed when arthritis is present only in one part of the knee. The sections are replaced with an artificial implant, called a prosthesis. The rest of the knee is preserved. Partial knee replacement in Turkey is most often done with small incisions to make recovery time shorter.
Who is a Candidate for a Knee Replacement?
Total Knee Replacement: The most common reason why a knee is totally replaced with an implant is severe knee osteoarthritis, which significantly damages the joint. But also, some fractures in which there is great damage to the subchondral bone or certain bone tumors require a total knee replacement.
Partial Knee Replacement: Partial knee arthroplasty is performed to replace the internal (middle) part, the external (lateral) part or the knee joint. The most suitable candidates for partial knee replacement are people over 60 who have knee deformity and arthritis but also stable ligaments and a good range of motion in the knee.
How to Get Ready for a Knee Replacement?
The trauma specialist and anaesthesiologist will recommend the patient what steps to take before a knee replacement in Turkey. It is important to inform the surgeon about the medications taken, so that it does not interfere in the surgery process. You won't be allowed to eat or drink anything 6-12 hours before the knee arthroplasty. On the other hand, the specialist will carry out a series of preoperative tests on the patient, such as an electrocardiogram, magnetic resonance imaging, radiographs and other procedures that will make the procedure easier and allow him to access the joint, fully knowing the injury suffered by the patient.
How painful is a Knee Replacement?
If your knee is severely damaged by arthritis or injury, simple activities, such as walking or climbing stairs, may be difficult for you. You may feel pain even while sitting or lying down. Through knee replacement in Turkey, you can simply get rid of insisting knee pain. Since knee arthroplasty is performed under regional anaesthesia, patients feel literally no pain. As for the recovery period, experiencing some discomfort is quite normal, which can be kept under control through cold press and medications.
What are the Risks of a Knee Replacement?
As with any surgical procedure, there are risks in placing the knee prosthesis. We recommend the patient to inform the orthopaedic surgeon about any health problem or situation to take into account when it comes to surgery. To determine surgical risk with the utmost accuracy and to prevent possible complications; blood tests, a chest x-ray, an electrocardiogram, and a physical evaluation are performed. The anaesthesiologist will inform about the type of anaesthesia and the risks involved in a knee replacement surgery.
Knee Replacement Results in Turkey
Although Knee Replacement is a procedure that requires time to adapt, its results are quick, relieving the pre-existing knee pain that the patient used to suffer from. Still, a prosthesis is not as strong as a healthy knee, you will have limitations such as intense sports activities, but you will be able to carry out your usual activities. Post-operation weight control is also important after a knee arthroplasty.
As for the scarring after knee replacement surgery; there is a variation in the length of surgical scars, but most surgeons will try to make them as short as possible. The scar will be located directly along the centre of the knee, unless you have previous scars, in which case the orthopaedic surgeon may use the scar you already have.
What to Expect After a Knee Replacement Surgery?
After a knee replacement procedure, the patient must be very strict, following the advice of the orthopaedic surgeon and physical therapist, so that the recovery is complete and successful. Thus, it may be necessary to have physical therapy for knee replacement adapted to the patient and the injury he has suffered, which will increase in intensity over time, as the patient recovers the mobility of the joint. The aim is to recover and increase the strength of the muscles, correct any instability and deformity, relieve pain that the patient may have, avoid any adhesion to the scar and improve the physical function of the patient.
How Long Does it Take to Recover from a Knee Replacement?
As knees play key role in walking, recovery from a knee replacement may take much time than many of the other orthopaedic treatments. However, patients can minimize the downtime by use walking stings and receiving physical therapy for knee replacement. Recovery period of the procedure also varies depending on the type, whether it is a partial knee replacement or a total knee arthroplasty. The average downtime is 6 weeks while full recovery from the surgery is achieved roughly 3 months after knee arthroplasty.
Advantages of Knee Replacement in Turkey assisted by Clinic Center
Knee Arthroplasty process can be laborious when not arranged professionally. Registered in the UK, Clinic Center arranges every step of your knee replacement in Turkey. The procedure is performed by the best orthopaedic surgeons after a detailed consultation. Clinic Center also allows for a video consultation or physical consultation in the London Office prior to the patient's arrival. Through the London Office, it is now possible to receive life-long aftercare in the UK. If you are interested in a knee replacement abroad, you can simply contact our medical consultants online.
Knee Replacement Cost in Turkey
When it comes to knee replacement prices, Turkey is the most feasible choice especially for the candidates that have concerns about financing. As the country offers high quality service in addition to an affordable knee arthroplasty cost, more and more people opt for Turkey to have orthopaedic treatment. To get more information on knee replacement in Turkey and knee arthroplasty cost, you can simply contact us online.
Knee Arthroplasty All Inclusive Package
Being the best orthopaedics and traumatology clinic abroad, Clinic Center provides high quality service at an affordable knee replacement cost. Offered by Clinic Center, all inclusive packages allow for a smooth and satisfying medical journey:
Pre-operative blood tests
VIP Transfer between the airport, hotel and hospital
International Patient host
Accommodation in a 4-star hotel
Free Check-ups
Life-long aftercare in the UK
Knee Replacement Recovery and Aftercare
Recovery from a knee replacement is trouble-free as long as patients follow the post-operative instructions. On the first week after knee replacement, patients need to be particularly careful about the aftercare provided. Orthopaedic surgeons often request a follow-up examination 2 weeks after a knee arthroplasty, however, patients should be able to contact their health providers when they are in the need of further information.
For a quicker recovery and sufficient aftercare after a knee replacement surgery, a series of recommendations can be indicated: alternate the movement of flexion and extension when sitting, wear comfortable and well-tied shoes, avoid sudden changes in weight to avert overloading the joint, remove any furniture that could cause you fall, perform exercises at home (always recommended by the specialist), place cold in the area after rehabilitation exercises, follow the specialist's instructions to sit, go up and down the stairs and, above all, keep the wound clean and disinfected.
The time to return to work and sports activity after knee arthroplasty varies according to the type and severity of the injury or injuries and therefore the intervention performed, the type of work activity is also taken into account. Most of the patients are able to go back to their daily routines within 3 weeks after knee replacement.
All Inclusive Package
With this all-inclusive package, you have a trouble-free journey from your home to Turkey after having a successful butt lift. For your maximum comfort, Clinic Center will arrange everything you may need. Here are the details:
Internationally Certified Doctors
Clinic Center partner plastic surgeons are decided on after a close screening and hold the reputable EBOPRAS, ISAPS and ASAPS memberships. With our partner medical team you can be certain that you are in good hands and will achieve the best results.
Check-up
A day after your surgery you will have your check-up and aftercare instructions for a successful healing process. We also provide regular follow-ups to make sure you have the best breast reduction results.
Special Group Discount
The more the merrier! You and your friend will benefit from a special discount in the case of bringing them along with you for breast reduction surgery.
Medical garments, support bra etc.
Clinic Center will provide you the necessary equipments to be used after breast reduction surgery.
Accomodation at a 4-star Hotel
Having a surgery whether it is small or big requires efficient resting for full recovery. For this reason Clinic Center will make sure you have one of the most comfortable stay till your departure by providing accomodation at a 4-star hotel in Turkey.
Airport transfers with VIP car
For a more convenient journey, from the moment you arrive to Turkey your private transfer will pick you up at the airport and bring you to your hotel.
Fast Facts About Knee Replacement
| | |
| --- | --- |
| Procedure: | Knee Replacement Surgery |
| Duration: | 2 hours |
| Anesthesia: | General or Regional Anesthesia |
| Downtime: | 6 weeks |
| Full Recovery: | 3 months |
| Complications: | Wound healing problems, nerve and vessel injuries, blood clots |
| Exercise: | Light exercises 4-6 weeks after the surgery |
| Pain: | Moderate pain |
| Results: | Immediate pain relief and easier mobilisation |
| Hospital Stay: | 1-3 days |
Knee Arthroscopy FAQ
What is a knee arthroscopy?
Knee arthroscopy in Turkey is a minimally invasive surgical technique practiced to repair injuries that have occurred in the joints, by making two or three small cuts on the skin through which a camera is introduced to gain direct insight from the field of intervention. Your surgeon can use arthroscopy to feel, repair, or remove injured tissue.
How is a knee surgery done?
An arthroscopic knee surgery is performed by making two or three small cuts on the skin through which a camera is introduced to gain direct insight from the field of intervention.
How long does a knee arthroscopy take?
Depending on the injury to be examined or treated, a knee arthroscopy usually takes about 45-60 mins.
Who should have knee arthroscopy instead of a knee replacement?
Knee arthroscopy is most commonly performed on patients to remove or repair broken meniscus cartilage, reconstruct a torn anterior cruciate ligament, trim broken pieces of articular cartilage, remove loose pieces of bone or cartilage, remove inflamed synovial tissue.
How long do I have to stay in hospital after knee arthroscopy?
Arthroscopy is most often performed as an outpatient procedure. Unless your surgeon tells you the opposite, you are allowed to leave the hospital on the operation day.
When can I start performing usual activities after a knee arthroscopy?
Walking, standing, stair climbing, etc. are not recommended on the first week after knee arthroscopy, so patients should try avoiding overactivity. 4-6 weeks after knee arthroscopy, patients usually start such simple exercises as cycling or jogging. As for more severe exercises like weight lifting after knee arthroscopy, your surgeon will inform you about the best time, which will probably be much later.
Disclaimer
The information on this site is not intended or implied to be a substitute for professional medical advice, diagnosis or treatment. All content, including text, graphics, images and information, contained on or available through this web site is for general information purposes only. It is not advice on your specific needs and circumstances. It does not replace the need for you to have a thorough consultation, so you should get advice from a suitably qualified medical practitioner. Please bare in mind that as with all operations, there are risks involved in having cosmetic surgery.