Doctor Cagri Sade graduated from Ankara University, Faculty of Medicine in 1994 and completed his residency at one of the most teaching research hospitals in Istanbul, Turkey in 2001.
Having performed thousands of successful surgeries, Dr. Sade gained high experience practicing under some of the leading names in the field of plastic and reconstructive surgery. Following the completion of his residency in 2001, he had the privilege of working with one of the most popular pioneers in the field of plastic surgery in Turkey.
Doctor Sade joined the observer-ship program of the American plastic surgeon Dr. Sherrell J. Aston's in 2002 and the same year became a staff surgeon at the American Hospital in Istanbul. MD, Cagri Sade mainly focuses on surgical and non-surgical, aesthetic, and reconstructive procedures for both men and women. With more than 10 years of experience in the field, Dr. Cagri's patients are very pleased with his friendly approach, communication skills, and surgery results.
Certificates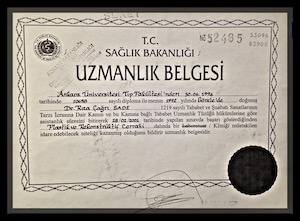 Experience: 18 years
International Treated Patients: The United Kingdom, Ireland, Australia, The United States of America, United Arab Emirates, Saudi Arabia, Kuwait
Fields of Specialization: Breast Augmentation (Breast Implants, Breast Enlargement), Breast Lift, Breast Reduction, Rhinoplasty (Nose Job), Septorhinoplasty, Liposuction (Fat Removal), Vaser & Hi-Def Vaser Liposuction, Tummy Tuck, Brazilian Butt Lift (BBL), Facelift (Rhytidectomy), Eyelid Surgery (Blepharoplasty), Gynecomastia (Male Breast Reduction), Mommy Makeover, Thigh Lift (Thighplasty), Neck Lift (Platysmaplasty), Arm Lift (Brachioplasty), Brow Lift, Cosmetic Ear Surgery (Otoplasty), Cosmetic Surgeries.
City: Istanbul, Turkey
Working Days: Weekdays and Saturday
Contact: +44 20 3575 1039 & [email protected]
Plastic Surgeons