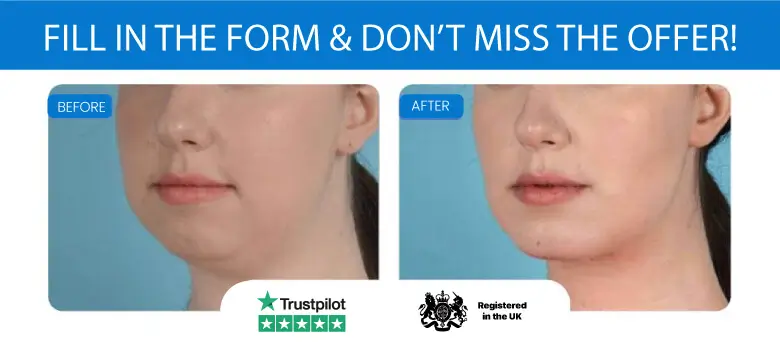 Thousands of people choose Turkey for their plastic surgery and other healthcare. You can contact us today to receive more information about the bichectomy procedure in Istanbul. Clinic Center is a UK registered company and the data sponsor of Brighton & Hove Albion F.C.
Get Your FREE Treatment Plan NOW!
What is Bichectomy?
Bichectomy aka cheek fat removal can help you achieve the Hollywood face. The fat tissue called Bichat in the cheek is sometimes bigger than it should be. This excess fat is unaffected by exercise, medication, or diet. In most cases, this is an inherited issue from the parents, which is genetic. Excess fat causes your cheek to look more puffed and your face looks rounder. When this tissue is removed through Bichectomy, one can achieve a defined face with a fresher look. During a Bichectomy operation in Turkey, an incision is made inside of the mouth (1cm). Excess fat (bichat) is removed and the incisions are sutured. Buccal fat removal usually takes around an hour. Bichectomy leaves no scar since the incision is inside the mouth.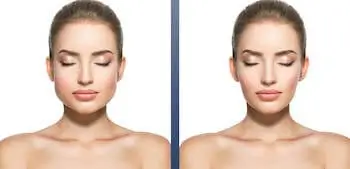 Bichectomy in Turkey by Clinic Center
Choosing to have bichectomy surgery in Turkey has many advantages and opportunities for patients. Our partner surgeons in Clinic Center have years of experience in their area, which makes the results stunning. They perform the bichectomy surgery in order to reshape the cheek by removing the extra fat. After the bichectomy surgery in Istanbul, you can enjoy the city once you've rested for about a day. The bichectomy surgery usually takes around 1 to 2 hours and it is performed under general anaesthesia. If you have any issues or questions you can always reach our aftercare team. Patients can go back to work around in 1 week. During your consultation, Clinic Center partner surgeon may also suggest you combine facelift surgery to achieve a more desirable result.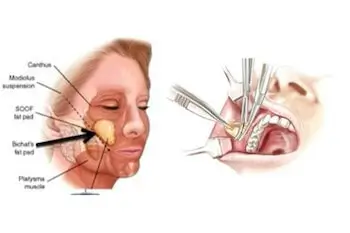 Advantages of Bichectomy Surgery in Turkey Assisted by Clinic Center
As Clinic Center we are registered in UK and also have aftercare service in the UK. Working with the best plastic surgeons in Turkey, Clinic Center presents affordable bichectomy procedure with spectacular results. Such options as video or physical consultation in the UK are also available for the candidates considering a buccal fat removal in Turkey.
Having a bichectomy in Istanbul with the assistance of Clinic Center provides you these:
Staying at a 4-star hotel for 6 nights
1-night hospital stay at one of the best hospitals in Istanbul
All transfers are provided by us
Personal host
Special group discount
Free check-up and regular follow-up
If you choose Clinic Center to help you with your bichectomy surgery, you will have all these advantages.
Bichectomy Results & Cost in Turkey
If you are wondering that bichectomy in Turkey is the right procedure for you or not, you can contact us now. Our experienced partner surgeons will give you information about the procedure and tell you if you are a candidate or not. Results for bichectomy are:
Defined cheekbones
Fat in a certain area of the face is removed
Fresher and younger look
No scars
You may think that bichectomy surgery in Istanbul would be costly, it is not. Turkey is an affordable country. Istanbul is highly affordable whether for shopping or healthcare. Surgeons in Istanbul are well experienced. If you want to have more defined cheeks, bichectomy is the right choice for you. To help you afterward, we also provide aftercare in the UK.
Turkey has become one of the most popular countries in the world for plastic surgery like bichectomy. This is thanks to its experienced doctors, medical personnel, a large number of surgeries done every year, successful results, reasonable bichectomy prices, and government support for medical tourism. Bichectomy costs could change if you are also having a facelift. Every patient has a personal treatment plan depending on what they want, expected results, and anatomy. Since Clinic Center is supported by the Turkish Ministry of Health and Economy, we can offer all-inclusive packages at an affordable cost for buccal fat removal.
All-Inclusive Package
To make sure that all of our patients have a relaxed journey from Turkey to their home, we have created all-inclusive packages. So that you, after having a successful bichectomy procedure can have the best experience here and also go back home in comfort. Clinic Center arranges everything that you may need, so you can just focus on recuperating. Here are the details:

Internationally Certified Doctors
Clinic Center associate plastic surgeons are selected after a close examination and they belong to the respected EBOPRAS, ISAPS and ASAPS societies.

Special Group Discount
You and a friend or a family member you bring will benefit from a special discount in the case you want to bring them a long!

Medical garments, support bra etc.
After your procedure, if you need a garment, our partner surgeon will provide it.

Accommodation at a 4-star Hotel
After any kind of procedure, you need a proper rest so can you can heal properly. So, we make sure you stay in one of the best and comfortable hotels in Istanbul until you go away.

All transfers with VIP car
We want to make sure that you have a very good and a comfortable experience. That's why we provide all the transfers.
International Patient Host
Either you've come on your own or not, every patient gets a host. Your host will accompany you whilst you are having your consultation, sorting out the hospital registration, discharge and check-up. Your host will also help you with translations
Pre&Post-Op Instructions for Bichectomy Surgery
Pre-Operation Instructions:
Important Note:
Being pregnant will cancel your surgery.
Two Weeks Before Surgery:
Do not consume any alcohol or do not smoke. Smoking could affect your Bichectomy surgery result.
If you are using any medications or vitamins notify your patient service coordinator.
One Day Before Surgery:
Do not eat or drink 8 hours before buccal fat removal surgery.
Day of The Surgery:
You can take a shower in the morning.
Don't wear nail polish or make-up in the morning.
Bring loose fitting clothing with you.
Do not bring anything valuable to the hospital with you for your Bichectomy surgery in Turkey.
Post-Operation Instructions
Alcohol is not allowed for 2 weeks.
Walk for a short time every hour to help with the circulation.
Tiredness is normal after the operation
Drink a lot of water.
Take your medications as instructed by your surgeon.
Swelling and bruising are expected.
It is important to follow post-op orders in order to have a healthy healing process.
Fast Facts
| | |
| --- | --- |
| Procedure: | Bichectomy |
| Duration: | 1 to 2 hours |
| Stay: | 6 nights hotel |
| Anesthesia: | General anaesthesia |
| Recovery: | 1 week to return to work |
| What to bring | Comfortable clothes (sweatshirts, button-down or zipped shirt etc.) |
| Side effects | Discomfort, bruising, swelling |
| Complications | Anaesthesia risks, bleeding, infection, muscle damage |
| Exercise | 2 Weeks |
| Scars | Yes, depending on the technique, it could be a long scar. |
| Pain | Depending on the patient, it could be slight or major. |
| Scars: | No |
| Pain: | Slight (mostly discomfort) |
| Results: | 3 Months (up to 6 months for the final result) |
| Multiple surgeries: | Face lift, brow lift, neck lift, double chin liposuction |
Disclaimer
The information on this site is not intended or implied to be a substitute for professional medical advice, diagnosis or treatment. All content, including text, graphics, images and information, contained on or available through this web site is for general information purposes only. It is not advice on your specific needs and circumstances. It does not replace the need for you to have a thorough consultation, so you should get advice from a suitably qualified medical practitioner. Please bare in mind that as with all operations, there are risks involved in having cosmetic surgery.