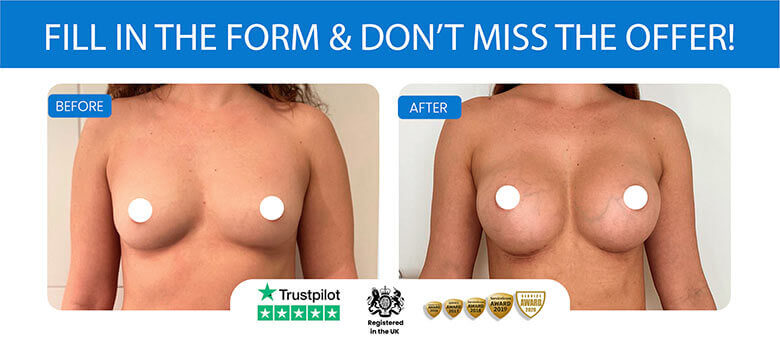 Procedure | Cost | Incisions | Clinic | Recovery | Reviews | All-Inclusive Package | Surgeons | FAQ's | Before & After | Videos
Based in the UK, Clinic Center offers excellent breast augmentation results to international patients at affordable prices. If you are looking for superior results and affordable prices in one place, Clinic Center welcomes you for an outstanding experience.
For more information on breast implants, please fill out the form to contact our team.
Get Your FREE Treatment Plan NOW!
What is a breast augmentation?
Breast augmentation or a boob job is a cosmetic surgery method applied to enhance or regain volume on the breasts by placing implants. These implants increase the fullness and improve the projection of the patients' breasts to provide pleasing outcomes.
Breasts represent femininity; however, women may feel insecure about the shapes or sizes of their breasts, which may prevent them from being confident with their femininity. Having too large, too small or saggy boobs is usually a reason for losing their self-esteem. However, to achieve the best breasts appearance, getting breast augmentation surgery is the perfect solution. Each year, with the help of Clinic Center, thousands of women worldwide get the best breasts they can dream of and enjoy their ideal results.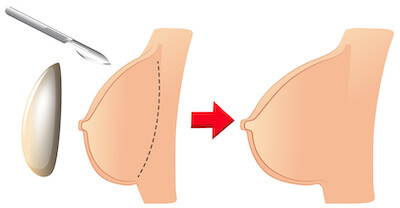 For the last ten years, breast enlargements have become a pretty popular option as a cosmetic surgery. If the patient suffers from aesthetic issues regarding her breasts, getting implants surgery with Clinic Center can be a life-changing experience. We provide the assistance of the best plastic surgeons in İstanbul, Turkey. Clinic Center provides excellence for its patients at affordable prices.
If the sagginess of the breasts is the case and having round boobs feels like a fantasy to you, a mastopexy procedure with implants may be recommended to lift your breasts for better breast augmentation results. As boobs jobs cater to the needs of women of a wide age range and most patients want this procedure to elevate the look of their breasts, breast augmentation has become a popular and highly-requested surgery worldwide for enhancing the patients' breasts. Since the surgery involves no high risks and offers high satisfaction rates, patients usually prefer to get this surgery to boost their confidence.
Our partner surgeons offer MENTOR® and MOTIVA® brands for breast silicone with four types: smooth, textured, round and teardrop.
Round breast implants or traditional implants give a round and soft finish,
Teardrop implants offer different shapes, so it is possible to control their forms after the operation,
Smooth breast silicone provides the most delicate outcome and can move inside the implant pockets to mimic the natural movement of breasts,
Textured breast implants give a textured surface for the scar tissue to form around the implants, which renders them more stable.
No matter what type or size of implants you get, these implants are all designed to resemble our body fat to create the same feel and appearance as natural breasts.
Breast Augmentation with Clinic Center
Due to genetics, ageing, fat loss or other reasons, breast augmentation surgery may become necessary to improve patients' appearance. Clinic Center provides its patients with excellent implants results, highly reputable experts, perfect patient service and years of experience in the field. Clinic Center offers the best services regarding breast enlargement Turkey. With our countless satisfied patients from all around the world and highly educated and skilled professionals, we are partnered with the best clinics for achieving your dream outcomes of breast enlargements.

Having your boob job procedure with Clinic Center includes not only the breast implant surgery but also a guarantee for the best prices, accommodation and transportation during your life-changing experience. If you choose to initiate your process, you will get the information you need on the breast implant surgery; and, your ride from the airport to the clinic and the hotel will be provided by our team. You will also be assigned a personal host to help you throughout the process with anything you may need during your stay. Once the mammoplasty procedure is concluded, aftercare instructions and guidance for breast implant surgery are given by our team of consultants in our UK offices.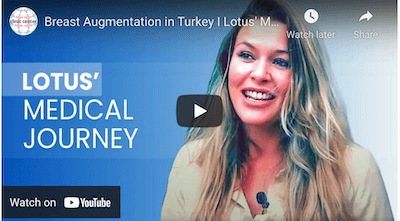 Types of Breasts
Boobs come in various shapes and sizes. Each person has a unique structure of breasts, even if they may appear similar to one another. However, to differentiate the types of breasts, they are classified according to the standard features they carry.

In the picture given below, some of the common breast shapes can be seen.

Archetype
This type of breast is the most common one. Its characteristics include fullness and a small point at the nipple.
Asymmetrical
These types of breasts have differences in volume. Usually, this difference can go up to a cup in size. Having asymmetry is experienced by more than half of the women population in the world.
Muscular
Muscular breasts as known as athletic breasts, usually refer to more muscle mass and less breast fat. They appear smaller in size.
Bell shape
These boobs with a broader bottom part and a smaller top resemble a bell shape.
Close set
Close-set breasts do not have a partition, or if they have, there is minimal space between boobs. Usually, they are right in at the centre of the chest, which gives them a fuller look.
Conical
This type of breast is similar to cones. Conical breasts are usually seen with patients with small breasts.
East West
With this type of breast, each nipple points in another direction, usually outwards.
Relaxed
Relaxed boobs have a wobbly structure, and the nipples usually point downwards to your feet.
Round
Round boobs have the same fullness both on the top and bottom of the breasts.
Slender
This type of breast appears slimmer and extends longer than other breasts. They usually point downwards to the feet.
Teardrop
A teardrop-shaped boob is circular; however, the bottom part has more mass than the top.
Silicone Breast
Silicone breasts are created from a polymer gel. The polymer gel is held together by an elastic container used to enhance or reconstruct the breast tissue. The gel inside the silicone breast implants is quite resistant to decay by heat or water. Your silicone boobs will also have a viscosity level similar to natural body fat to provide natural results on your breasts.
Incisions of Breast Augmentation
Along with your boob job procedure, your surgeon creates 1,5-2 inches long incisions on the armpits of the mammary fold to eliminate visible scars. Patients have nothing to worry about in terms of scars left from the implants procedure; however, if a breast uplift with breast implants is the case, more incisions need to be opened to carry on with the surgery.
Breast augmentation surgery can be completed by using various methods. After a detailed examination of your breasts and body type, the decision is up to our partner experts, as each individual carries different physical characteristics, and other systems may be needed to create pleasing outcomes. Before the operation, you will be informed of your surgeon's MOTIVA® and MENTOR® brand implants and incision methods to provide the best breast shape for you.
Patients interested in breast implant surgery often have concerns about the scars left by the operation. However, with the help of our skilled partner surgeons and their techniques, visible scarring is kept at a minimum level. To place your silicone breasts, three incision methods are offered: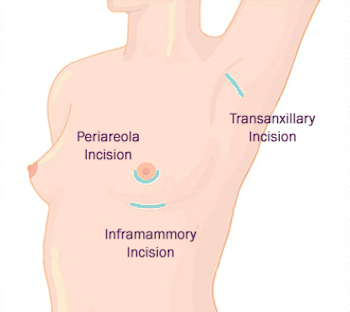 Inframammary fold incision: This method includes making short incisions in the crease, inframammary fold and underneath the boobs. Scaring is kept minimum, only 1-2 inches, and can easily be hidden. This incision allows for more room for the surgeon and makes it available for placing larger implants with precision.
Periareolar incision: In this method, the incision is around the areola; experts suggest this type when a breast lift is also involved.
Trans-axillary incision: With this method, a minor incision is opened in the armpit. The gel implants are placed through the incision with the guidance of a particular camera and medical instruments. This procedure leaves no scars on the breasts, only minor scars on the armpits.
Experts usually choose to place your gel implants under the pectoral muscle; however, this method makes your breasts appear as if they sit on your chest right after the surgery. Although it is expected for your fake breasts to look this way, several weeks after the boob job, your silicone breast will heal and take its natural place. After a couple of months, your final results will look as good and voluminous as a natural breast.
Breast Implant Placement
This breast enhancement surgery is carried on when the patient is under general anaesthesia. After inspecting your breast tissue and the dimension of your chest, your expert will place the suitable size silicone breast implants into your breasts to fit your desired image.
In line with the final evaluation of your practitioner, the breast implant can be put under or over the muscle chest muscle. The shapes can differ; they can be round or teardrop shaped. Since the procedure only takes an hour to complete and the incisions are minor, patients have no problem getting back to their routine during the aftercare and recovery after the breast enhancement surgery.
For the placement of the breast implants in the breasts, there are two commonly applied methods:
Submuscular (Subpectoral) method, where the implant is placed under your chest muscle.
Subglandular method, where the implant is placed between your muscle and breast tissue.
Both methods are suitable for each implant type. But your expert may offer one or the other if your anatomy (your tissue levels, weight, et.), lifestyle and desired implant size are more compatible with a particular method.
The Best Breast Implants Surgeons
Clinic Center, a leading company in its field, has been providing its patients with excellent boob job results with the help of our highly skilled and trained partner plastic surgeons. All of our partner surgeons are renowned physicians with international acknowledgements. Clinic Center partner medical experts are the best plastic surgery staff as they have perfect backgrounds and specialisations in their field. Our partner team of experts are recognised by global institutions such as ISAPS and EBOPRAS. You can get more information on our partner experts below.
Our partner surgeons achieve the best breast augmentation surgery results with the backing of the Clinic Center. Clinic Center provides high-quality service for affordable breast implant costs to its patients.
During your examination for breast augmentation, our partner experts will listen to all your concerns regarding your breast implant surgery and the final shape you would like to achieve. Our partner surgeons will create your design according to what you want and their suggestions to reach the best outcome.
Dr. Aysen Bilge Sezgin, a skilled professional partnered with Clinic Center, suggests that to achieve the desired outcomes, the expertise of the breast implant surgeon and the organisational skills of the team have a significant impact. The methods suitable for the patients should be applied with care and by an experienced surgeon.
Dr. Cagri Sade, an internationally recognised surgeon, and partner of Clinic Center, emphasises the aftercare services provided by the clinic. For Sade, patients must be directed throughout the recovery process to maintain their results intact. Generously, Clinic Center being the leading company for breast enlargement abroad provides its beloved patients with aftercare services to continue recovering with success.
Cost of Breast Augmentation
Once the patients start their research on options for augmentation, their number one issue is usually the breast augmentation surgery price. Ones that cannot find cost-effective solutions in their homeland generally opt for surgeries in other countries as the living and medical expenses can be comparatively lower in price. Being a leading destination for those people, Clinic Center offers highly educated surgeons and low prices for those looking for solutions.
As the operation offers life-changing alterations for some patients and the round boobs results are immediate with high success, more and more people these days try to achieve their desired boob shapes with the help of augmentation in Istanbul assisted by Clinic Center. Financially, paying a fortune for a cosmetic intervention may not be reasonable. With Clinic Center, our patients benefit from our all-inclusive package deals, which cover anything a patient may need along the process. You will leave Istanbul with the best breasts and most of your money in your pocket.
The cost of breast augmentation can differ in line with the expertise of the surgeons, the materials used for the augmentation and any other services added by the patients to the list of interventions. The best surgeon for breast augmentation in Istanbul will create a design for each patient individually to ensure compatibility with the patient's physical features to produce excellent results.
Click here to view our before and after gallery. For more information on breast implants  procedures , contact us here.
Breast Enlargement Recovery Time
The breast enlargement recovery period generally takes six weeks to eight weeks following the surgery. The procedure is carried out while the patient is under general anaesthesia, which means the patient cannot see or feel anything during the process.
After the operation is concluded patient will gain consciousness gradually, and the latest checks will be made. At this point, you may feel sick due to the general anaesthesia, which is an expected response.
Depending on the methods applied, the patient's chest may feel tighter as silicone breast implants can be placed under the muscles. Discomfort around the chest will disappear in time as the muscles adapt to the implant.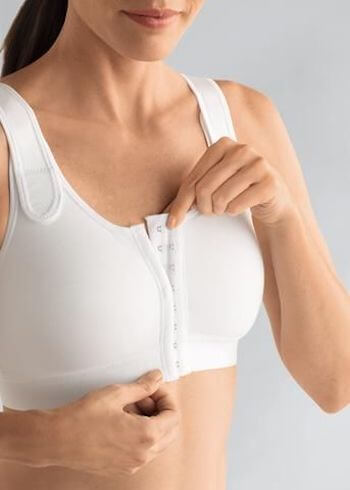 You will be hospitalised on the first night of the surgery; however, if the patients feel well enough to do otherwise, they must inform the surgeon in charge. All patients should wear the compression garments provided by Clinic Center to use during the boob job recovery. Once the hospital stay ends, your surgeon will give you post-op guidelines to follow during your boob job recovery time.
The first five days after the breast augmentation surgery: Discomfort is normal; patients should take the prescribed meds for feeling better. If you observe some blood leaking, it is customary to an extent; however, if it is excessive, inform your surgeon.
A week after the breast implant surgery: You can experience minor aches. You can consult your surgeon to continue with lighter chores.
On the second and third weeks after the breast augmentation operations, it is normal to have tenderness and a swollen chest. They gradually decrease. If your work requires being physically active, postpone your return for an additional three weeks.
At the end of two months following the breast augmentation operations: At this point, you are almost done with your recovery, which can differ in line with your body's capability.
Boob Job Results
People who are planning to get breast implant surgery usually want a natural-looking result. This is why the experience of the surgeon is an essential factor to avoid any misapplications. If the surgical expert in charge is a skilful specialist, your desire to achieve natural breast augmentation is not hard to reach. Choosing the right clinic to carry on with your procedure has a significant impact on your outcome, as the right guidance by the surgeons and the team will get you a smooth and rewarding process.
As the surgery is a non-invasive one, the boob job recovery period is comparatively short. Still, as it is the same with the other cosmetic interventions, it generally takes six months to a year for the swelling to completely heal and the final shape to be seen.
With the mammoplasty procedure, you will get:
A restored physical image
Firm and large breasts that enhance the self-esteem (wearing bikinis and tops confidently),
Healthy and matured appearance for woman with small breasts
A more feminine look to boost your self-esteem
To learn whether or not you are a suitable candidate for breast enlargement operation, contact our consultant to get an online consultation. Also, for comparisons and a better idea of the results, go to our website gallery for our patients' boob job before and after photos.
Breast Surgery Before and After Gallery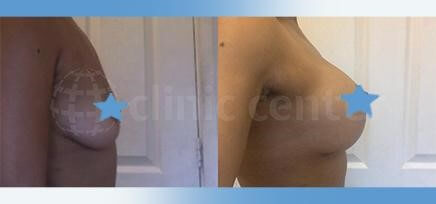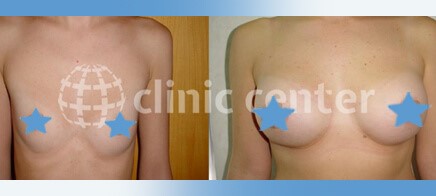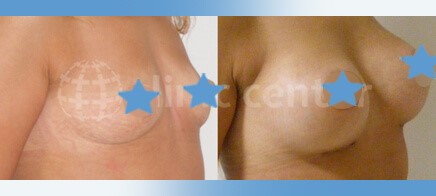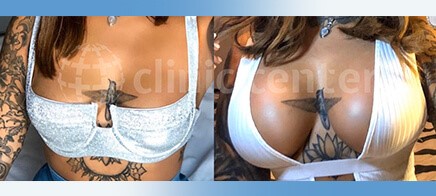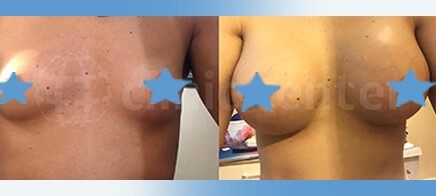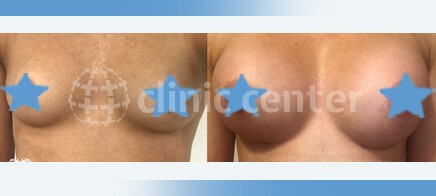 >>Click here to see more before and after pictures
Breast Implants All-Inclusive Packages
Through our all-inclusive deals, your treatment with Clinic Center will be safe and smooth. Upon your arrival, we will be ready to provide you with excellent treatment. You can read below to see our added offers for your treatment with Clinic Center.

Internationally Certified Doctors
Clinic Center partner plastic surgeons are selected after a close screening and hold the reputable EBOPRAS, ISAPS and ASAPS memberships. With us you can be certain that you are in good hands during your journey for breast enlargement

Special Group Discount
The more the merrier! You and your friend will benefit from a special discount in the case of bringing them along with you for breast augmentation surgery.

Medical garments, support bra etc.
Clinic Center will provide you the necessary equipment to be used after surgery for each patient and will make sure you have the right post breast augmentation bra for you.

Accommodation at a 4-star Hotel
Having surgery whether it is small or big requires efficient resting for full recovery. That is why Clinic Center will make sure you have one of the best and most comfortable stays until your departure by providing you with the best hotels for medical tourism.

Transfers with VIP car
Airport to and from the hotel, hotel to and from the hospital/clinic is provided by Clinic Center.
International Patient Host
Different countries, different people. How will you manage everything? Your international host will accompany you during your medical journey.
Boob Job Aftercare
The guidelines given below should be followed by patients prior to and following your boob job operations. However, the guidelines suggested by your expert should always have priority. Clinic Center cannot be held responsible for the correctness of the details given below.
Before the Surgery:
Be careful; the procedure will not be carried out in case of a pregnancy.
Refrain from alcohol and tobacco usage two weeks prior to your surgery to decrease the risks of complications
If you use any medication classified as a blood thinner, stop your intake two weeks prior to your surgery.
Stop consuming any foods or beverages the night before your surgery to avoid any delays on the effects of general anaesthesia.
On the procedure day:
Patients can shower before the operation
Remove any make-up products on your face, hair, nails or eyes.
Try to wear a clothing item with buttons or zippers
Leave your valuables somewhere safe, do not bring them to the hospital
After the procedure:
Refrain from going in pools, do not use any products on your surgery sites
Refrain from consuming alcohol and tobacco usage the next two weeks to promote healing
Do not remove the covers on your incision lines placed by your surgeon to protect the sterility
Patients can take short walks to promote healing and to avoid blood clots
During the first week, it is expected for the patients to feel tired. Avoid exercising during this period. At the end of seven days after the operation, you can start doing light training. However, activities that involve your chest are off-limits for three weeks. Once you start your routine exercises, wear a garment to compress your chest to hold the
Keep your water intake; it is essential to hydrate your body for the first weeks of the recovery.
Use the medicine prescribed by your surgeon to avoid any pain following the surgery.
Bruises or swells are normal and fade in three to six months
It is essential to use the garments provided by your clinic for the first week
After the procedure, you will have sterile covers on your scars. Once you complete the first three days, you can take a shower with them on; however, try to dry them with a clean towel or a dryer with gentle motions
The patient should wear the compression bra to support the chest area and maintain the shape.
The procedure requires the hospitalisation of the patient and is carried out when the patient is under general anaesthesia. For ideal results, it is vital for the patients to follow the guidelines given by their specialists strictly.
Also, natural changes that come with age cannot be prevented, so even after the surgery, your tissue can change with age. If the patient gains or loses weight, the surgery results can change, too.
Breast Enhancement Fast Facts
| | |
| --- | --- |
| Procedure: | Breast Enlargement/Augmentation/Implant |
| Duration: | 1 to 2 hours |
| Stay: | Four nights hotel |
| Anesthesia: | General anesthesia |
| Recovery: | 7 to 10 days to return to work |
| What to bring: | Comfortable clothes (sweatshirts, button-down or zipped shirt etc.) |
| Side Effect: | Temporary swelling, bruising, soreness, discomfort, nipple sensitivity, numbness |
| Complications: | Scars, Bleeding, Seroma, Infection, Extrusion, Swelling, bruising and pain, Asymmetry, Increased or reduced sensation, Damage to deeper structures, Unsatisfactory result, Change over time, Allergic reaction (chest infection, blood clots, heart attack or stroke and death) |
| Exercise: | 3 to 4 weeks after |
| Scars: | Yes (depending on the incision type) |
| Pain: | Slight (depends on the patient) |
| Results: | Immediate (final results after 4 to 6 months and may change due to pregnancy, gravity, weight or age) |
| Multiple surgeries: | Breast lift, liposuction, nose surgery |
Boob Job Patients' Reviews
The reviews given below reflect the actual experiences of our patients with Clinic Center. The comments are written objectively and shared within the knowledge of our patients. If you are interested, you can find similar commentary on the procedures with Clinic Center on other online platforms.
I have been working with these guys for years now! With lots of hard work and timely communication, they made sure they delivered the best to me. Highly recommended!
I have been working with these guys for years now! With lots of hard work and timely communication, they made sure they delivered the best to me. Highly recommended!
I have been working with these guys for years now! With lots of hard work and timely communication, they made sure they delivered the best to me. Highly recommended!
Boob Jobs FAQ
Can you breast feed with fake boobs?
Of course, you can nurse your baby even after you get the surgery: as the operation does not interfere with the milk ducts and does not cause any adverse effects throughout the nursing period and on your baby's health.
Can I trust your specialists for my surgery?
Our partner surgeons are internationally recognised experts with experiences both and abroad. With our partner surgeons, your body is in safe hands. For more detail on our partner surgical team, you can visit their pages on our website.
What are the best breast implants brands used for the operation?
Clinic Center's associate surgeons use MOTIVA® or MENTOR® brand implants as they are the most durable implant brand globally with various options to adapt to patients' needs.
Are breast implants safe?
Various researches in the field have approved the safety and compatibility of breast implants.
What does cc mean in plastic surgery?
CC is an abbreviation for cubic centimetres. Breast sizes are measured with this unit of measurement. Usually, an added cup size is the equivalent of 100 ccs in volume. Of course, the current size of the breast should be added to the measurements too.
Will I feel my breasts or areolas following the surgery?
Yes, you will. However, you may observe some changes after the operation. Feeling on your nipples generally comes after some time. But in some cases, it can increase or even decrease. All of which are normal responses following the operation. Still, loss of feeling is a rare outcome.
How much is a breast augmentation?
Compared to the prices abroad, with Clinic Center, you can have a budget-friendly operation with excellent outcomes. With our all-inclusive deals, your treatment plan will cover anything you may need along your journey. Regardless of the implants sizes or the methods, you are guaranteed to have an affordable surgery.
Does the implant ripple inside of a boob?
No, it does not. Our acknowledged partner experts will use appropriate methods to avoid the rippling effect and suggest the correct sizes or types for optimum results. As long as you work with us, your implants will be safe and durable.
Should I wear specific types of undergarments after the boob job?
Following the procedure, we will provide you with a compression garment to support your chest and breast to wear during your recovery. Once a month after the surgery is over, you can continue wearing comfortable yet supportive bras with no wires.
What are the benefits of the operation?
Patients will reach their desired image, increase their confidence with their new looks and feel free to choose any clothing items without feeling insecure. Provided that you carry on with an experienced team, you will experience no adverse effects of the plastic surgery for breasts.
Boob Job Patient Review Videos
>>Click here to watch more patient journey videos
Disclaimer
The information on this site is not intended or implied to be a substitute for professional medical advice, diagnosis or treatment. All content, including text, graphics, images and information, contained on or available through this web site is for general information purposes only. It is not advice on your specific needs and circumstances. It does not replace the need for you to have a thorough consultation, so you should get advice from a suitably qualified medical practitioner. Please bare in mind that as with all operations, there are risks involved in having cosmetic surgery.