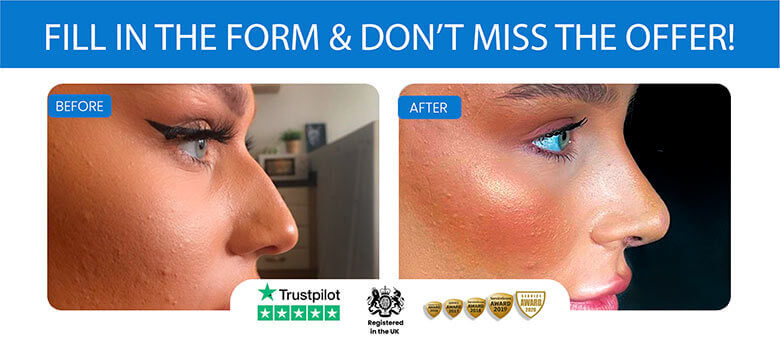 Procedure | Cost | Septorhinoplasty | Technique | Clinic | Recovery | Reviews | All-Inclusive Package | Surgeons | FAQ's | Before & After | Videos
Nose reconstruction surgery is a procedure through which patients achieve a better-structured nose shape and ease of respiration. Clinic Center, the best clinic for cosmetic alterations, offers excellent quality cosmetic surgeries for affordable rhinoplasty prices. For more information on the nose surgery and your treatment plan, contact Clinic Center's consultants.
Get Your FREE Treatment Plan NOW!
What is Rhinoplasty?
As the face's focal point, your nose attracts a lot of attention, even when you do not notice. For some people, this can create a problem aesthetically if they are not pleased with its look. Also, another problem a poorly structured nose can cause is respiratory issues which make it hard for the patient to inhale or exhale comfortably.
If you are one of those people, you probably have already started your research on the nose operation. It is a procedure where a nose reconstruction is performed to make it possible for the patient to breathe easily or obtain a better aesthetical appearance on the nose. However, any alterations should be coherent with the other facials features to avoid a lack of harmony on the face. The procedure can also fix issues such as a deviated septum.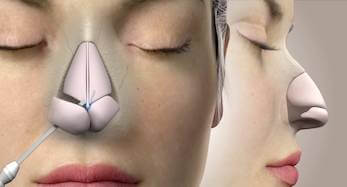 The nose job results of the surgery can be observed as respiratory ease and enhancements on the appearance, in line with the patient's desire. The operation is popular amongst patients, and if you seek solutions for the same or similar issues, a nose job can be a remedy for your concerns. With Clinic Center, you can conclude your surgical procedures with the help of top surgeons in the country in clinics equipped with the latest technology for excellent nose job results.
The nose operation can be carried on with or without other surgeries combined, of course, in line with the patient's case. For instance, if you only have issues regarding the tip of your nose, you can get only a nose lift operation. However, if you'd like to get more than one alteration on your nose, your expert will utilise different methods to achieve what you desire and need. Considering the nose reconstruction surgery you may get, the duration of the operation can be one to two hours while you are put under general anaesthesia.
Septorhinoplasty
What is a Septorhinoplasty?
If you hear complaints about your snoring, usually wake up with extreme dryness in your mouth and can barely inhale or exhale through your nose or cannot at all, then probably septorhinoplasty (septum operation) is the perfect operation for your condition. Septo- rhinoplasty definition: It is a combined alteration through which both your nose and nasal septum (it is the partition between your nostrils) is operated on to open your airways. It provides comfort while breathing and a pleasing appearance for the patient.
When the patient has a deviated septum, a condition where the cartilage between the nostrils is inclined enough to block your airways, they may get this surgery to fix their problems with breathing. Candidates can also need the procedure in cases where the patient has a deformed nose due to severe trauma to the face. The process can be carried out to enhance the patient's looks or revise an older nasal septum surgery on the nose. Through this operation, you can obtain healthy respiration and pleasing nose appearances.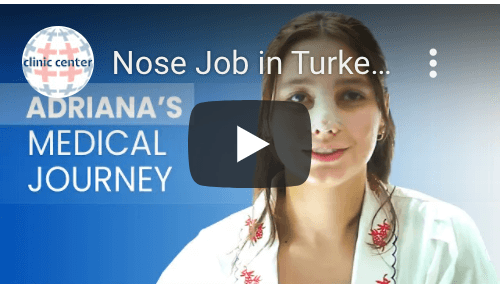 Nose Plastic Surgery Abroad
If you are not satisfied with the prices in your country for nose jobs, you can consider having a rhinoplasty abroad. Being one of the most popular clinics to get cosmetic surgeries, Clinic Center would be a perfect choice that provides many advantages for health tourism to international patients. Each year Clinic Center welcomes thousands of international patients to offer experienced specialists for ideal nose surgery results. Also, with our all-inclusive deals, you can have your nose or septum operation for affordable prices. Our all-inclusive packages cover anything you may need during your rhinoplasty or deviated septum treatment abroad, and you are guided on each step of your journey.
Different Nose Shapes
Your nose is the focal point of your face, and without even realising it, people start to analyse your nose from the moment they interact with you. When the patients are not satisfied with the way their noses appear or feel insecure about their structures, rhinoplasty surgery can be advised to promote confidence.
Nose Structure
As can be understood from the name, your nasal bridge is the main structure that carries the shape of your nose. It is the base for your nasal cavity and nostrils and promotes overall functionality.
This part is the most distant part of your nose from your face. Your nose-tip is attached to your nares, and for many patients, it is the most popular point of the nose to get altered to be smaller or lifted with nose tip rhinoplasty.
Nares (nostrils) are the holes that allow air into the body through the nasal cavity and play a vital role in a patient's respiration quality.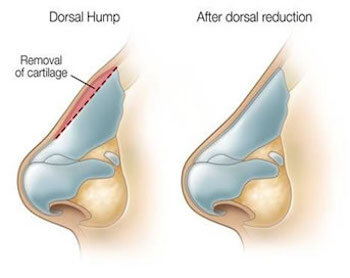 The most sighted nose shapes:
Noses with dorsal humps
Crooked noses
Noses with longer or narrower bridges
Pinched-looking noses
Noses with bulbous tips
Pointy noses
Noses with boxy tips
Noses with hanging columella
The Ideal Nose Shape with Nose Job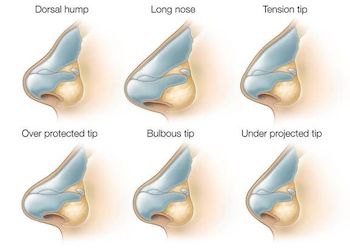 To obtain excellent outcomes from plastic nose surgery, you need to be under the guidance of an experienced specialist. Clinic Center's associate experts will help you to choose the most suitable shapes and sizes for your nose jobs and inform you on any of your alternatives; such as fixing issues regarding asymmetry and resizing your nose tip or nostrils, to enhance your nose's appearance, for natural and coherent nose job surgery results.
Through rhinoplasty with Clinic Center, you can get:
A fixed, not asymmetrical nose.
A straighter nose.
Smaller nares.
Alterations on your nose size.
For more information on nose job surgery, contact our team.
Methods of Septorhinoplasty or Rhinoplasty
For each patient, a detailed design should be prepared by the expert in charge as each patient expects a different outcome and carries other facial features. After a thorough consultation session, your doctor can decide on the suitable methods to apply for an efficient function and pleasing aesthetical results. In general, three basic application methods are used to improve patients' conditions.
Closed Rhinoplasty:
It is the most popular method by specialists and a more preferred technique by patients for nose jobs as the visible scarring is nearly none. The surgery is carried out by operating from the inside of the nose, so incision lines cannot be seen outside the nose.
Open Rhinoplasty:
The method is carried on by utilising the similar incisions used for closed rhinoplasty; however, the only difference is the extra incision line on the wall between your nares. With the help of this additional incision line, your practitioner can open up your nose to fully reach the inside of your nose. It allows for room for the operator to make better and skilled alterations to your nose.
Rhinoseptoplasty:
For enhancing the looks and function of the nose, the rhinoseptoplasty technique is applied by your surgeon. It involves minor incisions in your nares. Through the procedure, your deviated septum can be improved to enhance the beauty of your nose and avoid any challenges while breathing.
The generally applied method for the operation is the open rhinoplasty, as it allows the surgeon to make the necessary adjustments in hard-to-reach areas, specifically in challenging cases. Your surgeon will determine the most suitable method for your nose operation during your consultations under the Clinic Center's roof.
Best Clinic for Septoplasty and Rhinoplasty
Having a cosmetic nose or septum surgery can be a challenging experience or even a luxury for most people; they tend to be delayed for various reasons. However, feeling insecure or unhappy about your structures and experiencing difficulties due to functional issues in your body cannot be delayed to continue with comfort to your daily life. If you are one of those who delay their priorities for the sake of their budget, Clinic Center is the right place for you. Its experienced team and budget-friendly solutions for rhinoplasty will help you reach your desired facial features.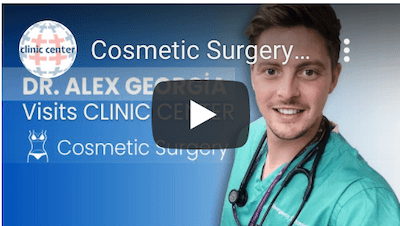 Each year Clinic Center welcomes thousands of international patients with its internationally recognised team to provide excellent nose job results. As the leading brand for cosmetic surgeries abroad, Clinic Center attends to its patients' needs with great attention. Throughout your nose job procedure, you will be assigned a personal host to tend to your needs, and our team will organise your transportation and accommodation. Even after the nose job procedure, our aftercare team will be there to guide you on your nose job recovery. Feel free to share your after results with our team and share your experience with comments on your experience with Clinic Center.
Best Rhinoplasty Surgeons
We have been able to acquire optimum patients' satisfaction through the experience and skill of our surgical experts. Clinic Center chooses its surgeons after a detailed evaluation of their backgrounds and acknowledgements in their fields to provide the best care. Each surgeon in our team is internationally recognised, and their success in the area is acknowledged by establishments such as ISAPS and EBOPRAS. For more information on their backgrounds and careers, you can check their pages.
With the assistance of Clinic Center, our associate specialists have been able to help thousands of patients reach their dreams with budget-friendly nose operation options.
During your consultation for rhinoplasty surgery with our surgeons, your surgeon will hear any questions or concerns regarding the operation; they will prepare a unique design coherent with your facial structures with guidance.
Dr. Hakan Gundogan, a skilful surgeon in our team, emphasises that to ensure satisfactory nose job results, the operating surgeon should be experienced, and the organisational team must work meticulously. For Gundogan, successful nose job results can be obtained as long as the surgeon can apply the necessary methods with high success.
Dr. Aydin Gozu, an experienced surgeon of Clinic Center, states that aftercare is a vital issue for optimum results, and clinics should be able to guide their patients during the rhinoplasty recovery time to get excellent results. Clinic Center offers its patients aftercare services throughout the recovery period to ensure ideal outcomes after the rhinoplasty surgery.
Cost of Nose Job
The total amount of a nose surgery cost can change drastically in line with the countries patients choose. However, Clinic Center helps patients to get treatment abroad where plastic surgery costs, in general, are comparatively lower. Another factor that affects the pricing is the application of methods for rhinoplasty surgery, as each technique offers different outcomes. No matter what your surgery involves, Clinic Center will be at your service to guide you throughout your journey. With our all-inclusive packages, organised team and excellent medical consultants, your nose reshaping experience will be life-changing.
As stated before, costs for cosmetic surgeries can be expensive in certain countries; however, Turkey and Czechia remains a popular destination; the country houses renowned surgeons, has high success rates for cosmetic surgeries and government initiatives to promote medical tourism. Also, thanks to exchange rates, your nose plastic surgery will be an affordable procedure.
For a personal treatment plan to cover your needs, a surgery with your desired outcomes, safe and swift operation with highly experienced surgeons, provided ease and guidance along the process and affordable surgeries, contact Clinic Center's team of consultants to initiate your process.
Click here to fill in the online consultation form right now!
Nose Job Results
The rhinoplasty procedure requires a lot of patience because the Rhinoplasty recovery time is comparatively longer as the nose needs time to settle on the newly altered nasal bone. However, if the patients have severely defected nose shapes, they can observe a change after the surgery. But some patients with minor issues may not even spot a difference right after the operation. Both are expected responses following the surgery, and patients should keep in mind that your nose job will continue healing and developing through the year of the surgery. Once the patient completely heals, final nose job results will show.
Patients' quality of life will increase significantly following the nose surgery, specifically those with a deviated septum. As time passes, your nose job results will show even better, and your confidence will increase gradually.
After the procedure, you will get:
A better-structured face
A boost in your confidence levels
Relief from your respiratory issues
Contact Clinic Center for more details and visit our website gallery for patients' results.
With its qualified rhinoplasty surgeons, Clinic Center provides the best rhinoplasty results. To see our nose job before and after photos, you can simply check our website gallery.
Patients' Photos Before and After Nose Job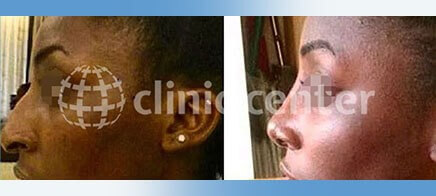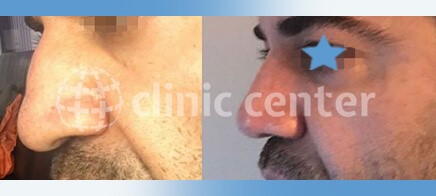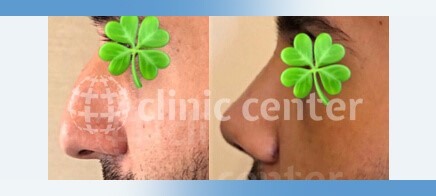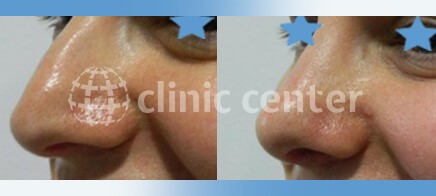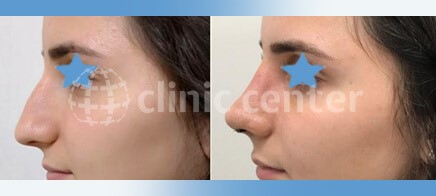 >>Click here to see more before and after pictures
Nose Job Recovery
The nose job recovery time can be a frustrating period. Once the sedation wears off, you will notice a nasal splint on your nose and a nasal tampon inserted in your nose. The tampons are usually taken out after a couple of days; however, the splint should remain on the area for at least a week. The remaining splint promotes a better tissue settlement and covers your nose to avoid any unwanted interferences.
During the first three days following the plastic nose surgery, patients usually experience moderate pain. Bruising and swells are also common responses after nose surgery; however, most of the visible effects of the surgery disappear in a month. Still, for the complete rhinoplasty recovery, a patient needs a year.
All-Inclusive Packages
With Clinic Center and its splendid team, each treatment step is organised when you decide to initiate your process. From your arrival to even after your departure, our team is there to guide you. Our all-inclusive package deals cover your accommodation, transportation and the treatment itself. You can see further details below.

Internationally Certified Doctors
Clinic Center partner plastic surgeons are selected after a close screening and hold the reputable EBOPRAS, ISAPS and ASAPS memberships. With us you can be certain that you are in good hands during your journey for rhinoplasty.

Check-up
A day after your surgery you will have your check-up and aftercare instructions for a successful healing process. We also assist you to have your regular follow-ups to make sure you have the best nose job results even after your journey is over with our aftercare London office

Special Group Discount
The more the merrier! You and your friend will benefit from a special discount in the case of bringing them along with you for rhinoplasty surgery.
International Patient Host
Different countries, different things. How will you manage? Your international host will accompany you during your medical journey.

Accomodation at a 4-star Hotel
Having a surgery whether it is small or big requires efficient resting for full recovery. That is why Clinic Center will make sure you have one of the best and comfortable stays until your departure by providing you with the best hotels for medical tourism.

Transfers
Airport to and from the hotel, hotel to and from the hospital/ clinic is provided by us.
Fast Facts
| | |
| --- | --- |
| Procedure: | Enhances the nose size, changes the shape of nasal tip or bridge or nostrils |
| Duration: | 1 to 3 hours |
| Stay: | One night hospital, six nights hotel |
| Anesthesia: | General anaesthesia |
| Recovery: | 7 to 10 days to return to work |
| What to bring: | Comfortable clothes (sweatshirts, button-down or zipped shirt etc.) |
| Side Effect: | Stuffiness, swelling, temporary loss of smell, bleeding |
| Complications: | Scars, Bleeding, Seroma, Infection, Extrusion, Swelling, bruising and pain, Asymmetry, Increased or reduced sensation, Damage to deeper structures, Unsatisfactory result, Change over time, Allergic reaction (chest infection, blood clots, heart attack or stroke and death), Hole in the septum (septal perforation), Breathing difficulties, Altered sense of smell. |
| Exercise: | After 3 to 4 weeks |
| Scars: | No |
| Pain: | Mild (depends on the patient) |
| Results: | Swelling will go down after 7 to 15 days, and final results reveal between 6 months to 1 year |
| Multiple surgeries: | Liposuction, breast surgeries, hair transplant |
Patients' Reviews
The reviews viewed below are written by our patients to describe their experiences with Clinic Center. All the comments are written objectively and shared within the knowledge of our patients. You can also find the same and similar reviews on other online platforms.
Nose Job FAQ
Can I get a nose operation to help breathing?
If the issues you are experiencing with breathing result from the poor structure of your nose, yes, our surgeons work hard for our patients to obtain an adequate amount of airflow on both nostrils. However, if you suffer from other respiratory issues, you may refer to a doctor.Clinic Center partner plastic surgeons will maintain adequate breathing following nose surgery. However certain breathing problems (such as a crooked or pinched nose) are also responsible for breathing difficulties even prior to the nose surgery and appropriate treatment such as septorhinoplasty can improve both appearance and function.
At what age can you get a nose job?
The procedure is mainly applied for patients between the ages of sixteen to forty; however, surgeons consider tissue compatibility while deciding on the nose operation rather than age. If the patients fully develop their facial structures, regardless of age, operations can be made. In cases of severe defects on the nose and functional issues, younger patients can be operated on, too.
What kind of incisions will be made?
Nose jobs with Clinic Center are carried out by using two different methods: Open rhinoplasty and closed rhinoplasty. The only difference between the two is with the open surgery, a small incision on the columella is made; however, once the rhinoplasty recovery process is done, your incision will not be seen at all. With the closed method, your surgeon will open no incision outside your nose. Your specialist will determine the appropriate method for your condition.
When can I get my sutures removed?
Sutures used with the open rhinoplasty are usually taken out five days after your rhinoplasty procedure.
What happens after the nose operation?
Once your swelling reduces and the nasal splint is taken out by your surgeon, the surgery results can be seen. As the surgery sites are swollen, breathing through the nose is a challenging experience for the next three weeks after the rhinoplasty surgery. The swollen surgery sites will heal in three months, yet your final nose job results can be observed after a year.
Does rhinoplasty affect a patient's smile?
No matter what kind of nose surgery the patient is getting, there will not be changes impacting their smile. However, if the patient is going under for a nose tip surgery, surgeons should be skilled enough to avoid any changes. Some patients can experience numbness and loss of function on their upper lip due to the anaesthesia, which is a normal response.
What does a suitable male nose job look like?
The nose shape for a man differs from the nose shapes' of women. A delicate design with smaller proportions and thinner lines is preferred; however, perfect noses are not desirable for a man. They tend to choose nose shape designs with minor defects to look more natural for a masculine looking outcome. With a male nose job, any visibly disturbing structures are recovered, yet a natural look is obtained as a result.
Nose Job Patient Review Videos
Disclaimer
The information on this site is not intended or implied to be a substitute for professional medical advice, diagnosis or treatment. All content, including text, graphics, images and information, contained on or available through this web site is for general information purposes only. It is not advice on your specific needs and circumstances. It does not replace the need for you to have a thorough consultation, so you should get advice from a suitably qualified medical practitioner. Please bare in mind that as with all operations, there are risks involved in having cosmetic surgery.