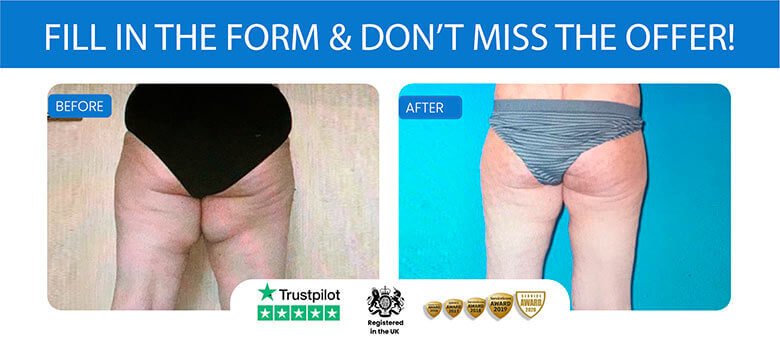 The leading brand for cosmetic operations abroad, Clinic Center offers all-inclusive package deals for its patients for affordable thigh Lift operations. If you have saggy skin and looking for practical solutions to resolve your issues, contact Clinic Center to get more details on our treatment plans for thigh lift operations.
Get Your FREE Treatment Plan NOW!
What is a Thighplasty Operation?
Thighplasty, also known as thigh lift operation, is applied for the removal of saggy skin from the thigh area to provide firmer thighs for patients. The surgery is a suitable option for anyone with excess skin on their inner thighs. The skin on the inner thighs is tightened through the operation, and the procedure offers excellent results. However, if the loose skin is excessive, the scars may be longer; and if the patient does not have too much loose skin, the surgeon in charge may open shorter incision lines. After the operation is concluded and the skin is reduced, scars from the procedure start to heal and lose visibility.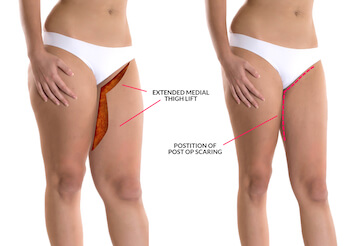 Methods for Thighplasty
The surgeon in charge will determine the proper methods of applications in line with the condition of the patient's thighs. Factors such as tissue compatibility and the desired results by the patient affect the final results.
Incisions for Inner Thigh Lift
There are three incision types for an inner thigh lift:
An incision is opened on the patient's groin, extending down and surrounding the back of the upper leg.
A cut is opened starting from the groin to the knee on the internal thigh.
A minimal incision is opened to lift the patient's thigh; however, the surgeon in charge should determine whether or not the patient is a suitable candidate.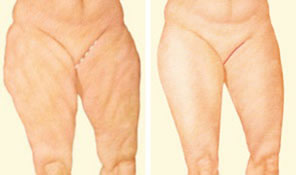 Incisions for Outer Thigh Lift
The reconstruction of the structures of the outer thigh includes opening an incision line starting from the groin, reaching around the hip to the upper buttocks.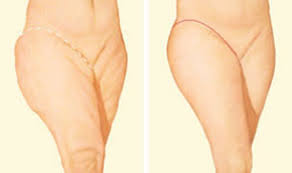 Thighplasty Abroad
As one of the most popular destinations for cosmetic operations,offers excellent advantages for thighplasty operations with the assistance of Clinic Center. Clinic Center's surgeons are internationally recognised specialists with acknowledgements in their fields and carry out revolutionary operations that have changed the lives of thousands of patients.
The operation is concluded in one or two hours when the patient is under the influence of general anaesthesia. Patients can refer to our aftercare team with any questions or concerns during their recovery period. Following the first week of healing, patients can resume their work. There will be incision scars left on their bodies after the operation; however, the visibility of these scars will fade as the patient heals. Our surgeons always use the most suitable techniques for our patients to eliminate further scarring.
If necessary, your surgeon may suggest combined methods to improve your body's appearance.
For more details on thigh surgery abroad, contact our team.
Thighplasty Operation with Clinic Center
Clinic Center, a leading company based in the UK, provides aftercare services for excellent thigh lift recovery periods. With the best surgical team for cosmetic operations, we offer life-changing results. To learn if you are a suitable candidate for the process, contact our team of consultants.
Clinic Center's thighplasty procedure also covers:
A four-night stay in our partner hotels
Hospital stay for a day after the operation
Transportation between airport, hotels and clinics
A personal host to help our patients throughout the processSpecial group discount
Free check-up and regular follow-up
If you choose Clinic Center to assist you with your thigh lift surgery abroad, you will have all these advantages.
Best Thigh lift Surgeons
Clinic Center, a leading brand in its field, has been providing its patients with excellent thigh lift results with the help of our highly skilled and trained plastic surgeons. All of our surgeons are renowned physicians with international acknowledgements. Clinic Center medical experts are the best plastic surgery staff as they have perfect backgrounds and specialisations in their field. Our team of experts are recognised by global institutions such as ISAPS and EBOPRAS. You can get more information on our experts below.
Thighplasty Operation Results
If you have saggy skin on your thighs and are looking for options to resolve your issue, a thighplasty operation with the assistance of Clinic Center might be the most suitable option for you. To learn whether you are the right candidate for a thigh lift or not, contact our team to book a video consultation with our experienced specialists.
After a thigh lift operation, patients will observe the changes below:
A firmer-looking and feeling skin on the thighs
Minimal scar visibility
Thinner thighs as a result of the removed tissue
Natural curves
Tighter skin
If you went through weight loss or genetically inherited skin prone to sagging, you might suffer from the sagginess on your thighs, too. However, with Clinic Center's assistance, your dream body is not as far. Contact our team to learn more about the procedure and initiate your thigh lift process with Clinic Center.
Thighplasty Recovery Period
Usually, patients can resume their daily life and work after a week of recovery. When the procedure is not combined with another method, the recovery period is a short process. Yet, patients should keep in mind that it usually takes a few months for the outcomes to show. Also, the incision lines from the procedure will start to disappear as the patient heals with time.
Thighplasty Cost Abroad
Although all cosmetic surgeries are thought to be expensive, you will receive cost-effective treatments with outstanding results with the assistance of Clinic Center. As a highly renowned country for its budget-friendly and high-quality cosmetic operations, attracts thousands of international patients each year with the assistance of Clinic Center.
The country is regarded as the most reliable country to have cosmetic operations, as it houses internationally recognised experts and the latest technology equipped clinics. Medical tourism is backed by government initiatives to provide its visitors with suitable treatments. Thighplasty prices can differ in line with the other operations it is combined, such as thigh liposuction. Every patient receives a unique treatment plan to concord with their needs. Also, with Clinic Center's all-inclusive packages, each patient's needs are covered during their treatment.

Internationally Certified Doctors
Clinic Center partner plastic surgeons are selected after a close screening and hold the reputable EBOPRAS, ISAPS and ASAPS memberships.

Check-up
After the first check-up one week later the surgery, we also assist you to have your regular follow-ups to make sure you have the best thigh lift surgery results.

Medical garments, support bra etc.
Clinic Center will provide you the necessary equipment to be used after surgery for each patient.

Accommodation at a 4-star Hotel
Clinic Center will make sure you have one of the best and comfortable stays until your departure by providing accommodation at a 4-star hotel.

All transfers with VIP car
For you to have the best experience, we provide all the transfers.

International Patient Host
Your host will translate anything and everything necessary from the beginning of your medical journey to the end.
Instructions for Thighplasty
Before the Operation:
The surgeon will call off the procedure if the patient is pregnant.
Patients are advised to avoid drinking alcohol or using tobacco two weeks prior to the operation as these substances can impact the results of the surgery.
Inform your specialists of any medication you take regularly.
Avoid consuming any foods or beverages eight hours before the operation as the patients should be hungry to receive general anaesthesia.
On the day of the operation, candidates can shower before the surgery.
They should remove their make-up and nail polish before the operation.
Bring baggy clothes to the hospital.
Leave your valuables or jewellery somewhere safe. Do not carry them on you.
After the Operation:
Avoid alcohol for the following two weeks.
Take walks regularly to increase blood circulation.
Feeling tired after the procedure is a general response.
Patients should keep their water intake to stay hydrated.
Use the medications given by the surgeon.
Having swollen or bruised areas around the operation sites are normal.
Maintain your incision lines sterile and dry.
Wait for your surgeon's instructions to wash your body.
Strictly follow the instructions provided by your specialist to acquire optimum recovery.
Thighplasty Fast Facts
| | |
| --- | --- |
| Procedure: | Thigh Lift |
| Duration: | 1 to 2 hours |
| Stay: | Six nights hotel |
| Anesthesia: | General anaesthesia. |
| Recovery: | One week to get back to work. |
| What to bring | Baggy clothes. |
| Side effects | Pain, bruising, swelling. |
| Complications | Pain, bruising, swelling. |
| Exercise | After a month |
| Scars | Yes, they will heal with time |
| Pain | Yes, it will disappear with time |
| Results | Results can be seen in three to six months |
| Multiple Surgeries | Thigh liposuction |
Disclaimer
The information on this site is not intended or implied to be a substitute for professional medical advice, diagnosis or treatment. All content, including text, graphics, images and information, contained on or available through this web site is for general information purposes only. It is not advice on your specific needs and circumstances. It does not replace the need for you to have a thorough consultation, so you should get advice from a suitably qualified medical practitioner. Please bare in mind that as with all operations, there are risks involved in having cosmetic surgery.