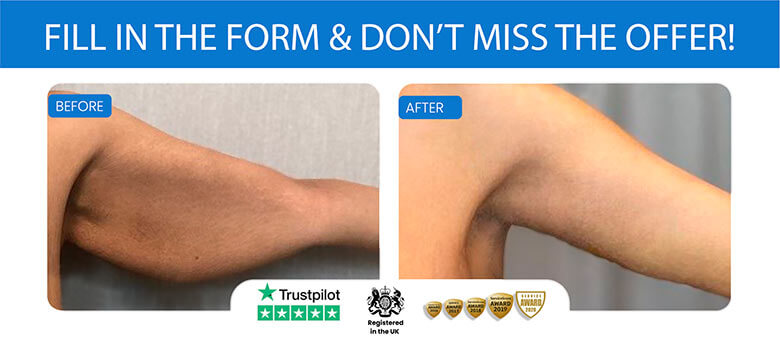 With its special offers, Clinic Center provides excellent arm lift results for its patients. Clinic Center also offers aftercare services for its patients throughout their recovery period to maintain their arm lift results. To get more details on our offers, contact our team of consultants.
Get Your FREE Treatment Plan NOW!
What is a Brachioplasty?
This procedure is a cosmetic operation to elevate the appearance of the arms by removing the saggy section on the patient's underarm area. If the patient is a suitable candidate, the procedure offers excellent results.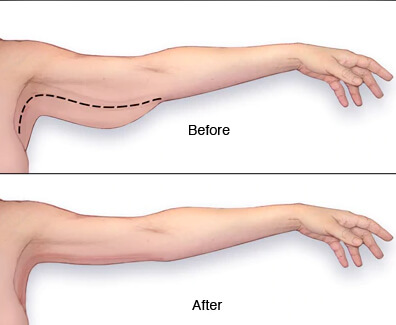 During an arm lift operation, the saggy section is removed by opening incision lines starting from the armpit to the elbow. Once the surgeon eliminates the excess skin and fat tissue, the patient achieves more structured upper arms.
Methods of Application for Arm Lifts
Liposuction for Arm Lifts: The procedure is suitable for patients with fat build-up on their underarms, yet there should be no saggy skin under the arms. As a result, patients have no operation scars.
Operations with small incision lines: Candidates should have only a little sagginess under their arms with his method. There will be incision lines; however, they will be comparatively shorter.
Extended arm lift operations: These procedures are usually for candidates with excess skin after a weight loss when the sagginess is excessive. A long incision between the armpit and elbow is made to remove saggy skin and fat tissue to fix this issue.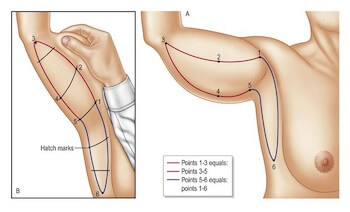 Brachioplasty Abroad
With the assistance of Clinic Center, having cosmetic operations abroad offers excellent advantages. For years, international patients have chosen Clinic Center to have their operations. As the country is renowned for its experienced specialists and budget-friendly option for cosmetic surgeries such as arm lifts, it maintains its place among the most preferred countries for cosmetic operations.
Generally, the operation is concluded in one to three hours and carried out when the patient is under general anaesthesia. The duration may change according to the patient's condition and the addition of other operations. Also, with the help of our aftercare team, you can benefit from our aftercare services during your recovery period.
Arm Lift Operations with Clinic Center
Based in the UK, Clinic Centre provides cosmetic operations such as Brachioplasty to its patients abroad, with all-inclusive packages and budget-friendly options. As our partner surgeons are internationally recognised and experienced specialists, we provide excellent, natural-looking arm lift operation results.
When patients choose Clinic Center to have their arm lift operations abroad, they'll receive:
Video consultations worldwide, physical consultations in our London office
A Brachioplasty procedure with renowned and acknowledged surgeons
Accommodation during the recovery
Hospital stay for one night
Transportation between the hotel, clinic and airport
A personal host to help during recovery
Exclusive deals for groups
Complimentary check-ups and follow-ups
During your procedure with Clinic Center, our team will guide and assist you for your satisfaction.
Brachioplasty Results and Recovery Period
Following the operation, patients will see that their arms are covered, and if necessary, their surgeon can put drains to drain excess fluids on the incision area. To help through this recovery period, patients are advised to bring a close one. For the first weeks, discomfort, swelling and bruises on the area are expected.

The surgeon will take out the drains and covers after a few days of recovery.
Instructions for recovery period:
Patients should not lift their arms above their shoulder level for the next three to four weeks after the operation
Avoid any movements that can harm the incision lines for the next four to eight weeks following the procedure
Use the medication prescribed by the surgeon
Walking is suggested after the surgery
Avoid physical activities or sports for at least six weeks
Wait for at least a month to ride bikes or motorcycles
During the first two weeks after the operation, patients should elevate their arms with pillows or cushions while sleeping.
Wait for the surgeon's instruction for showering.
The stitches on the patient's incisions can disappear with time if the surgeon uses dissolvable stitches. However, if the situation is otherwise, your operator will determine the time to remove the stitches. In addition, patients can ask our aftercare team any questions regarding the surgery.
Best Armlift Surgeons
Clinic Center, a leading brand in its field, has been providing its patients with excellent arm-lift results with the help of our highly skilled and trained plastic partner surgeons. All of our partner surgeons are renowned physicians with international acknowledgements. Clinic Center partner medical experts are the best plastic surgery staff as they have perfect backgrounds and specialisations in their field. Our partner team of experts are recognised by global institutions such as ISAPS and EBOPRAS. You can get more information on our partner experts below.
Arm Lift Results
The operation results are long-lasting unless the patient loses or gains drastic amounts of weight. Also, with age, the skin loses its natural elasticity, and sagginess can be observed again, regardless of the operation. However, it should be added that if the patient gains an excessive amount of fat and goes through weight loss, saggy skin can become an issue again. Yet, any sagginess after the weight loss will not be at disturbing levels, as the skin protects its laxity after an arm lift operation.
As a result of their arm lift operation with Clinic Center, patients will reach better-structured upper arms at affordable prices. Patients can maintain their effects in ideal conditions for years if they lead a healthier life with proper exercise and diet after the operation.
Brachioplasty Costs Abroad
Patients have various reasons to choose abroad for their plastic procedures, such as arm lift surgeries. However, the leading attraction is the prices, as in certain countries, plastic operations can cost a fortune. The surgeons are also excellent alternatives, as the country houses internationally renowned and acknowledged specialists; with their level of expertise, they can utilise any up-to-date methods to provide their patients with outstanding results.
Losing weight is a common obstacle for people around the world as in some cases, it can become a frustrating process, especially with all the saggy skin left on the body. If the looseness cannot be recovered with specific exercises, cosmetic interventions such as arm lift operation can be an excellent solution for those issues. Also, their insecurities about their bodies disappear, and their confidence level rises as a result of the procedure.

As the costs for cosmetic approaches are generally high in other countries, patients tend to avoid their issues until they discover a budget-friendly option. However, having an arm lift is comparatively more affordable. With its excellent surgeons, government initiatives to back medical tourism, and latest technology equipped clinics such as Clinic Center's partner clinics, the demand for plastic surgeries increases each year.
The prices for arm lift operations can differ according to the methods applied, the surgeons' experience, and any additions to the patient's treatment plan. As each individual carries different structures, each requires an individual treatment plan designed according to their condition, skin characteristics, desired outcomes, and age. However, Clinic Center is a company assisted by the Turkish Ministry of Health and Economy and is able to offer its patients all-inclusive packages for their treatment .
Brachioplasty All-Inclusive Packages

Internationally Certified Doctors
Partner plastic surgeons are chosen after a thorough examination and hold the respected EBOPRAS, ISAPS and ASAPS memberships.

Accommodation at a 4-star Hotel
We will make sure that all of their patients have one of the best and comfortable stays until their departure time.

Transfers with VIP car
For a more convenient journey, from the moment you arrive until your departure Clinic Center will provide your transfers.

International Patient Host
Clinic Center provides our patients with an international patient host, and will accompany the patients during their medical travel.
Instructions for Brachioplasty
The information below includes general guidelines for Brachioplasty and should be followed by the patient for their convenience. However, the instructions patients acquire from their surgeons after the procedure must be prioritised. Clinic Center cannot confirm the reliability of the information below.
Before the Operation:
The surgeon will call off the procedure if the patient is pregnant or not suitable for receiving anaesthesia.
Patients are advised to avoid drinking alcohol or using tobacco two weeks prior to the operation as these substances interfere with the body's circulatory system, impact the surgery results and increase the risks for possible complications with anaesthesia.
The day before the operation, patients must not consume any foods or beverages after midnight. Patients should be hungry for general anaesthesia.
On the day of the operation, candidates can shower or shampoo their hair before the surgery. They should remove their make-up, any hair products, nail polish or eyelashes.
Baggy clothes with preferably buttons or zippers are easier to put on after the procedure. Patients should easily fit their arms in their clothes without causing any harm to their stitches.
Do not carry your valuables or jewellery with you to the hospital.
After the Operation:
Patients should keep their water intake to stay hydrated
Take the medications prescribed by the surgeon to avoid any discomfort
Avoid direct sunlight on the incision lines for a year after the operation to prevent any colour changes on the incisions. The colour may appear pink initially; however, they will adapt to the skin's natural shade as they heal.
Recovery usually takes one to two weeks.
Patients should rest and avoid activities such as lifting weights or lifting their arms above the shoulders.
Wait for at least two weeks for exercises; once you start, choose light exercises. Consult your specialist before beginning strength exercises. They are advised to promote muscle growth.
Clinic Center is here to guide you during your operation process , with its excellent team. Contact our team for further details on arm lift surgeries abroad.
Brachioplasty Fast Facts
| | |
| --- | --- |
| Procedure: | Arm lift |
| Duration: | 1 to 3 hours |
| Stay: | Four nights at the hotel |
| Anesthesia: | General |
| Recovery: | Take 1 to 2 weeks off work. |
| What to bring | Comfortable clothes. Mainly zip-ups or shirts with buttons. |
| Side effects | Bruising, soreness, discomfort, scarring, pain |
| Complications | Infection, hematoma, loss of sensation, seromas, excessive bleeding, nerve, muscle, blood vessel damage, fatty tissue death. |
| Exercise | Two months later, light exercises can be done. |
| Scars | Yes, depending on the technique, it could be a long scar. |
| Pain | Depending on the patient, it could be slight or significant. |
| Scars: | No |
| Pain: | None to slight |
| Results: | Arm lift surgery results are apparent straight away after the procedure. However, early results won't be seen because of the swelling and bruising, and a scar will stay where the incision was made. |
| Multiple surgeries: | Breast surgery, tummy tuck, liposuction. |
Disclaimer
The information on this site is not intended or implied to be a substitute for professional medical advice, diagnosis or treatment. All content, including text, graphics, images and information, contained on or available through this web site is for general information purposes only. It is not advice on your specific needs and circumstances. It does not replace the need for you to have a thorough consultation, so you should get advice from a suitably qualified medical practitioner. Please bare in mind that as with all operations, there are risks involved in having cosmetic surgery.